REDINGTON SHORES — Local beachgoers may have noticed a "Take a Toy, Leave a Toy" box, inviting them to drop off children's beach toys they plan to discard so others can take a toy from the box when visiting the beach.
The program was started by Caulin Donaldson, a St. Petersburg native who recently moved to Redington Shores, and it became the topic of a Feb. 23 board of commissioners workshop.
"I'd go out (to the beach) every morning," Donaldson said. "And I started noticing all these plastic beach toys, buckets and plastic shovels."
He took videos of what he saw and put them on the Tik Tok app. Donaldson said he soon had 1.4 million followers, whom he asked what to do about to the trash problem. Many suggested a Take a Toy, Leave a Toy box.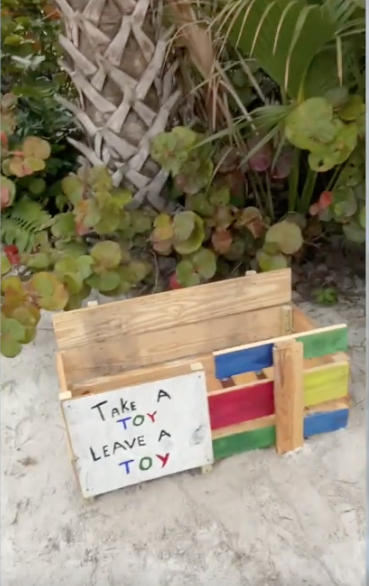 "So, I built one, right on the beach," Donaldson said. "A video I took of it had 4.5 million views. People were very supportive."
Commissioner Jeannie Blackburn said she was contacted by Donaldson after a box he put out was removed. He wanted to know if there were procedures he needed to follow for getting the box placed. A petition started by Donaldson to increase awareness of the toy box has garnered 5,500 signatures.  
Commissioners were receptive to the concept and recommended locations in town. Donaldson said whenever he puts out a box, it is quickly filled with toys.
"The town parking lot," suggested Mayor MaryBeth Henderson. "We can do that." 
Commissioner Bill Krajewski recommended the lot at Constitution Park and noted that "a lot of people who park there go to the beach."
Henderson suggested using "pickle barrel" containers used for trash, cutting them in half and putting them next to trash barrels. "Paint them fun colors," she said.
There was agreement that Blackburn and Donaldson should walk around town and pick the best places. Blackburn also said she would consult the town attorney.
"I think this will be great," Henderson said.
"I love it," said Commissioner Cinda Krouk.
Financial reporting to be enhanced
The commission is asking its accounting contractors to take on the additional responsibility of preparing monthly financial reports for an estimated $500.
"To spend $500 a month for this kind of reporting, accuracy and detail is a good investment on the part of the town," Commissioner Michael Robinson said.
The town's Financial Advisory Committee has been preparing financial reports for the commission. Robinson said the committee which consists of resident volunteers, "wants out of doing that, and we want them out of that business."
The move is like what's being done with hiring a town administrator, so that the day-to-day operation of the town will be handled by town staff rather than residents who serve as commissioners or committee members.
Krajewski said the Financial Advisory Committee should be more of a consultation or advisory group and "shouldn't be getting into the weeds" of the detailed accounting work.
Andy Tess and Heather Guadagnoli, certified public accountants who do accounting work for the town, explained what they would provide in response to the town's request for more detailed reporting.
Tess said the town will get a monthly consolidated report that would look at the revenue sources and compare that to the budget. Throughout the year, the commissioners can see revenues and expenses, and any unusual activity will be pointed out. 
The monthly reports will show the resources in each fund, where the money is coming from, where it is going, and what money is available to do what the town wants to do, Guadagnoli added.
Commissioners agreed that there is a need for them to receive financial information on a monthly basis, and they also liked the idea that they will be able to email the accountants directly and get quick answers to any questions they may have.
"I'm thrilled to have more information," Blackburn said.