ST. PETE BEACH — The legendary Beach Theatre, which in its heyday saw moviegoers line up to see early talking motion pictures and then, a generation later, attracted costumed fans to be part of the action at showings of the "Rocky Horror Picture Show," will get a sequel with new owners.
The 528-seat, 4,800-square-foot, art deco-style theater at 315 Corey Ave. closed in 2012. After theater owner and former Hollywood screenwriter Michael France died in 2013 of complications from diabetes, the Beach Theatre become part of a lengthy probate and legal battle.
The building stagnated in limbo until it was recently placed on the market.
Hendrik Bisanz, a broker with Seasalt Properties in St. Pete Beach, got wind of the property going on the market and called his friend Christopher Scott, owner of Scott Commercial Holdings. The two started speculating about what the old theater could become and they made an offer against 10 other bidders.
With only three days to bid, Bisanz said they acquired the theater for $652,000, "which is a good buy for a trophy theater property."
"It's in terrible shape and needs a lot of work; that's kind of where everything begins," Bisanz said. "Most of the inside of the building has to be gutted. It's in the shape you would imagine of a building that has been closed for nine years with no electricity.
"We have been discussing and speculating about many different plans and ideas. The sky is the limit as to what we can do with it," he added. "It could have a mix of multiple uses; a cinema, offices, live theater, or different things on different days."
He said there is no real stage in the theater, only a screen, "so a lot of remodeling has to be done."
It is considered a trophy property and potential destination location downtown attracting visitors and locals. Like the Capitol Theatre in Clearwater, it could play a big part in attracting visitors downtown to Corey Avenue.
"First we have to clean it up," Bisanz said.
City officials have spoken about the importance of saving the Beach Theatre for several years, noting it could be an anchor in the revitalization of downtown. The city never expressed interest in purchasing the property, but at one time there was talk about forming a group to come up with ideas for any potential theater owner.
Chris Graus, the real estate agent for the family selling the theater who happens to be city commissioner for the district in which it sits, said it was purposely priced low in hopes of getting many bids.
"It's a nice property. It has some roof leaks with some damage inside. It is in rough shape and has to be completely redone," he said. The hope is it will be refurbished into its best use, maybe as an entertainment venue, he added.
Putting on his commissioner's hat, Graus said with residential development set to take place on the east end of Corey Avenue, the Beach Theatre could become an important anchor for the downtown district and attract many visitors from outside the area.
St. Pete Beach Mayor Al Johnson also said the theater's sale seems to have come at the perfect time. Economic development seems to be coming together for the Corey Avenue district, with the development planned on the east end, and now the theater potentially coming back to life in the downtown core.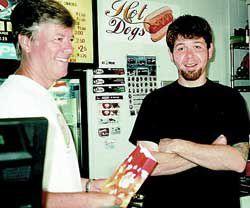 Hollywood magic on the Beach Theatre's silver screen lasted for 72 years until November 2012, when beset by low attendance and financial difficulties, France was forced to shut out the lights on its marquee and close its doors.
France, who bought the theater for $800,000 in 2007, tried to save the theater by unsuccessfully seeking nonprofit status much like the Tampa Theater and keeping prices low.
He was one in a long list of Beach Theatre owners who faced financial difficulties operating an independent, one-screen theater.
France gathered a loyal following by showing classic movies, cult favorites and independently released movies, but his most successful event was late-night showings of the campy "Rocky Horror Picture Show."
According to a 2007 Tampa Bay Newspapers article, France said he gained recognition after writing the screenplay for the Sylvester Stallone film "Cliffhanger."
"I became known and even got to do the job I wanted my whole life — write a James Bond movie," he added, referring to "GoldenEye." Other well known movies France penned include "The Punisher" and Ang Lee's 2003 version of "Hulk."
Now Bisanz and Scott hope to rewrite a happy ending for the Beach Theater saga, by giving it a new lease on life.