MADEIRA BEACH — After a year-and-a-half hiatus due to the pandemic, longtime Pinellas County resident Stella Moore was recently welcomed back with open arms to the Madeira Beach Publix.
Moore was surrounded by some of her family, the store's department managers, and general manager Jessica Custer, who went above and beyond to put together a beautiful display. Gathering in the bakery — Moore's favorite department — she was greeted with flowers, balloons, a sweet card, and a four-tiered cake with the message "Welcome Back Stella."
The display also included a personalized poster made by Moore's daughter, Pat Robbins, and granddaughter, Debbie Senchak, that celebrates her years as a loyal Publix shopper. A few years after Madeira Beach Publix opened its doors in 1956, the Moore family moved to Pinellas County. This Publix has been Stella's tried-and-true since 1962, back when she was 40 years old. Turning 100 this November, she'll mark 60 years of shopping at the Madeira Beach location.
For the past year, Stella has longed to shop at her favorite store again.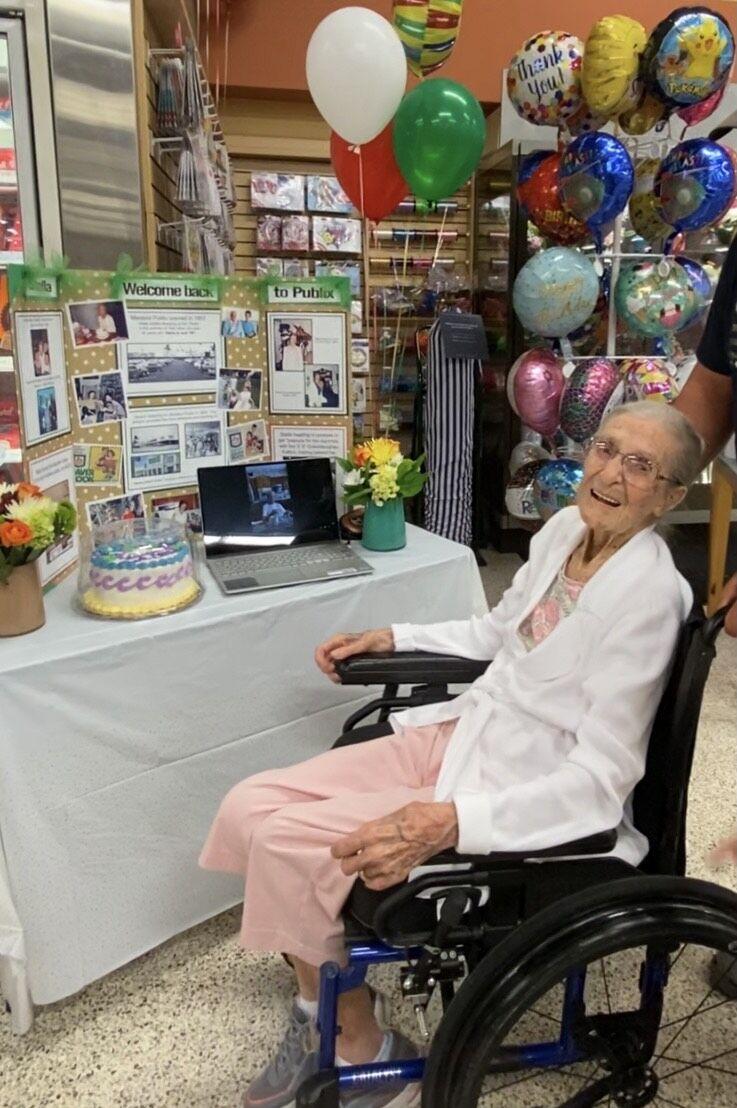 During the pandemic, Stella no longer felt comfortable shopping for herself. Instead, she sent her list with her daughter, Pat. In September 2020, she experienced a vertigo episode, lost her balance and fell, resulting in a broken femur. Before the fall, she was living on her own.
Her recent return to her favorite grocery store means she will be able to buy her favorite fresh-baked goodies, as well as jelly beans and chocolate that visitors can grab from the treat jars by the door. According to Moore's great granddaughter Kaitlyn Senchak, what has made her a loyal customer is the "remarkable Publix service-with-a-smile, especially from her favorite bagger, Russell, who knows exactly where she parks her car — the same spot she's parked in since 1962."