SEMINOLE — The living symbol of strength, pride and grace didn't seem so majestic when Richard Rushing went out to the back yard of his Seminole home earlier this month.
What he thought were some noisy green herons that are regular visitors to his naturally-kept yard was actually a bald eagle, injured and defeated.
"I really think he was looking to me for help," Rushing said. "I was about 20 feet away when I first saw him. He came from about 20 feet away to about 6 feet away. I was looking at him, and I started talking to him, I said, 'What's wrong?'
"He wasn't nervous at all. He looked like he came to me for help — 'I'm hurting, please help.' I know, I'm giving a bird people-thoughts, but that's what I felt."
Fortunately, the eagle picked the right Samaritan. Rushing yelled for his wife, Alisa, to call the Seaside Seabird Sanctuary, an Indian Shores bird rescue and rehabilitation center, and stood by as a rescue team rushed to the home on 74th Avenue near Millennium Park on Dec. 10. Alisa Rushing also contacted a friend who had experience in wildlife rescue.
The bird held out his right wing as if it was injured. The mud Rushing thought he saw on his face was actually blood; he had suffered an eye injury. There were other wounds that Rushing speculated happened during a fight with vultures that he had seen circling the area just above the treetops in the days before.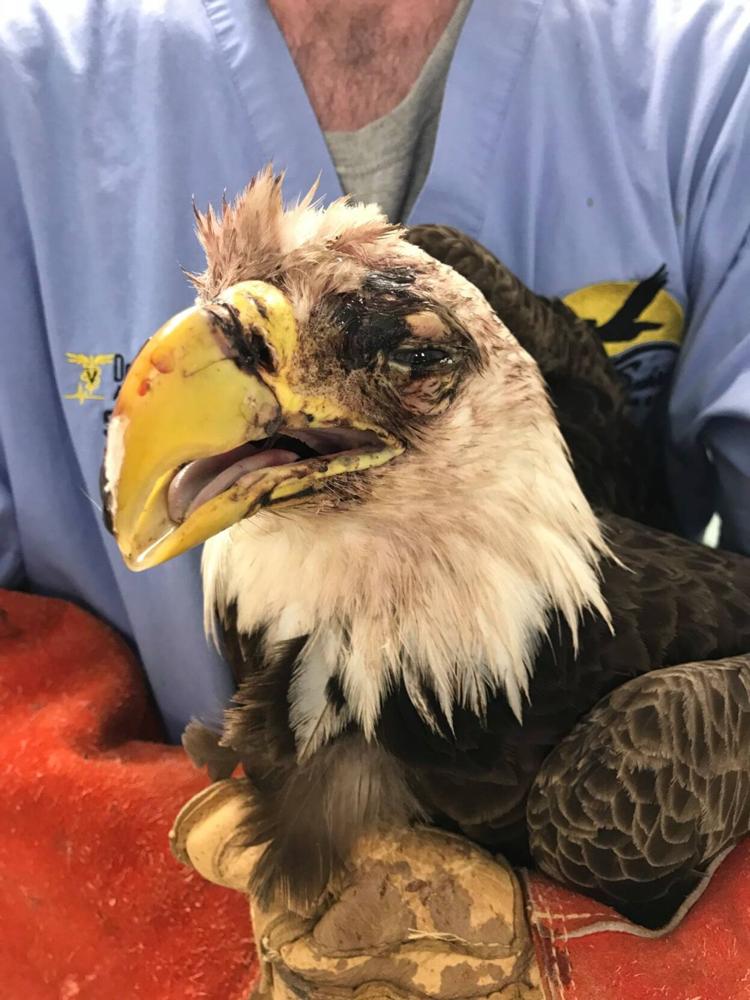 The Seaside team netted its new patient and secured his talons. They transported him to the sanctuary at 18328 Gulf Blvd., where it was confirmed that he suffered a badly scratched and infected eye, and the wing injury is superficial.
"The eagle's currently doing fine, he's getting some antibiotic treatment, and there have been no complications," said Kyle Wood, and avian hospital technician at the sanctuary. He will likely stay in the hospital for a week or so, then be moved to the sanctuary's "flight mew," a large netted/caged area where Wood said the bird can "get its wings."
Sanctuary experts speculate he probably fought with another male bald eagle, likely over a fish. The vultures Rushing saw were probably looking to see what they could scavenge after the battle.
The emblem of the United States, the bald eagle was nearly wiped out here in the early 20th century, according to National Geographic. Bans on pesticides that destroyed eggs and eventual protection from hunting led to a rebound, and the U.S. Fish and Wildlife Service has upgraded the species from "endangered" to "least concern."
The regal birds are found throughout North America.
The Seabird Sanctuary routinely rescues pelicans, egrets and other local seabirds from fishing line entanglements and other mishaps. But a bald eagle is rare, said hospital director Melissa Edwards. "This is pretty special," she said.
The facility is home to about 100 permanently disabled birds that cannot be released back into the wild. Among them is Roosevelt, another bald eagle with a deformed wing due to an old gunshot wound.
The new patient won't get a name; the sanctuary's policy is to not name birds who aren't permanent residents.
Rushing, retired from a career with Florida Power, noted that the cost of antibiotics alone for the bald eagle has exceed $200, "so please consider giving a holiday donation to help defer some of the cost the sanctuary will be incurring." He and his wife have built up a relationship with the sanctuary, actively taking birds in peril there and seeking the experts' advice.
"We are blessed to be able to observe such wonderful wildlife in Seminole, Florida," he said. "Let's keep our birds safe and healthy for everyone to enjoy."