GULFPORT — When Brenda McMahon founded ArtJones Open Studio Tour, the idea was simple. Gulfport artists would open their personal art studios to the public for tours, demonstrations and conversation.
Inspired by similar events she'd participated in while living in upstate New York, the ceramic artist and gallery owner knew it would be a fun way to engage the community and introduce local artists to a new audience.
Four years later, the annual event is a staple in the region's thriving arts scene. And when the COVID-19 pandemic hit, McMahon and her team of volunteers and participating artists knew they needed to find a safe way to host the event this year.
The result is a revamped, scaled-down version of ArtJones planned for Saturday, Dec. 5, 10 a.m. to 5 p.m., and Sunday, Dec. 6, 11 a.m. to 4 p.m.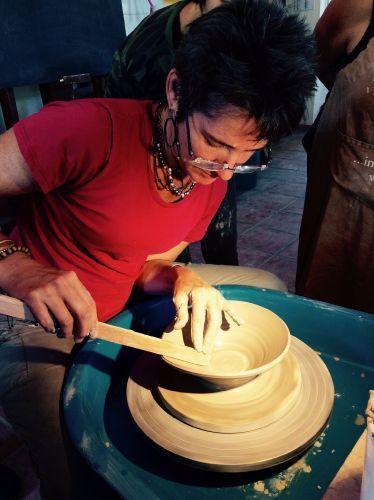 Instead of artists opening up their indoor home studios, it's been refashioned as an outdoor walking tour. This year, 12 artists will set up at seven locations throughout downtown Gulfport.
Not only is it "very bikeable or walkable," it also allows for social distancing and other safety protocols at a time when COVID-19 cases are rising in the state, McMahon said. Artists and guests will be required to wear masks, hand sanitizer will be available to attendees, and the artists will be set up with enough space between them for everyone to feel safe, she said.
She acknowledges that ArtJones 2020 will look different from previous years but thinks it will still capture the essence of the event, which is connecting artists with an audience and showcasing their creative processes.
"It's an area where we had to compromise, but you still get that sense of these artists living in our community and their workspaces are these non-traditional, sacred studio spaces," McMahon said. "You still sort of get the spirit of it."
It was important to not cancel this year's ArtJones, so they didn't lose the momentum of its growth over the past three years, she added.
"I wanted to keep everyone's spirits high and do something beautiful and creative, and also keep this going in 2020, so we can build on it again next year," she said.
The event features a diverse group of local artists. Jewelers Doug D'Souza and Berkeley Grimball join a talented list of 10 ArtJones veterans for this year's tour.
In addition to McMahon, painters Anna Ayres, Jila Davoodi, Jack Providenti, Monika Watson and Melissa Zodda, fused and stained glass artist Diane Bragg, photographer Larry Busby, and fiber artists Alice Pickett Lewis and Elizabeth Neily will showcase their work and their creative process at the event. The list of participating artists rotates each year.
"We have a few new faces, some stunning jewelry and a host of quality paintings, fiber, ceramics and glass," adds McMahon. "We hope you round the bend on 2020 donning an artful mask and anticipating a weekend of art buying for the holiday season."
For an ArtJones map and more information about this annual self-guided tour, visit artjonesstudiotour.com.