MADEIRA BEACH — The 53rd annual Festival of Lights Boat Parade is set for Saturday, Dec. 14, starting at ROC Park at 6:30 p.m. and ending at John's Pass Village.
To participate, sign up at madeirabeach.marina.com. Call the Madeira Beach marina at 399-2631.
An awards ceremony will be held Dec. 18 at 6:30 p.m.
***
TREASURE ISLAND — The 34th Treasure Island Lighted Boat Parade, one of the largest boat parades in the Tampa Bay area, will begin Friday, Dec. 13, 6:20 p.m., just south of the Treasure Island Bridge.
The route will travel south of Paradise Island, back through the Treasure Island Causeway Bridge at 7 p.m., around Isles of Palms and Capri, and finish at John's Pass at approximately 8:15 p.m.
A special pre-parade party will be held at 4:30 p.m. at The Club Treasure Island's pool pavilion, featuring Santa and Mrs. Claus, along with food and beverages for purchase. The pre-parade party is open to the public with an admission of a new unwrapped toy or cash donation to benefit The Christmas Toy Shop of Pinellas and the Edwards Family Foundation.
Prior to parade day, donations and toys may be dropped off at The Club at Treasure Island, Treasure Island City Hall, Fifth Third Bank of TI, or the TI/Madeira Beach Chamber of Commerce.
Donors will receive a ticket for pre-parade party admission (one ticket per donation).
The awards party for results and prizes, featuring a spaghetti dinner, will be held the following Wednesday, Dec. 18, at 6 p.m. at The Club at Treasure Island.
***
CLEARWATER — Clearwater's Holiday Boat Parade is planned for Saturday, Dec. 14. Festively decorated boats will parade past Coachman Park around 8:30 p.m. From there, the fleet continues under the Memorial Causeway Bridge turning into the Clearwater Marina Channel, then proceeds south through the navigable canals to Clearwater Point.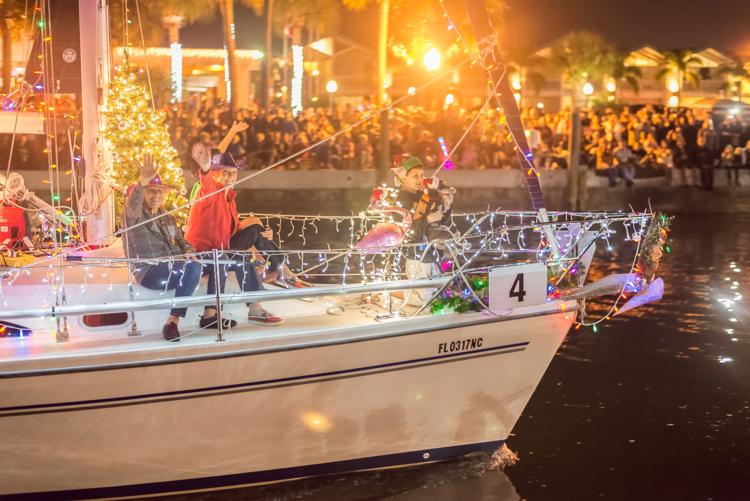 ***
INDIAN SHORES — The Redington Beach/Indian Shores Holiday Boat Parade is set for Sunday, Dec. 22, 6 p.m.
Boats will pass through the Intracoastal Waterway from the Tom Stuart Causeway to Caddy's Pub in Indian Shores. The parade kicks off at 6 p.m. Top prizes will be awarded after the parade that evening at Caddy's.
The Redington Beaches/Indian Shores Holiday Boat Parade Committee, in cooperation with Caddy's, has announced the introduction of a new grand prize worth more than $4,500 for the overall winner of the parade.
The grand prize will be a combination of $2,500 cash plus a two-day vacation beachfront apartment visit, beach cabana usage and a gift card for meals at any of the four Caddy's restaurant locations.
Participating boats are requested to rendezvous just north of the Tom Stuart Causeway at about 5:45 p.m. for the start of the parade.
Local boaters are invited to enter their holiday-decorated boats in the parade. Entry forms are available at Redington Beach Town Hall, 105 164th Street E., or online at https://www.townofredingtonbeach.com/wp-content/uploads/2019/09/2019-Boat-Parade-Registration-Form.pdf.
The parade is jointly sponsored by the towns of Redington Beach, North Redington Beach, Redington Shores and Indian Shores. Each town provides initial financial support that is supplemented by private cash donations and prize merchandise donations from local businesses.
***
GULFPORT — Holiday decorated boats will light up the Intracoastal Waterway Saturday, Dec. 14, in downtown Gulfport. The 34th annual parade presented by the Boca Ciega Yacht Club will kick off at 6 p.m. Parade-goers can get a good look from Gulfport's Williams Pier and the beach near the Gulfport Casino. Free and family-friendly.
***
INDIAN ROCKS BEACH — The city of Indian Rocks Beach will host its annual Holiday Lighted Boat Parade on Saturday, Dec. 21.
The parade line up converges at 6:45 p.m. about 200 yards south of the southern end of the Holiday Inn fuel dock. The parade will head north under the Walsingham/SR 688 Bridge. The bridge will remain closed, Sail boats and any vessels needing bridge clearance will need to stage north of Walsingham Bridge and then enter into parade. The parade will weave throughout the "fingers," finishing off at Harbor Drive North.
***
DUNEDIN — The Holiday Boat Parade & Tree Lighting event will be held Saturday, Dec. 7, 6 to 9 p.m. at the Dunedin Marina/Edgewater Park.
The boat parade route starts at Marker 1 Marina, travels south along the Intracoastal Waterway to Union Street then returns north and arrives at Dunedin Marina. Boats arrive at Dunedin Marina at about 7 p.m.
***
TARPON SPRINGS — Boats will proceed down the Anclote River and into the bayous Dec. 6 where Santa will give out treats. The best bet for viewing these holiday decorated vessels is from Craig Park/Spring Bayou. The event is free and boats are expected to enter Spring Bayou around 8 p.m.