REDINGTON SHORES — A piece of Florida history is now just that — history.
This past week, a contractor hired by the Florida Department of Environmental Protection wrapped up a $589,000 project to demolish the Redington Long Pier.
The demolition brings an end to what has been considered a historic treasure. The wooden pier dates to 1962 and was the last of what used to be many such structures along Pinellas beaches. In the 1950s and '60s, Indian Rocks Beach alone was home to eight public and private piers.
According to news reports from the St. Petersburg Times archives, the pier was built by motel owner K.E. Andrews as part of a project that cost $200,000.
Time has taken its toll on the structure.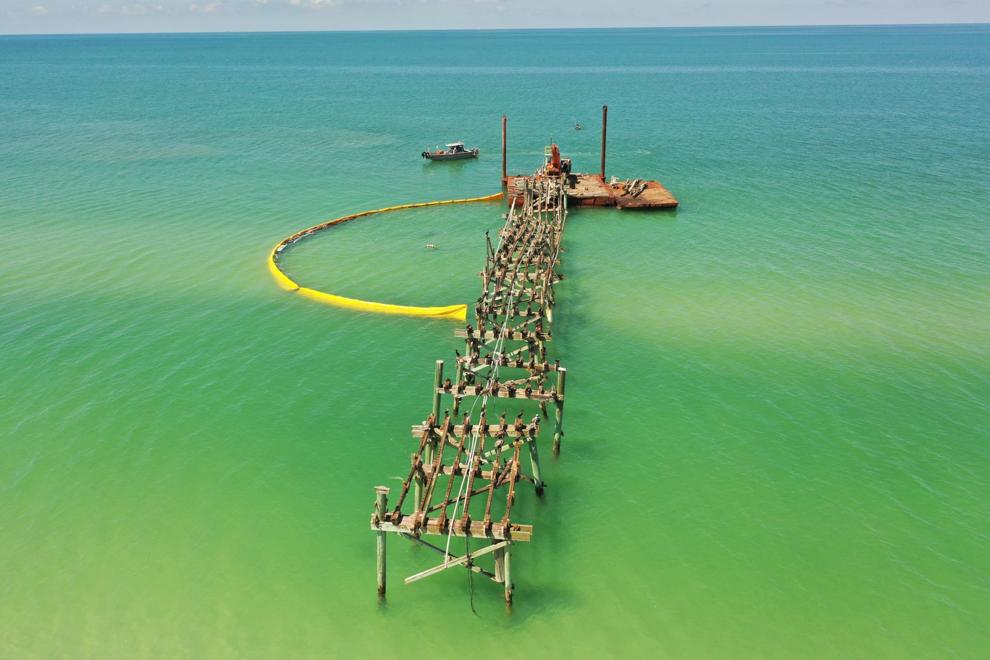 The 1,200-foot-long pier had fallen into disrepair in recent years and has been considered a safety hazard. Safety issues on the pier have been a concern and point of contention since 2006, when a county judge ordered its owner, Tony Antonious, to close it "until repairs are made that would render it safe for public use."
Since that time, Antonious, who has owned the pier since 2000, has been at odds with the town and Pinellas County over periodic demands to close and repair it.
At one point, Antonious even renamed it the Dubai Long Pier for a short period of time in retaliation.
In December 2018, the county filed a lawsuit against JERMC Ltd., a limited partnership headed by Antonious. The suit concluded with a request by Pinellas County for a court order against JERMC "to either satisfactorily repair or replace the pier or remove it from the waters of Pinellas County as soon as possible."
A last effort to preserve the pier with a development that would have put a hotel on the pier property and make other improvements was turned down by the town of Redington Shores in October. The project would have needed approvals at multiple government levels: the town, Pinellas County, and the state.
Meanwhile, the state, which owns the submerged land below the pier, continued to get bids to have it torn down.