GULFPORT — An art auction and dance party fundraiser for mural artist and Army veteran Keith Stillwagon will take place Friday, Sept. 27, 6 to 10 p.m., at the Gulfport Casino Ballroom, 5500 Shore Blvd. S.
The event, which is sponsored by the Enroy Foundation and the city of Gulfport, will feature Stillwagon's work. Live and silent auctions will provide attendees the opportunity to bring home one of his original paintings.
Entry is free with a cash bar. Local bands The Gulfport Swamp Opera and TC Carr & the Bolts of Blue will play live music.
Proceeds from the evening will benefit Stillwagon, who has recently experienced some health issues.
Stillwagon was drawn to the arts as a child growing up in Flint, Michigan. As he grew older, though, his father discouraged his love of drawing and creative skills.
"In my teens, I'd rather draw and read books on art," he said. "My dad started getting worried about it."
Though he loved to read, he did poorly in school, he said. He also was part of a street gang and regularly got into trouble with the law.
"I started getting in the wrong direction," Stillwagon said. "I talked to an Army recruiter when I was 16. I was doing poorly at home and at school, and I was running out of options. One more arrest might send me someplace I might do real time."
At 17, he enlisted in the Army, serving for three years during the Vietnam era. An infantry soldier in the 1st Calvary Division, he was sent overseas to the DMZ, where his primary job was to patrol the demilitarized buffer zone between North and South Koreas and the area south of it.
After his honorable discharge from the Army, Stillwagon briefly returned to Michigan, where he began to take his artistic ability more seriously. He taught himself the fundamentals of drawing and other mediums. He went on to live the life of "a nomad artist."
"I've been all over the country," he said. "In the second half of the 1960s, I was in San Francisco, in Haight Ashbury, right at the height of the hippie. It was insane and I just fit right in."
He also spent some time in Arizona.
"I love the mountains there. They're beautiful," he said.
By the late 1980s, he landed in Sebring, Florida. There, he "fell back on (his) military experience" and worked in law enforcement for three years, he said.
"I was a good cop because I worked hard at being a good cop and I enjoyed helping people who needed help," Stillwagon said. "It came close to holding my attention. I almost stayed with it."
His love of the arts won out, though.
He volunteered with the Sebring theater community to paint stage backdrops, which won several awards.
"This is how I learned to paint murals," he said.
He went on to paint outdoor murals for the city of Sebring's Community Redevelopment Agency.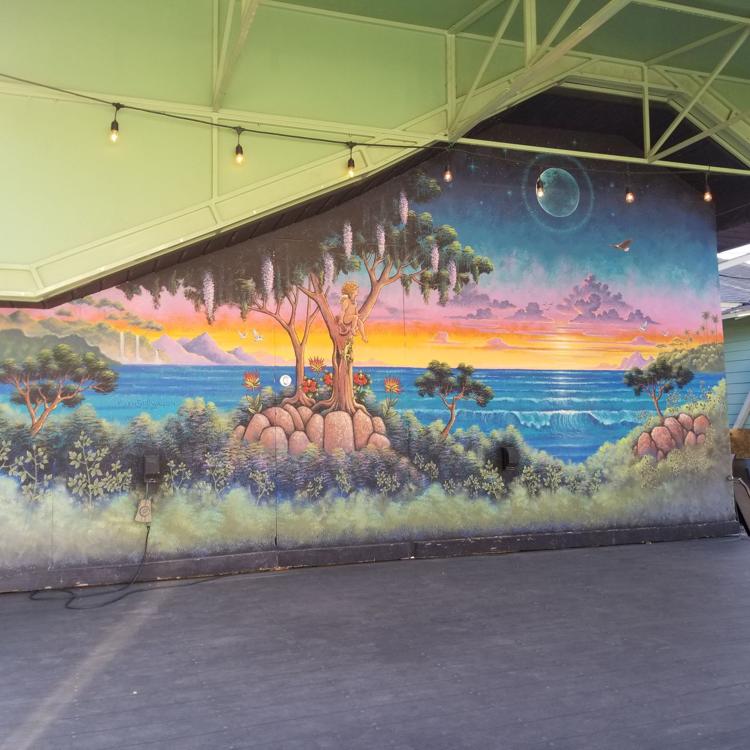 He found his way to Pinellas County after pursuing a romantic relationship with a woman who lived here, and landed in Gulfport in 1994.
Stillwagon painted his first Gulfport mural in 1995 at the Peninsula Inn. One wall of the mural, "an ephemeral scene" originally painted on two outdoor walls, remains today.
He recalls being approached by employees with the city of Gulfport while painting the mural.
"They told me they had numerous complaints that someone was doing something pornographic in the alley," he said. "I said, 'That would be me.'"
The complaints referred to pixies he included in his painting, and city staff was angry when he wouldn't cover them with a bathing suit, he said.
"These pixies were no more pornographic than Walt Disney," Stillwagon said. "They were floating through the sky up towards the moon and the stars. It was cosmic, a very innocent thing, and the girls were pretty and they had wings. There was no genitalia; (it was) just wispy."
Eventually, the then-St. Petersburg Times picked up on the story.
"It was a censorship fight," he said. "It was getting to be public, and finally, the city backed off."
The second wall of that mural project was only recently covered up, he added, and not because of pressure from the city.
"The previous owners (of the Peninsula) put up electrical boxes around it. It took away from the effect of the mural," Stillwagon said. "I made the call to cover it up and gave it a decent burial."
His murals can be found in several other Gulfport locations, including the Habana Café, and the courtyard near Low Tide Kava Bar, Vintage, and Stella's.
He's been hired to paint murals in locations as far away as France, and has painted many murals in private residences, he said.
His colorful artwork draws from all of his life experiences.
"You'll see mountains and cacti and stuff appear in my work sometimes," Stillwagon said. "Sometimes I merge them together — tropical Florida and the Arizona desert."
He's especially drawn to nature imagery, he said. "My own mystical interpretation of the wilderness. I call it Florida visionary art."
For more information about his work, visit keithstillwagon.com.