INDIAN ROCKS BEACH — Residents are being given the opportunity to have a say in how they want their city to look in the years ahead.
They are taking advantage of it.
More than 80 people showed up at the City Hall auditorium on June 19 to take part in a visioning process led by Forward Pinellas, the county's planning organization.
Whit Blanton, executive director of Forward Pinellas, told residents that a comprehensive study looking at IRB's future was last conducted 10 years ago, and it was time for a refresher.
"Ten years is a long time," he said. "A vision will endure but only if it is maintained properly. It is like your backyard fence; it needs upgrading once in a while."
Blanton soothed fears that beach communities such as IRB will be overwhelmed by an influx of people in the future. He said that just isn't going to happen.
"The beach is not an area of high density," he said. "Pinellas County has 47 miles of beach and a population of a million people so we have to work together to make things turn out the way we plan."
He said there are expected to be an additional 100,000 people moving to Pinellas in the next 20 years and they have to live somewhere.
"Where are they going to live?" he asked. "I suspect along the U.S. 19 corridor or in the Gateway area."
With that in mind, Blanton said the visioning process will look at the city in its entirety.
"We'll be looking at the whole city and its neighborhoods," he said. "Nothing is off limits. Go big or go home."
Christina Mendoza, the project manager of the visioning process, reminded the audience that the last study, done by USF 10 years ago, outlined certain outcomes.
She said back then residents wanted to make the Narrows business district a village center type of area. They also wanted to make the midtown and uptown areas lively neighborhoods and business districts.
"Now we'll see if you still want this," she said.
Caitlin Amos, a consultant with the Chicago-based firm SB Friedman, told residents of the semantics involved when talking about development issues.
"For example, when we talk about mixed-use do we mean a two-story building with a residence on top and a business below, or do we mean a large residential development next door to a large commercial development," she said. "There are opportunities and challenges to mixed use development."
With that the residents were asked to list up to five things they wanted to see IRB adopt in the future. They wrote those items on sticky notes and put them on the wall.
Blanton said he was excited by the prospect of the visioning process and hearing from the residents. He pointed out that IRB was a unique place.
"You are not Gulfport, you are not Safety Harbor, you are your own entity," he said. "This is our bread and butter and we're involved in looking at the county's needs up to 2045. I know that is a long time but transportation issues take a long time to get done."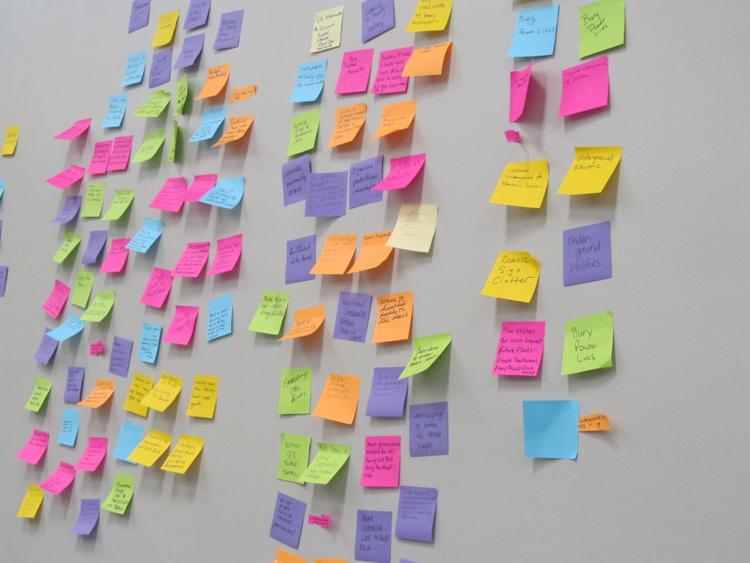 The residents did not seem to be in any mood to wait 25 years for changes or improvements; they wanted movement now, and using what they had written on the posted notes they began to speak.
First up was a man who wanted to be able to drive his golf cart along Gulf Boulevard. People can drive golf carts on city streets, just not on Gulf Boulevard.
Blanton reminded him that state law prevented golf carts from driving on Gulf Boulevard.
He then used that as an example of how the community is going to plan for the future.
"Most people here have probably used Uber or Lyft," he said. "You are going to have to decide if you want exclusive pulling off points for those operations."
Several people complained about traffic on Gulf Boulevard, especially during the tourist season and especially in the north end of the city as it approached Clearwater Beach.
"I don't know how long people are going to put up with the congestion on Clearwater Beach," said Blanton. "And during peak season you don't dare go to the mainland because you are never getting back."
An attendee resonated with the crowd when he brought up the issue of parking. He said it was a real problem especially for pedestrians trying to navigate their way through the parked cars.
"It is really scary sometimes," he said. "It is a huge, huge issue. It is a major, major problem."
Another attendee said the reason for the parking demand has to do with the beach.
"We are the last community with free parking," he said. "People have been pushed here because they have to pay everywhere else. We want the people here; maybe we can figure out how to establish a free shuttle so they can leave their cars elsewhere."
Also discussed was the notion of "small town feel." Residents agreed that was important to them and they expressed a number of ways to achieve that.
Another attendee was concerned with losing single family homes. He said every time a single home is torn down it is replaced with two or more houses.
Other subjects discussed were the beach trolley, development, infrastructure, short term rentals and bicycle and pedestrian safety.
At one point during the two-hour event, Blanton asked the residents if they could think of another community they could compare to Indian Rocks Beach; if there was another community better than IRB that they could aspire to. He got a resounding "no."
The visioning process will continue. The next public forum will be on a date to be determined in September. A preliminary report will be issued at a meeting in November and the final report in December. In between those dates, Blanton and his team will be talking to individuals and groups about their hopes for the future of their city.