TREASURE ISLAND — The Rosselli Park playground will soon become Treasure Island's first recreation facility refurbished with synthetic turf and stingray-shaped shade structures, while the Treasure Bay playground will get a much-requested sun protection feature.
During a Sept. 15 work session, city commissioners tentatively approved a proposal by Recreation Director Cathy Hayduke to purchase playground equipment, synthetic turf surfacing and shade structures for Rosselli Park.
Hayduke noted the small play structure in Roselli Park was purchased in 1994. Its larger playground was replaced in 2003, when the city removed pressure-treated wood components due to arsenic concerns, replacing it with commercial-grade plastics and metal equipment.
Hayduke told commissioners the transfer deck on the small structure needs replacement due to bubbling and rust, while the roof and other elements of the structure show signs of vandalism; paint on the structure is fading and structural components are mildewing within.
"On the large play structure and swing set, the paint is chipping and fading. The overall evaluation of the equipment is acceptable; however, staff cannot determine the structural integrity of the equipment due to its age. Additionally, the large play structure is not ADA accessible," she added.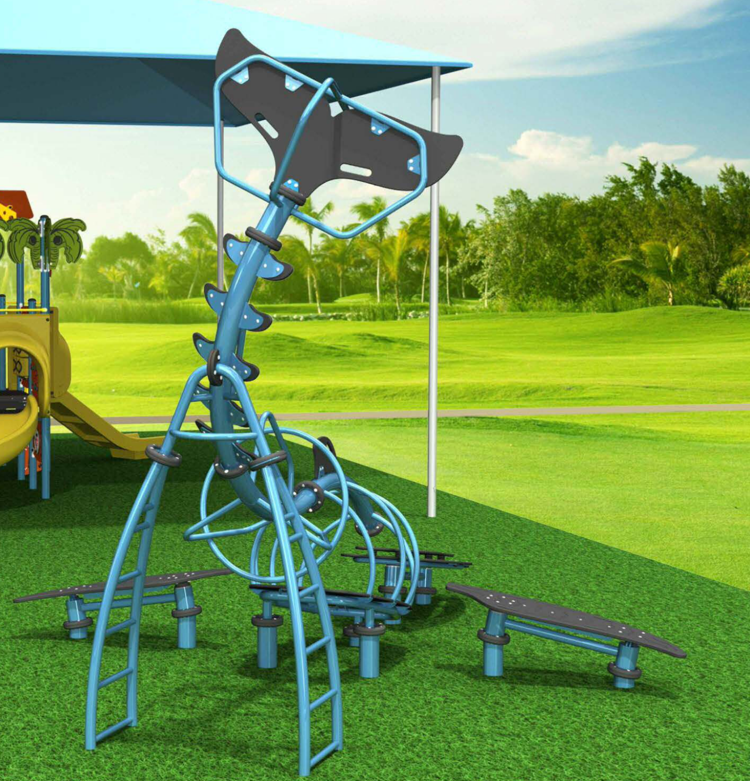 Replacement of the Rosselli Park playground equipment was originally budgeted in 2019. However, due to additional money needed for the Community Center roof repairs, those funds were redirected and playground purchase re-budgeted for consideration in 2020, she explained.
To complete the restoration, Project Innovations, Inc. will be awarded $162,550 for purchase and installation of playground equipment, synthetic turf and a shade structure at Rosselli Park. Money from the city's Penny for Pinellas sales tax fund will help pay for the project.
At a meeting last month, commissioners stated they preferred a playground designed for older children and those with disabilities at Rosselli Park, Hayduke said. "It was noted that younger children could utilize the Treasure Bay playground."
She advised, while it will not be a popular move, a bottle brush tree at Rosselli Park that children have played on for decades will have to be removed, because under current standards it is considered too close to playground equipment.
Commissioner Tyler Payne said he loved climbing on that tree as a youth.
The playground will include ADA-accessible play structures and a super-climber whale for ages 5 to 12 years old. Play structures will include ground-level play components and elevated-play components connected by transfer ramps.
The playground will feature the city's first artificial turf recreation area and two stingray-shaped shade structures.
Commissioner Deborah Toth thanked staff for making the playground more accessible to youngsters who are mobility challenged and in wheelchairs. "The turf would be so nice for kids in a wheelchair or are mobility challenged," she said. "There are kids who are left out of it all."
Commissioners were also happy to learn that the $13,386 stingray-shaped shade features are much less expensive than a traditional tent structure costing $46,620.
The project will also include improvements to the Treasure Bay playground.
Hayduke told commissioners the original Treasure Bay equipment was installed in 2003 and replaced with the Pirate Ship playground in 2017.
"Since its installation, the city has received ongoing requests from residents for a shade structure over the playground equipment. Due to frequent heat advisories this summer, many parents have elected not to use the playground and go to alternate locations with shade," she told commissioners.
The city will apply for an American Academy of Dermatology Shade Structure Grant, which awards a maximum of $8,000 for installation of permanent shade structures. The city will apply for a grant for both the Treasure Bay and Rosselli Park projects.
Commissioners will consider officially approving the project at the next commission meeting.
City exploring library options
City Manager Garry Brumback told commissioners the staff is exploring library options. "We have been with Gulf Beaches Library for as long as most people can remember, but because of recent events we started looking at potentially changing that affiliation with St. Pete Beach. They are both part of Pinellas Public Library Cooperative."
St. Pete Beach commissioners already expressed interest in formulating a joint-use agreement that would allow Treasure Island residents to use its newly refurbished library expected to open in January.
Brumback told the Treasure Island commissioners "we are unable to make a decision at this point. We have to give them at least three months' notice before we make some decision like that. I have some data to share on usage and will be bringing this back to the commission next budget year for your discussion."
No changes to Blind Pass no wake zone
After much deliberation, commissioners decided not to extend the "no minimum wake zone" at Blind Pass for longer than just on weekends and holidays. The initial request came after reports of boats and jet skiers speeding in the pass during the week, potentially causing damage to boats that are not on lifts and seawalls.
After public comments, where mostly local boaters objected to extending the no wake zone period, a majority of commissioners agreed a change is not necessary.
Police Chief John Barkley told commissioners his marine officer makes about five stops a month at Blind Pass. The marine unit is much busier in John's Pass, where there is much more boating traffic.
Commissioner Saleene Partridge said she lives on the water and doesn't see problems with speeding watercraft users during weekdays. She noted most who commented are passionate about not making a change.
She also feared the unintended consequences of imposing additional regulations that could cause watercraft congestion in the finger channels.
Mayor Larry Lunn said the predominant feeling of those he has spoken with is no change should be made. He said he "realizes some might favor (an expansion of the) no wake zone, but the more predominant view is leave it alone."
Commissioners voted 4-1 not to make a change, with Commissioner Maribeth Wetzel voting for the change.