As in past years, the beaches produced no shortage of news stories in 2017. Following are some of the headlines that made news during the year from Tierra Verde to Indian Shores.
• The beaches dodged a serious bullet when Hurricane Irma passed east of Pinellas County Sept. 11 with winds in excess of 95 mph. Minor damage was reported along the beaches but the major problem was the cleanup of debris that took upward of two months.
• A revised plan that significantly reduces the size of buildings in a major development proposed for the Madeira Beach gateway was approved by the city commission Jan. 10. The revised plan significantly reduces the size of four of the five buildings in the project. Two hotels and two condominium buildings will be downsized, while a low-rise marina building will have added space. The two hotels will be reduced in size from 11 stories to eight. One of the hotels will have a 20 percent reduction in rooms, from 180 to 148, with 10 condo units added to the top. The other large hotel is being reduced from 250 rooms to 168, a 30 percent reduction. About 40,000 square feet of retail space will front the property.
• Former Treasure Island Fire Chief Charles Fant died Jan. 15 at St. Anthony's Hospital in St. Petersburg after a long battle with cancer. He was 64. Fant was a member of the Treasure Island Fire Department for 41 years and served as fire chief for 30 years until his retirement in January 2012.
• Pressure from Madeira Beach residents resulted in another major development in the city being reduced in size and redesigned. A revised plan that features a significant downsizing of the Holiday Isle Marina, proposed for the Holton property on the Intracoastal Waterway at the foot of the Tom Stuart Causeway Bridge, was presented at the Feb. 14 City Commission meeting. The number of buildings was reduced from the six approved in 2016 to two. A 122-room condo-hotel is now gone from the plan. The remaining 150-room hotel was reduced from seven floors over two floors of parking to five floors over one parking floor. Residential condo units were reduced from 68 to 31 in one five-floor building that is replacing three previous seven- and nine-story structures. A planned standalone restaurant will now be located in the hotel. A proposed marina will have 124 boat slips, which are 40 less than originally planned.
• In mid-March, Al Johnson was elected mayor of St. Pete Beach, defeating interim mayor Deborah Schechner and community activist John-Michael Fleig. Johnson's term runs through March 2020.
• The Treasure Island City Commission took on a new look in March when challenger Deborah Toth defeated longtime commissioner Phil Collins for the District 1 seat and Ralph Kennedy defeated Patrick Jeffares for the District 3 seat.
• Treasure Island leaders agreed in early March to accept a settlement for $850,000 in the ongoing lawsuit with Phil Graham Landscape Architecture over cracks in the Central Beach Trail. The mediated deal calls for the construction of a new Beach Trail and the replacement of 17 access modes to the beach, which also have cracks. The current sand wall will remain. Construction is expected to begin in early 2018.
• St. Pete Beach commissioners voted unanimously April 11 to approve a request for a conditional use permit for a mixed-use development on the site of the Coral Reef hotel property at 5750 Gulf Blvd. Owners of the TradeWinds Island Grand Resort plan to build a 217-room hotel on the site with an 811-space multi-story parking garage, which will make up the proposed Sugar Sands at TradeWinds Island Grand Beach Resort. The building will include a timeshare sales center, a spa, fitness center, a marketing office and a reception area.
• Madeira Beach officials voted 3-2 on May 4 to suspend City Manager Shane Crawford and fire City Clerk Cheryl Crawford, Shane's wife. Newly-elected Mayor Maggi Black, who led the charge, said the move was needed "to make our city whole again." She insisted the move was "not based on retribution." Newly-elected commissioners Nancy Oakley and John Douthirt backed Black. A few weeks later, attorneys from both sides worked out a settlement agreement that ended Shane Crawford's employment with the city after 24 weeks as a consultant.
• The third race of the Powerboat P1 SuperStock USA series made its Pinellas County debut June 17-18 off St. Pete Beach behind the Post Card Inn. The event, presented by Mercury Racing and Powerboat P1 AquaX Racing, featured a series of SuperStock and high-powered jet ski races. Over 100 AquaX pro and amateur racers from around the world competed on personal watercraft at speeds of more than 70 mph. In addition, a total of nine SuperStock boats competed on a 2-mile oval course about 1,000 feet off the beach. The event is expected to return in 2018.
• Plans for a new complex that would provide police and fire services to the Redingtons were discussed at the July 12 Redington Shores Town Commission meeting. The proposed facility would be built on 173rd Avenue at the Redington Shores/North Redington Beach boundary. Redington Shores' town maintenance building is currently on the site. Funds from the new Penny for Pinellas are expected to pay for it.
• After four years of sitting vacant, it was announced in early August the site of the former Wine Cellar restaurant in North Redington Beach will soon be redeveloped into a group of restaurants called Redington Village. The two-acre site at 17307 Gulf Blvd., was purchased for $2.04 million by Redington Village LLC, which is a subsidiary of Tampa-based AG Development Group. Principals in the project are Allen Goins, chief executive officer of AG Development, and Robert Schmidt of Belleair Shore, owner of Schmidt Investments of South Florida. Goins said the project encompasses four buildings and a total of 16,000 square feet. Plans call for 120 or more parking spaces.
• As work slowly wrapped up on the first phase of the Pass-A-Grille Way road project, St. Pete Beach leaders took the first step on the second phase Sept. 26. St. Pete Beach commissioners voted unanimously to approve a $10.2 million bid by Gibbs & Register, Inc. to complete the next leg of the project, from 19th Avenue south to First Avenue. The total cost will be in the area of $11.5 million after the city pays for new trees, street lights and a Duke Energy connection fee to a city storm water lift station.
• Madeira Beach gave the go-ahead in early October to a long-awaited drainage and roadway improvement project on Rex Place, approving spending just over $900,000. The work covers the entire road, from the intersection next to Winn-Dixie to the seawall by the Recreation Center. Al Carrier of Duel and Associates, the engineering firm managing the job, said the project includes new roadway construction, new curbs and a new storm water collection system.
• St. Pete Beach city commissioners passed an amendment to its ordinance regulating fats, oils and grease into the sewer system Oct. 10 that establishes alternative methods for measuring discharge into city sewers and sets an easier method for restaurants and auto repair shops to obtain a necessary commercial wastewater discharge permit. City Manager Wayne Saunders said the amendment gives the city more flexibility with businesses on meeting the requirements for FOG discharges.
• A recall committee in Madeira Beach announced plans in mid-October to oust two city commissioners elected in March. Commissioners John Douthirt and Nancy Oakley, along with Mayor Maggi Black, won their seats in a hotly contested election, fueled mostly by controversy over two major developments planned for the city's eastern gateway corridor. A recall flyer charges Douthirt and Oakley with "numerous charter and Sunshine Law violations," as well as being incompetent and having "questionable ethics."
• A decision by Florida's Second District Court of Appeals Oct. 27 opened the door for the city of Treasure Island to again stage events on the beach but public parking on the beach remains illegal. After a four-year court battle, the appeals court ruled that it found no error in a lower court's decision that the city violated Section 161.58(2) of the Florida Statutes by allowing public parking of vehicles on the beach during city-sponsored events. However, the appellate court ruled the lower court "went too far" when it declared "any additional conduct illegal, declared the city's ordinance invalid and enjoined the city from 'hosting or allowing' any 'vehicular parking and driving on Treasure Island Beach.'" Translation: When the city hosts events on the beach, only vendor vehicles will now be allowed on the beach temporarily to load and unload.
• Treasure Island city commissioners named Garry Brumback city manager. The decision was announced Nov. 3, following interviews by commissions a day earlier. Brumback, 60, most recently was town manager of Southington, Connecticut where he served seven years. He also served previously as assistant city manager in Clearwater. He replaces Reid Silverboard, who retired in May after 10 years as Treasure Island city manager.
• After weeks of speculation about his future as Madeira Beach city manager, Derryl O'Neal decided Nov. 13 to return to his old job as city fire chief. O'Neal was back and forth on the issue since being named city manager Oct. 10 to replace Shane Crawford. In a letter to the City Commission, O'Neal cited changing advice he was given concerning the retirement benefits he would receive if he made the switch from fire chief to city manager. O'Neal said, in consulting with his financial adviser at Raymond James Investments and officials of the Florida Retirement System and Florida Department of Revenue in Tallahassee, he was given conflicting and sometimes incorrect information. O'Neal said he was told, during reviews of his financial status, that he "would be OK," as the city manager is an appointed position with an exempt status. Later, he was advised "the FRS retirement benefit that I had worked toward for the past 30 years would stop and all my assets would be frozen indefinitely." The barrage of information caused O'Neal, after initially accepting the city manager position to step down and request a return to being fire chief two weeks later, on Oct. 27. Then three days later, on Oct. 30, O'Neal announced he wanted to remain in the city manager job, for now, and evaluate his options.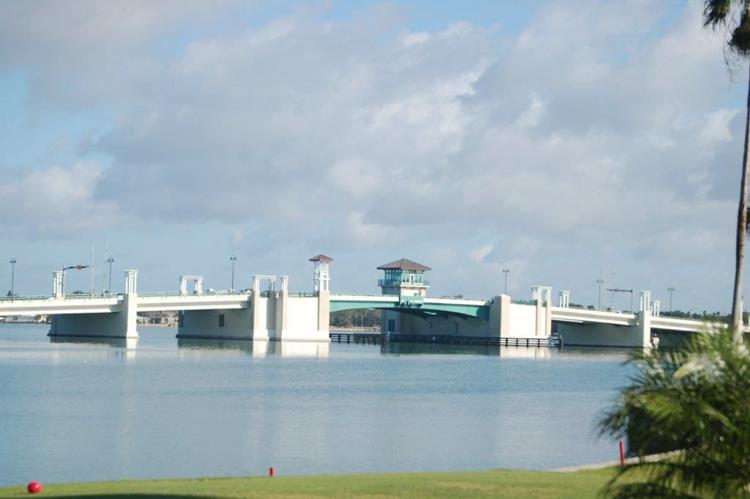 • As the year ended, Treasure Island officials were still holding out hope the Federal Highway Administration would give them the thumbs-up to return tolls to the Treasure Island Causeway. Commissioners want the endorsement of the FHWA after Interim City Manager Amy Davis received an email from Cynthia Eisenmacher, the federal tolling program manager for the FHWA's Center for Innovative Finance Support, listing five exceptions to a federal statute that restricts the city's ability to toll Causeway Boulevard. With that in mind, city leaders moved forward on a proposal by Thornton Williams of the Thornton Law Group to engage FHWA to determine if the city is able to qualify for any of the exceptions and return tolls to the causeway again.