MADEIRA BEACH — City Recreation Director Jay Hatch made a trip to Plant City recently to see the USA Patriots Amputee Softball team in action. Suffice it to say, the scouting mission made an impression on him.
"When we went out to Plant City and watched them play, it was amazing. There was one outfielder who is missing one of his arms," Hatch said. "He dove and caught a ball. One of the better catches I have ever seen in my life. They are not letting anything hold them back."
The Patriots will be coming to Madeira Beach for a charity softball game Saturday, Sept. 21, at the Madeira Beach Recreation Complex, 200 Rex Place. Gates will open at about 4 p.m.
The Patriots will take on the city's team, which will be represented by a variety of local players, including Michele Smith. She is an Olympics softball gold medalist, former USA softball player and Treasure Island resident.
Local radio talk show hosts Ron Diaz and Ian Beckles, a former Tampa Bay Buccaneers guard, will coach against each other during the game.
Hatch's trip to Plant City stemmed from a local civic activist involved in veterans events approaching Hatch and other city officials, saying she was interested in having the Patriots play in Madeira Beach.
Madeira Beach officials were swayed by the fact that the Patriots raise money for a camp for amputee children.
"They (the children) are not held back by any of their perceived issues," he said.
Hatch added that the city's recreation complex is located near the Bay Pines VA Medical Center and American Legion and VFW posts.
"We felt like it was a great fit for the city and good opportunities to bring these guys in and help out a cause," Hatch said.
The amputee team was formed in 2011 with a total roster of 38 players, the youngest being 28 years old. A public charity, the Patriots' mission is to inspire and educate others while enhancing the health and welfare of Wounded Warrior Amputees.
The team touches a lot of lives through the program, beyond just veterans and amputees, said Desiree Ellison, executive director of the team, based in Norfolk.
"I feel like everyone can get a bit of inspiration from this. When you feel down on your luck, when you feel like there is nothing left, it really depends on what you can push through. I mean to be missing both legs. You have the opportunity to use the wheelchair forever or go push through that limit and still play a sport you love. Still walk every day. Still get yourself up and be self-sufficient, and I think a lot of people need to see that, whether you have missing limbs or not," she said.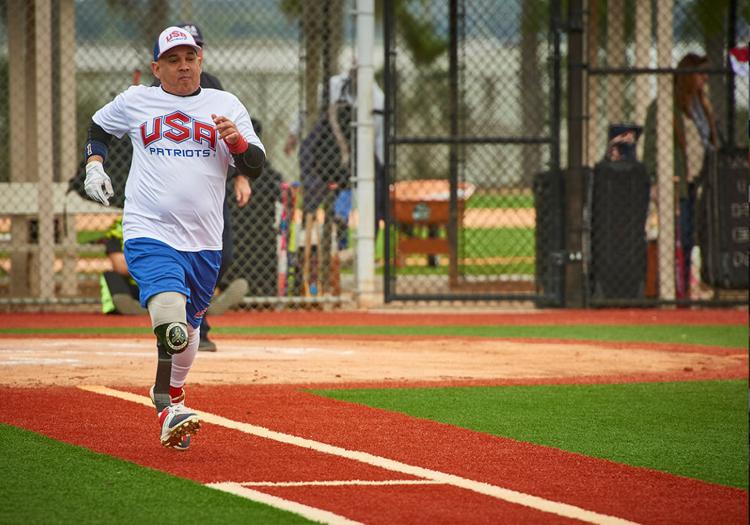 The Patriots recently played a competitive tournament in North Dakota and won first place in their division against all able-bodied teams, Ellision said.
One of the players who will participate in the Madeira Beach event is missing an arm and his shoulder. Others are missing fingers, parts of their feet and toes. And yet, the loss of limbs doesn't stop them from performing extraordinary feats on the ballfield, such as a double amputee hitting a home run.
"He's faster than I am and I have all my pieces," Ellison said.
The game will start at about 5 p.m. Food and beer will be sold, and bounce houses will be available for children. The Wound Warriors Abilities Ranch, based in Pinellas Park, will have a wheelchair basketball demonstration on the courts at the recreation complex. Ten to 15 vendors will be on hand along with veterans support groups.
The Patriots will spend Friday, Sept. 20, through Sunday, Sept. 22, in Madeira Beach. City officials say the Patriots' visit is fully supported through donations. Money raised during the game will go toward the annual summer camp initiative. Twenty children who have had amputations participate in the camp and team members serve as coaches.
To donate to the Patriots, visit https://usawwast.org/donate/.