ST. PETE BEACH — Retired Lt. Col. Carol Barkalow, who was one of the first women to graduate from the U.S. Military Academy at West Point and served 26 years in the U.S. Army, along with her partner Sheila Mutascio, has been buying homes to provide living spaces for homeless veterans for the past seven years.
In 2013, Carol, Sheila and a third woman co-founded the nonprofit organization Heaven on Earth for Veterans Inc., which focuses on providing safe, affordable, furnished living quarters to military veterans in need of housing. Their organization purchases, refurbishes and furnishes houses in south St. Petersburg to offer living spaces for veterans who cannot afford to own or rent their own home or apartment.
St. Pete Beach resident Barkalow said the apartments they provide include all household equipment from silverware to linens, pots and pans to laundry facilities. Veterans lease private bedrooms for a small stipend and share the common living areas. All utilities are included as well as cable television and internet access in the common area.
They now operate nine homes and provide rooms for 31 once-homeless veterans. On her Facebook page, one friend thanked her for helping to house over 200 veterans over the years. Barkalow said they hope to provide their 10th home, but the COVID crisis has seen their donations drop by about $40,000.
A long-term goal, she said, is to one day create Veteran's Village Tampa Bay on about five acres, which will have a men's, women's and family barracks, and offer counseling and job training.
"I believe it could end homelessness among veterans in Pinellas County," she said.
If a benefactor wants to give the group 5 acres somewhere in the area, they are ready to take on the mission, she said.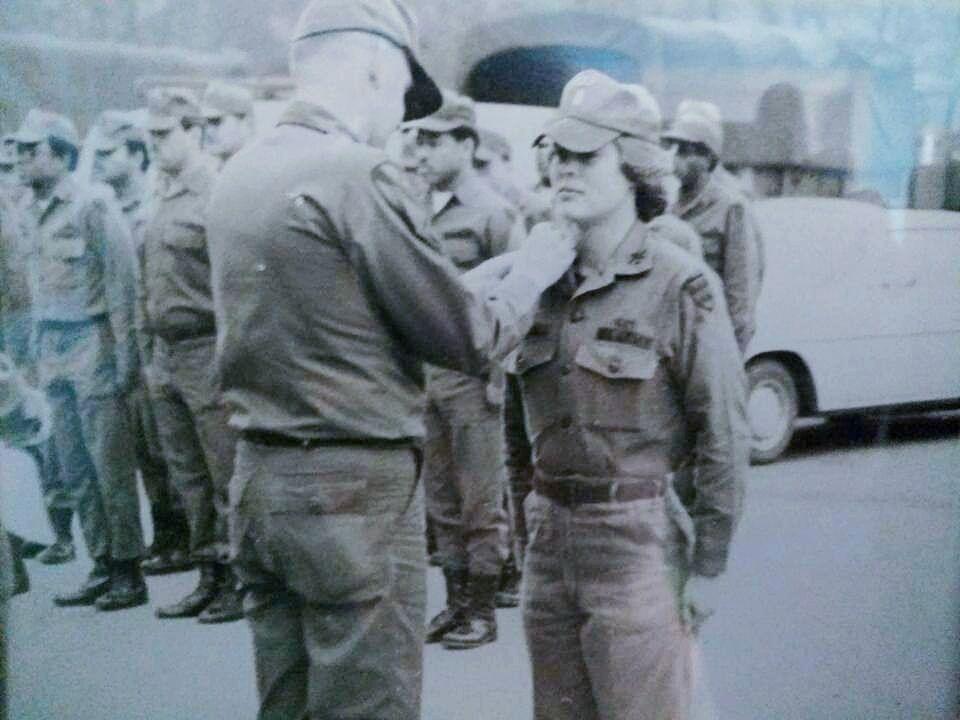 Heeding the call
In 1976 at age 17, Barkalow, who is from Clifton Park, New York, joined the Army as one of the first female cadets to be accepted into West Point. She said she always liked the teamwork and discipline found in sports and was inspired by U.S. Army commercials that noted "freedom isn't free" and the Army "can make you be all you can be."
Four years later, she was among the first class of female cadets to graduate from West Point as a second lieutenant in the Army. Rising to the rank of lieutenant colonel, she served the country for 22 years, seeing action in Operation Desert Storm, two years both in Germany and at the Pentagon, as well as commanding an Army battalion in Korea.
In 1990, she wrote a book on her experiences at West Point and the military called "In the Men's House." The book details her four years as a member of the first class of women to graduate from West Point and also highlights her first eight years of active duty service. Barkalow has also testified to Congress on the subject of women in combat.
She retired from the military in 2002 and moved back to Clifton Park, but by 2006 the warm weather beckoned her to settle in St. Pete Beach. She worked for Pinellas County in the volunteer services branch of the Human Resources Department.
It was in 2010 that she and Mutascio, a real estate entrepreneur and then-owner of a hair salon in St. Pete Beach, decided to help area homeless veterans. A year later, they started acquiring houses in St. Petersburg south of Central Avenue, before forming their Heaven On Earth For Veterans charity.
At first, they used over $330,000 of their own money, refinancing their home twice and taking out a home equity loan to purchase and rehabilitate eight homes. The homes they bought ranged from $18,000 to $39,000; one house is dedicated to veterans who are students.
The homes provide rooms to both male and female veterans ranging in age from 25 to 85; their leases include strict rules that prohibit drugs, drunken or disorderly behavior. Those who don't follow the rules are evicted.
Their project receives some funding from St. Vincent DePaul and Carrier Source Pinellas, but Barkalow said they could always use more funding and donations.
"Our greatest need now is to raise money to purchase another home for veterans," she said. "We are trying to get a bank to donate one to us as well. As always, we want to continue to accept furniture and appliance donations, but to do this we also need more space to house these items. One hundred percent of all donations goes directly to helping veterans. Because we charge a small rent, we pay all of our administrative costs from the rent we collect," she said.
"Every homeless veteran has a different story, many don't have families, some abuse alcohol and others suffer from effects of PTSD. … Veterans understand veterans," she said.
The veterans' common background of service facilitates mutual support and companionship in a safe environment, she added. Heaven on Earth for Veterans has purchased a vacant lot with hopes to build their 10th home next year, which will house another four veterans.
Barkalow's days are filled with visiting the organization's veterans homes and serving many local group boards.
In 2012, she was honored by the Florida Business Professional Women's Association as a "First Woman of Tampa Bay." She is a past president of the Rotary Club of St. Petersburg West and currently serves as the Assistant Governor of Area 1. She is also a member of the St. Petersburg Elks Lodge #1224 and holds the position of Esquire (sergeant at arms) for the lodge. She is also the current chair of U.S. Rep. Charlie Crist's Veterans Advisory Board and is a member of the Bay Pines VA Director's Veterans Advisory Board.
She and Mutascio have been honored by the city of St. Petersburg as official Sunshine Ambassadors for outstanding goodwill and valuable contributions in helping veterans. Barkalow has also been honored by the Military Officers Association of America at its national conference in October of 2016, as a Community Hero for her efforts in helping veterans in need. In 2019, she received the Barbara Bush Citizen Patriot Award from the city of Largo.
Barkalow said she does much of the maintenance on the homes, especially since Mutascio, who used to help with decorating and cleaning, had to recently sell her hair salon to recover from breast cancer and quarantine after receiving radiation treatment. A third co-founder, Laura Berkowitz, serves as the group's treasurer and communications, research and nonprofit expert.
The group is looking for civic, business and religious groups to hold fundraisers to offset its costs and it is taking donations of land and property. The group can be contacted at HOEVhome@gmail.com or donations can be sent to Heaven on Earth for Veterans Inc., P.O. Box 66676, St. Pete Beach, FL 33736-6676.