TREASURE ISLAND — An old bottle brush tree that has been a favorite climbing spot for generations of children in Rosselli Park will be saved for now, with further inspection determining its longevity.
The fervor began with an attempt by the Recreation Department to install new playground equipment for younger children in Rosselli Park. However, what started out as a good deed put the beloved bottle brush tree in conflict with modern-day safety regulations because its branches overhang the play area.
The tree, once praised for providing shade for children playing on the equipment, is now deemed a dangerous climbing hazard, according to regulations devised by agencies such as the United States Consumer Product Safety Commission and American Society for Testing and Materials.
During the Dec. 15 City Commission meeting, Recreation Director Cathy Hayduke said the contractor hired to install the playground equipment would not take on the task as long as the bottle brush tree conflicted with national and state recreation guidelines.
At an earlier Dec. 1 meeting, city commissioners approved a plan by recreation staff to remove the tree and install a new playground for both younger and older children. At that meeting, Commissioner Tyler Payne voiced concern about removing the tree that he enjoyed climbing as a youngster.
On Dec. 7, the tree was scheduled to be taken down to make way for the new playground structure. However, after word got out in a Tampa Bay Newspapers article and spread on Facebook that the tree was going to be removed, residents kept a lookout and climbed its limbs preventing its demise. The tree choppers retreated.
This past week, Payne told fellow commissioners that he knew the community would rally to support it.
"At this point, my top priority is to save the tree. … I grew up climbing that tree and know how sentimental it is. … It's not just a tree and we have to do what we can to save it," he said.
Residents who spoke at the Dec. 15 meeting told of how generations of children wanted to frequent the park just to play and climb on the bottle brush tree.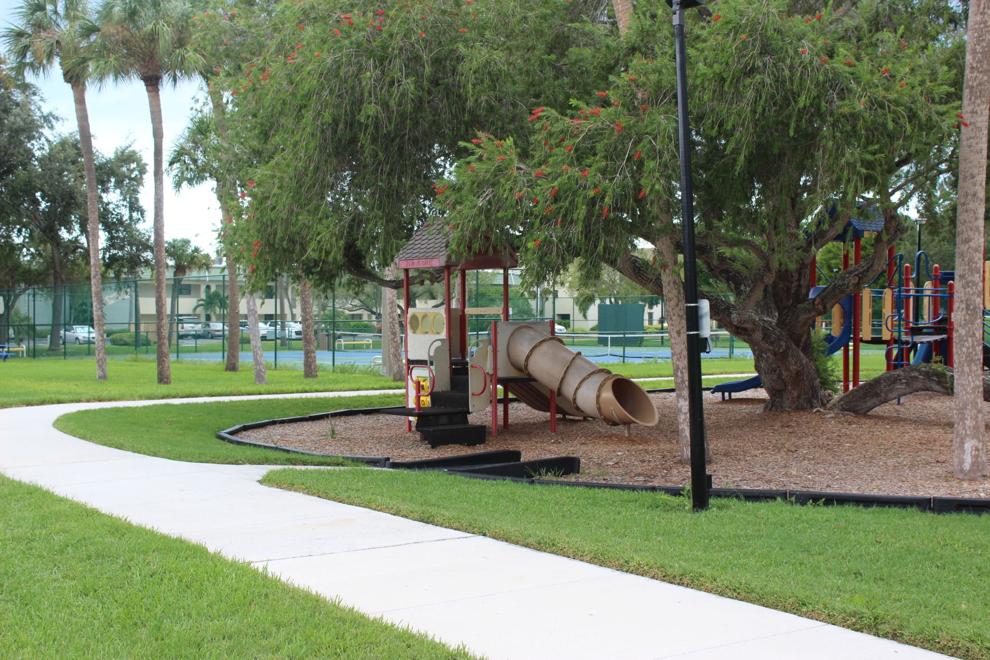 Resident Edward Case said "that tree can really be considered a piece of playground equipment . All of us have taken children out there. … My children are now 25 to 42 years old and my grandchildren come out to play on that tree. They love it. It's a wonderful thing."
"Yes, there's a liability, but let's face it there's a lot of fun in doing things that are a little bit dangerous," he told commissioners; "that's why we have parents and grandparents that are there to make sure they don't do something that's really stupid."
Another resident, Mark Moultrup, noted "that tree has been there for a long time. The kids love it and that's one of the best things about it. The low branches, the young kids can climb on it, and sometimes they fall and they learn from that. Sometimes they trip on roots and then they learn to watch for roots. Things like that are part of the whole game of life."
Commissioner Saleene Partridge said discussion about putting a playground in Rosselli Park started because "we were concerned about children and the aging of the equipment. …We were looking forward to the fact that we were going to have a lot more children on the playground due to them being homeschooled and the fact that COVID has kept more kids at home."
When she questioned Hayduke about when the city considered the tree a liability, the recreation director told commissioners, "I always had mentioned the tree would have to go. That was something when we talked about the playground, if we were going to put the playground in the existing area that the tree would have be removed. I think I have been talking about that for three or four years."
Hayduke noted the longevity of the tree cannot be predicted. She said the city's arborist "would do his best to keep it alive, to make it aesthetically pleasing, but because of the age and structure of the tree … there are no guarantees on how long the tree will last."
She explained the consultant commented that the limbs of the tree were so low that if somebody was to bend over to tie their shoe they could come back up and hit their head.
Hayduke added the roots of the tree can also cause children to trip and fall.
Partridge asked "how many reports of falls and trips have we had" at Rosselli Park?
Hayduke answered, "I have not received any; it's not to say it did or did not happen."
In any case, even if a new play structure was not installed, the tree would have to be pruned because its branches are resting and overhang portions of the playground equipment, Hayduke said. Under current recreation guidelines, the play structure has to be 6 feet from a tree that can be climbed.
To prune the tree, with annual maintenance, will cost about $3,000, she told commissioners.
Payne asked how much pruning would be done of the tree.
"I think some of the lower limbs are staying," Hayduke said. "I think it's more of the middle and (the arborist) said it would be aesthetically pleasing, but it would somehow be reduced a little bit smaller."
Under a revised plan, the new playground would be situated east of the current swing set, toward the current building in the park, south to the sidewalk and north to the driveway.
Partridge said "we need more information about what (the play area) will look like and where it can go. I think there are a lot of questions maybe we could have clarification on."
"If we know there is a liability, we don't want to wait until mid-January to address it," she told fellow commissioners. She advised the city should address those pieces of the equipment we already know is deemed unsafe, such as the small playground.
She added, how the city moves forward with installation of a new playground depends on the information we get on the lifespan of the current equipment.
"There is still some ambiguity if all the play structures are unsafe. If residents want to keep the play structure and it's still safe and usable than that's the path we look at," she said.
Toth made a motion, which passed unanimously, to move forward with the arborist treating the tree and doing the necessary work to protect it for future generations. City staff was directed to determine the viability of the current playground, and whether new equipment can be added, all within proper distance from the tree.
City Manager Gerry Brumback added he would strongly advise that any dangerous condition, such as faulty equipment or branches that may rest of that equipment, be remedied as quickly as possible.