St. Pete Beach
City commissioner announces resignation
Commissioner Rick Falkenstein announced Dec. 11 he will resign at the end of December rather than wait until a new board member is seated after the March 12 election.
Falkenstein said he wanted to resign before his term was up to give the incoming commissioner a chance to help choose a replacement for City Manager Wayne Saunders, who plans to leave the city's top administrative post sometime in March. He has told commissioners he could stay on a bit longer, if needed, to help smooth the transition.
Falkenstein was elected to the commission in March 2015. In 2014, Falkenstein, who is general manager of his family's Hurricane Seafood Restaurant in Pass-A-Grille, was chosen to fill the District 2 seat vacated by former Commissioner Jim Parent.
During an earlier meeting, Falkenstein said he was sorry to leave the board but had to devote more time to his family.
"It was a tough decision, but so be it," he said.
The commissioner's announcement leaves fellow commissioners with the task of filling his District 2 seat for the last three remaining months of his term.
Further complicating the issue, only one candidate filed to run for Falkenstein's vacated seat, Doug Izzo, government affairs representative at the Tampa Bay Beaches Chamber of Commerce and member of the city's Planning Board.
At their Jan. 8 meeting, commissioners could select commissioner-elect Izzo to fill the vacant seat from January to March or they could select a temporary replacement.
Retiring city manager gets pay raise
City Manager Wayne Saunders will not retire for another five months, but city commissioners Oct. 23 unanimously voted to award him a generous thank you gift in the form of a 5 percent pay raise.
Saunders, who last received an 8 percent increase in October 2017, raising his salary from $152,250 to $164,430, will now earn $173,000 until he retires in March.
He was hired in November 2015 at a salary of $145,000, replacing former City Manager Mike Bonfield, and a year later received a 5 percent increase to $152,250.
During the Oct. 23 meeting, St. Pete Beach commissioners praised his tireless work ethnic and his efforts to improve city government.
Commissioner Melinda Pletcher said the city manager endured a great quantity of work when he came to the city "and made tremendous sacrifices; he's never played golf ever since he started employment."
"I have never seen anybody with a better work ethic and who cares more about our city than that man," Pletcher said. "I think that every single increase we gave him was absolutely based on the efforts that he goes through to save us money, every single day; that's why we went a little above last year in giving 8 percent, because he is so thoughtful in negotiating on our behalf every single day."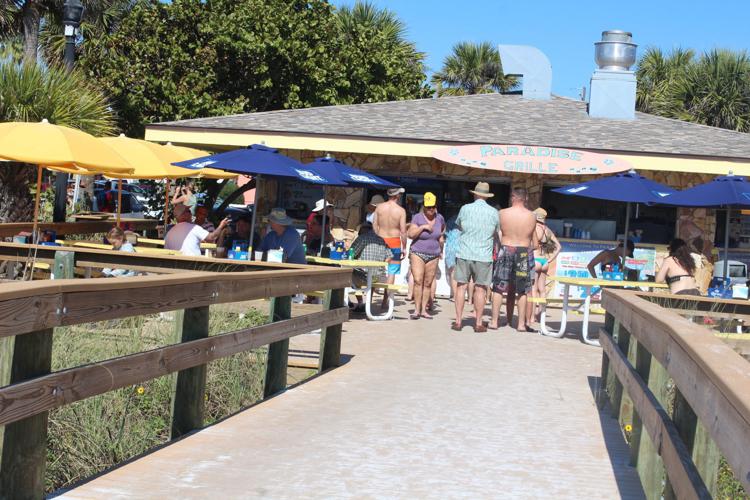 Commissioners award contract for concession stands
Customers of Paradise Grille on Upham and Pass-A Grille beaches can sit back and enjoy their favorite beachfront eatery for at least another five years.
At their Aug. 28 meeting, city commissioners unanimously voted to grant a lease to Starson LLC and owner Mike Janecek to operate the two city-owned concession stands as he has for the last decade.
During a five-month-long campaign in support of Janecek to keep his lease, eatery patrons served up a lesson in fan loyalty and tenacity to commissioners during meetings, on social media and in emails.
Earlier this year city commissioners said they wanted to test the restaurant waters and see what else was available from other vendors who might operate the two facilities.
The city sought bids from other vendors and set off a firestorm of objections from beach residents who enjoyed both Paradise Grille eateries just the way they are.
At earlier meetings Janecek told commissioners, "It hurts, I spent 10 years of my life and put my heart and soul into it…I rebuilt the place."
"We took hold of these two little concession stands and in 10 years molded and massaged them into the world class beach destinations they are today," he told city officials in his bid package, adding there is always room for improvement and he is ready to implement changes desired by the city.
According to the contract approved, the term of the lease with Paradise Grille is for five years, starting Aug. 31, with one additional five-year extension available upon mutual agreement of both parties.
Janacek will pay a monthly rent of $15,000, and a 3 percent increase each year.
Staff added a request to contract terms, suggested by Commissioner Ward Friszolowski, which permits the city to terminate the agreement for convenience at any time, "when it is deemed in the best interests of the City, by giving lessee at least 90 days prior written notice."
St. Pete Beach may refurbish Corey Avenue
City officials allocated $250,000 in their 2019 budget to revamp the city's 81-year-old historic business district into a tourist destination.
City Manager Wayne Saunders asked Jerry Dabkowski, senior vice president at George F. Young, to come up with suggestions on how Corey Avenue might get a much-needed facelift.
During a commission meeting Dec. 4, Dabkowski told officials "overall (Corey Avenue) pretty much stayed the same for a long, long time. We talked about it back in 2013 and kind of lost a little bit of steam, but tonight I thought I would show you a couple of concepts and ideas of what Corey Avenue could look like."
One revisited concept involves adding an archway "that was talked about in the past, so both ends have some type of entrance feature that stands out more than the brick planter on Gulf Boulevard," the consultant suggested.
The city manager told commissioners, with the consensus to move forward with a restoration plan, Debkowski will return with a preliminary conceptual plan for commissioners for review. Once a design is approved by commissioners, the city will bid out the project for implementation in stages.
Treasure Island
City officials discuss moving municipal buildings
A plan to relocate city government buildings is in limbo.
Consultants reported in August the city's current buildings have outlived their usefulness, are cramped, provide poor air quality, are not secure, suffer from leaky roofs and mold and are not up to modern hurricane-proof design standards.
Yet, during public hearings and on social media some residents voiced concerns that the estimated $21 million price tag to rebuild on another site is too high, pinning hopes that the buildings can be remodeled, an idea that consultants assert is not feasible.
Others fear it will destroy greenspace at the community park if buildings are relocated to 104th Avenue, as recommended by consultant Harvard Jolly in a series of options.
Contacted Dec. 18, Mayor Larry Lunn said the city is working to address issues raised by residents and is working on a new plan.
Under options recommended months ago by the consultant, City Hall, the police department building and fire department headquarters, which have stood along 108th Avenue for decades, would be demolished. The only current structure that cannot be relocated is the public works pumping station. The 108th Avenue property could then be transformed into a waterfront park.
It's proposed that City Hall and municipal buildings would be rebuilt at Community Center Park, with a retention pond and additional parking areas taking up much of the greenspace. Residents living near the park are vehemently opposed to that idea.
During a work session, July 7, Commissioner Heidi Horvak presented a compromise plan, designed to save Community Center greenspace and still provide for a waterfront park on 108th Avenue.
"We've reached a critical point where we need to make a decision. Treasure Island is unique. We are not Madeira Beach or St. Pete Beach; we are different. What is implemented in Madeira Beach and St. Pete Beach will not fit us," she told commissioners.
Commissioner Ralph Kennedy took exception to residents who commented that they did not know these plans were in the works.
"We put this issue in the sunshine," Kennedy said. "Anyone who feels they are in the dark that is their choice. We had meetings after meetings. We have been straight forward with options. The notion that we have not been transparent is disheartening. All the effort to stir the pot is unfortunate and irresponsible; this process has been straightforward."
Lunn envisions a waterfront park on 108th Avenue, with a fishing pier and boat dock including about 40 slips. "We will have a net gain of square footage of green space, over what we have in (Community Center) park."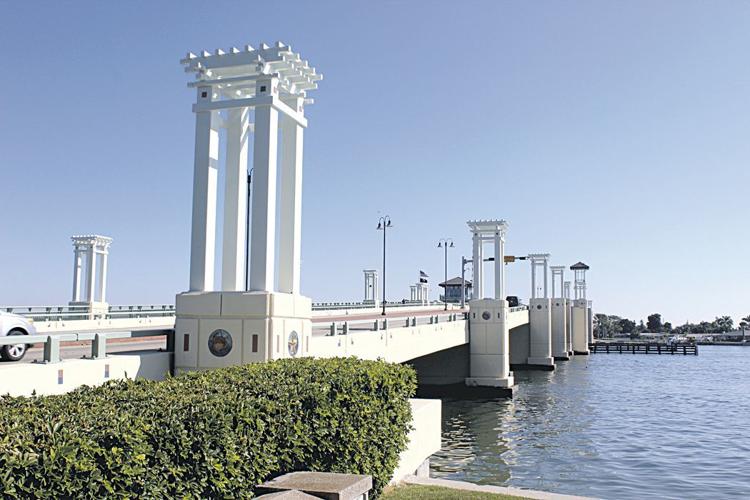 City could lobby federal government to fund state takeover of T.I. bridge
In other items, Danielle McBeth, a partner with lobbying firm Alcalde and Fay, presented plans for the city to secure federal grant funding for restoration of the Treasure Island Bridge. Fifteen years ago, the city worked with Alcalde and Fay to win initial federal funding for the bridge project.
McBeth told commissioners recent discussion has centered on the potential for the city to transfer bridge ownership to the state. She said there is nothing in the legislative text agreement from 2003 that prevents transfer of ownership to the state Department of Transportation.
"In looking at it, if there is a transfer of ownership to the state then they absorb those costs," she told commissioners. The takeover request would be based on the fact that the bridge is an evacuation route, and T.I. operates one of only two bridges owned by a municipality in the state. McBeth said they are also looking at alternative funding mechanisms with operations and maintenance.
Treasure Island selects Dunedin deputy as new fire chief
William "Trip" Barrs, deputy fire chief for Dunedin, has been appointed fire chief for the city of Treasure Island.
"The city is pleased to have someone with Chief Barrs' leadership experience and professional background take the helm at Treasure Island Fire Rescue," said City Manager Garry Brumback Sept. 27.
Barrs served as deputy fire chief for Dunedin the past six years, and he will retire from the department Oct. 1 after serving 26 years with the department. During his 26-year career, he has served as deputy fire chief, shift commander, lieutenant, and firefighter/paramedic.
In addition to his duties with the Dunedin Fire Rescue, he has served as a strike team leader with the state of Florida Emergency Management Agency, Disaster Response Task Force since 2014. In that latter capacity, he was deployed in response to both Hurricane Matthew and the Collier County wildfires.
"Chief Barrs was a standout candidate whose experience coupled with his leadership style made the choice easy. He is exactly the right person to take Treasure Island Fire/Rescue to the next level," Brumback said.
Madeira Beach
Hotel planned for John's Pass Village moves forward
A major hotel planned for the center of John's Pass Village has moved closer toward becoming a reality.
The City Commission at its Oct. 23 workshop decided to hold a second public meeting on the project, this one at City Hall, and to move the hotel project on to the city Planning Commission for its review.
Architect John Bodziak said the first neighborhood meeting at John's Pass Village drew about 120 people and brought positive comments.
The village merchants were strongly in favor of the hotel, he said.
The hotel project had appeared to hit a major roadblock when first announced by Bodziak at a commission workshop in late August. A shared-use agreement on a city-owned alleyway that runs through the center of the hotel property, which Bodziak said was needed for the project to proceed, failed to have commission support.
Bodziak said the agreement would allow him to double the parking space in a planned parking garage to be built above the alleyway. The increase, from 148 spaces to nearly 300, would provide enough parking for hotel guests and about half would be available for public parking, said Bodziak.
"This will solve the parking problem at the Village," he said.
Bodziak had proposed giving the city a percentage of the parking revenue, but agreed to consider a flat payment after commission members favored that option.
City makes commitment to Seafood Festival
The City Commission on Oct. 15 passed a lengthy resolution "establishing the city's commitment and support of the Seafood Festival," reaffirming actions to ensure its long-term success and viability and "recognizing the event as a major economic and tourism driver for the city."
It was the city's strongest statement yet in support of the Seafood Festival, coming after a press release by City Manager Jonathan Evans that said the city "will do whatever we can to make sure this event happens each and every year in Madeira Beach."
The flurry in support comes following an announcement from the John's Pass Village Association that it would no longer sponsor the event after this year. The reasons cited for the pullout were "costs that have multiplied five times over the past five years" and a lack of financial support from the city.
The association's announcement said no fees were charged by the city of Madeira Beach prior to 2017. But this year the city's fees were estimated at $42,000. The city agreed to waive $30,000 in lost parking, leaving $12,000 due.
Also, the announcement charged "the administration and commission delayed approval of the event to the point of it nearly not occurring this year. We can't risk that loss in the future."
City Finance Director Walter Pierce said in March the Seafood Festival lost money for the city, and commission members have said events should not cost the city.
But Evans said the resolution, unanimously passed by the commission, "reaffirms the longstanding commitment the city has to assure this event continues into perpetuity."
City Commission decides how to allocate increase in parking fees
Following weeks of debate and discussion, the City Commission has made a decision on how to allocate revenue from a 50-cent increase in the parking rate to $2.50 an hour at city-owned lots. The additional money generated by the rate hike is substantial. Close to $500,000 will be added to the budget.
Proposed use of the funds has centered around infrastructure needs and improvements, debt reduction, and projects and needs at John's Pass Village, where most of the parking meters are located and the majority of the revenue generated.
The position of the commission majority on the parking funds' allocation has shifted as the discussion has progressed, from most favoring devoting all of the additional money to paying down the city's debt, which is significant, to a split between infrastructure and debt reduction.
The final vote on the issue, which came at the June 12 regular commission meeting, was 4-to-1 in favor of dividing the 50-cent increase, using half for infrastructure needs and improvements, and half for paying down the debt. Commissioner Nancy Hodges, who wanted a portion of the money dedicated to John's Pass Village projects and needs, voted no.
Redington Beach
Town gets funds for landscape improvements
Florida's highway department will pay Redington Beach another $97,000 for landscape improvements along Gulf Boulevard.
The additional funds will be released to the town under an amended agreement with the Florida Department of Transportation approved by town commissioners Oct. 3.
Under the initial February 2017 agreement, the town received $23,000 from FDOT for maintenance and beautification of the stretch of Gulf Boulevard that runs through the community between 155th and 164th streets. Redington Beach has requested an additional $97,750 for the second phase of the project.
Total reimbursement will be $123,750. That amount is expected to cover the costs of design and installation of project materials and purchase and installation of plants.
Redington Beach curbs parking for visitors
Town officials have a message for non-residents whose vehicles often line the streets here on sunny beach-friendly days: If you don't live here, don't park here.
Commissioners sent out that blunt missive in passing an ordinance Aug. 15 that in essence erects a giant "No Parking" sign over a large part of the community. Passed by a 4-0 vote on final reading, the ordinance restricts parking to residents whose vehicles bear a city-issued sticker certifying they live there. Anyone parked on town streets without the sticker would be subject to a $50 fine.
The need for the ordinance arose after neighboring Madeira Beach hiked rates on its parking meters, said Mayor Nick Simons. That sent visitors scurrying for cheaper parking, and many of them found just that along the streets and avenues of Redington Beach. The results were tire-damaged lawns and abandoned trash, he said.
The ordinance establishes resident-only parking areas over large swathes of the town:
• The town park area on 160th Avenue.
• 155th Avenue to 164th Avenue between Gulf Boulevard and First Street
Signs will be posted designating those areas for resident-only parking.
North Redington Beach
Support grows for Redingtons' multipurpose facility
North Redington Beach, Redington Beach and Redington Shores are proposing to band together to build a multipurpose municipal facility that all three towns will share.
The town of North Redington Beach unanimously passed a resolution on its first reading during new business at the Nov. 8 meeting to initiate the project.
The proposed multipurpose facility will be designed to provide collective fire/EMS, law enforcement, sewer and election polling services for the three Redingtons. According to the resolution, North Redington Beach has conducted community outreach that determined "its citizens are largely in support of the project and have encouraged the town's Board of Commissioners to continue to pursue it."
An architectural rendering of the proposed building is available for residents to view at the North Redington Beach Town Hall. Canerday, Belfsky and Arroyo Architects Inc. is the architectural firm that prepared the rendering. The firm has recently done a variety of local municipal projects, including the Water Resources Administrative Building for the city of St. Petersburg, Fire Station 2 for Zephyrhills, and the Clearwater East Community Library. Headquartered in St. Petersburg, the firm has been in business since 1984.
The current North Redington Beach Public Works Building that is adjacent to the North Redington Beach town hall will be demolished as part of the project. The proposed new construction will replace it. Currently, the timeline for the new building is permitting in 2019, construction in 2020, and completion in 2021.
Town adopts ordinance on restaurant seating
An ordinance providing a method to count seats in bars, lounges and restaurants passed unanimously on its second and final reading during old business at the Sept. 13 town hall meeting.
During the public comment section related to the ordinance, John Messmore, owner of Sweet Sage Café currently in litigation with the town over his restaurant's seating violation, said that he was being "targeted" and that this "all started over one seat" that code enforcement required him to remove. A court reporter was present at the meeting at Messmore's request.
The new ordinance was created at the recommendation of the town's magistrate to clarify and amend the town's existing seating ordinance from 2009. Town Attorney Jay Daigneault said the 2009 seat numbers are grandfathered in, and that this new ordinance provides a method to count those seats.
The initial intent of codifying restaurant, bar and lounge seating was done by the town as a method of keeping business parking from spilling over into residential neighborhoods - a concern that is still relevant to the town.
David Hitterman, owner of the Frog Pond, expressed his concern over the ordinance, saying that he calculated a significant loss of revenue if the ordinance passed. Daigneault asked Hitterman how many seats he was allowed in 2009. Hitterman replied, "91."
"Then, you may still have 91 seats," said Daigneault.
Daigneault further advised the residents that "anyone can call town hall to ask questions," and that a workshop had been held on this ordinance that had been open to the public.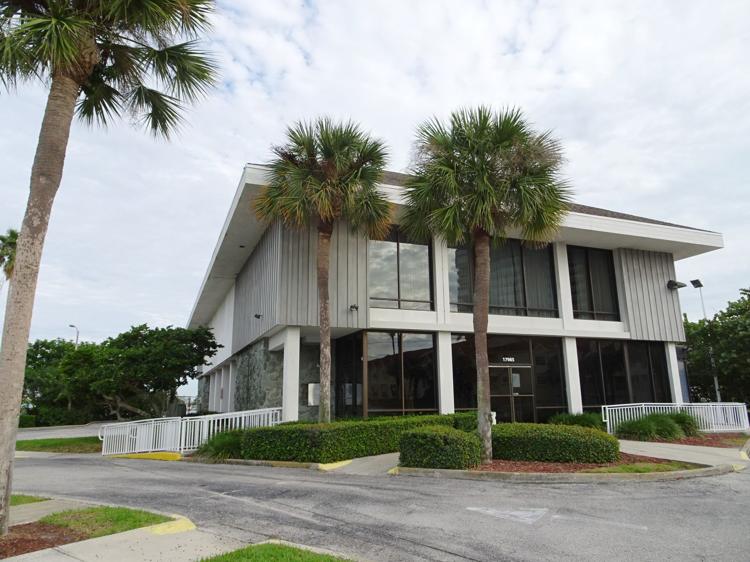 Redington Shores
Town officials mulling over ideas for the future of Town Hall
Town Hall could be relocated to the building housing the Wells Fargo Bank on Gulf Boulevard. The possibility of the town purchasing the bank building, and moving Town Hall there came up at the Nov. 28 Town Commission workshop.
During a discussion of flood mitigation strategy projects, Commissioner Michael Robinson said the elevation of Town Hall to provide greater protection from hurricanes was high on the project list, ranking second on a list of 10 priorities.
Grants are available to help with that, he said.
"The county considers it important to elevate Town Hall," said Mayor Mary Beth Henderson.
But raising the building would be costly, she added.
"There's another option," Henderson said. "The Wells Fargo Bank building is for sale. It's already elevated. Is it possible to just move our Town Hall over there. We could use any grant money to put in hurricane windows, and other protection measures," she said.
Among other advantages, the building is 5,000 square feet, twice as large as the current Town Hall. It also has a vault that could be a safe and secure file room to store town business documents in case of an evacuation, Henderson said.
The location is ideal, she said. Moving Town Hall there would take it from what will become a busy commercial area and moving it next to Del Bello Park.
After discussing the difficulties with elevating Town Hall, Commissioner Tom Kapper, who has contractor experience, said, "It would cost more to raise it, than tear it down and build a new Town Hall, or buy the bank and move to it."
On Kapper's recommendation, the commission decided to put an option to buy on the bank building, which he said would "tie it up, preventing its sale" for about six months. In the meantime, the town will get a structural engineer to look at and evaluate both buildings.
County, state may sue to remove pier
Pinellas County and state officials are preparing to sue to have the historic Redington Long Pier in Redington Shores torn down, Assistant County Attorney Brendan Mackesey told the Pinellas County Historical Commission.
Mackesey is the lead attorney in the matter.
Mackesey gave few details on the action, but said there have been ongoing safety issues with the pier, which has been closed to the public. He did provide the Beacon with a county staff report on the subject.
Mackesey said in the memo attached to the report that his office "generally does not comment on pending litigation." The report says the recommended action is approval for the county attorney to initiate litigation against JERMC Ltd., which is a limited partnership that owns the Redington Long Pier. JERMC is headed by longtime pier owner Tony Antonious.
Indian Shores
Ordinance protects sea turtles
Town councilors Nov. 13 voted 4-1 to adopt an ordinance on first reading to help protect sea turtles.
Primarily designed to address lighting and obstruction on the beach that interferes with sea turtle nesting, the ordinance updates an existing ordinance already in the code.
The purpose of the ordinance is to comply with the Federal Endangered Species Act, the Florida Marine Turtle Protection Act and to incorporate the guidelines of the Florida Fish and Wildlife Commission for sea turtle protection.
Pinellas County officials will send letters to the town regarding violations, making the town ultimately responsible for any fines incurred by infractions caused by residents. In the past, the county's main concern has been to "educate the public," said Mayor Pat Soranno, who noted that the town has not been required to pay fines on this matter to date.
The turtle nesting season is May 1 to Oct. 31 and that is when the ordinance will be enforced. Councilor Mike
Officials praised for renourishment project
U.S. Congressmen Charlie Crist and engineer Erin Duffy of the U.S. Army Corps of Engineers each received a key to the city and a token bottle of sand from the Town of Indian Shores at the Oct. 16 Town Hall meeting.
Mayor Pat Soranno made the presentation "in appreciation of their outstanding efforts to secure additional beach renourishment on the southern segment of our (Indian Shores') beaches."
Three months ago a cluster of administrative and engineering problems threatened to waylay beach renourishment in Indian Shores for 2018. With the help of Congressman Crist, D-St. Petersburg, and members of the Army Corps of Engineers, including Project Manager Laurel Reichold and Resident Engineer Erin Duffy, the Sand Key Beach Renourishment Project remained afloat.
"Ninety days ago we were not going to get renourished," Soranno said.
Problems began with one owner who would not sign the easement release to allow renourishment of the owner's beachfront property. Neighbors called the owner, who ultimately conceded, but, in the meantime, a flurry of activity was going on behind the scenes to make renourishment go on as planned.
Soranno told Crist about the problem. Then things began to happen. Crist knew who to contact to get each individual problem rectified and did so. This led to the successful completion of the Sand Key project in Indian Shores.
Project Manager Reichold, USACOE, was awarded a key and sand bottle in absentia. Soranno explained that the gift of the bottle of sand plus the key to the city was a metaphor and memento for the Sand Key project.
Crist addressed the residents in attendance at the presentation.
"Republicans, Democrats and Independents all worked together to make this right," said Crist.
Then Crist quoted his own father when he said, "There is no right or left, just right or wrong."
Crist reminded everyone how important it is to "protect our beautiful beaches."
Soranno added to that sentiment. In addition to Florida having "some of the best beaches in the world," he said that "the beaches are our first line of defense when storms come through" and that Hurricane Michael was a reminder that "we (Floridians) are in the cross hairs of hurricanes."