INDIAN ROCKS BEACH — Commissioner Phil Hanna perhaps said it best when he remarked: "It is not going to be an easy problem to solve."
Hanna was referring to the parking issue in Indian Rocks Beach, and he was one of many who spoke on the matter at the City Commission meeting March 10.
The subject was brought to the table by City Manager Gregg Mims, who indicated he would have plenty to say once he heard from residents.
He got an earful.
Resident after resident stepped up to offer personal stories of parking woes and solutions.
Former Commissioner Phil Wrobel reminded the commission that the issue of parking has been going on for years.
"It is all because people don't use common sense," he said. "They will park directly across from another vehicle on the other side, then nobody can get through."
Resident Jerry Newton said tight parking makes it tough for emergency vehicles.
"Imagine if you had a heart attack and the ambulance couldn't get there," he said. "It is a big deal for emergency vehicles and we can do better than that."
Rod Baker did not like the suggestion of parking being restricted to one side of the street only.
"Part of the value of our moving here was because of the parking," he said. "It is part of our asset. Please don't restrict that. Perhaps there should be a unique approach to each neighborhood."
Ron Sacre, who said he drove fire trucks and ambulances for 34 years, had a different view.
"Fire trucks and ambulances are getting bigger," he said. "I like the idea of parking only on one side of the street."
One woman noted that residents often don't use their driveways and only park on the street. Recalling a strange car outside her home all night, she also wanted overnight restriction. She said it was unsettling.
Another woman talked about how parking restrictions could affect families with older children.
"In some cases there are five cars in a family, they need on-street parking," she said.
Linda Newton said her family put pavers over the grassed right of way, in effect widening the street.
Someone else brought up the idea of issuing stickers to residents and allowing only those cars to park on the street.
There were complaints about a lack of enforcement, cars parking too close to intersections and too many cars outside short-term rental properties.
Then it was Mims' turn, and, unexpectedly, he said parking was not the issue everybody thinks it is.
Admitting that the parking issue is not one to easily deal with, he said in fact in the past year there were only four formal complaints made to city.
"One complaint was about a boat parked illegally and the owner moved it when asked," he said. "Two others were about cars parked outside short-term rental homes and they were all legally parked so there was no violation. The last complaint was a letter regarding the lack of signs in the city."
Mims said the parking issue is not an easy topic because while somebody may be happy with a decision, someone else will not. He said the discussion over parking has been going on for three or four years. He also cautioned commissioners against making laws targeting short-term rentals, suggesting it was bad enough that the city cannot dictate how short-term rentals are operated.
"I wouldn't want to draw attention to that because the Legislature could then come up with a law preventing us from controlling parking in our city," he said.
Mims said he would be open to anything the commission wanted to do about parking, but said the city already gives out ample tickets.
"The fact is unless there is a sign to the contrary anybody can park on the street, but this just is not a high complaint issue."
The final word came from Phil Wrobel, who noted: "We spent $50,000 to Forward Pinellas to tell us something we already knew, that we had a parking problem. I could have told you that for $50."
Further discussion about parking will be brought back to the commission in the months ahead.
Toll 'not a good idea'
Mims was given the green light by the commission to strongly object to the idea that a toll be placed on the Belleair Beach Causeway Bridge.
Belleair Beach city councilors voted 4-1 recently to explore imposing a toll on the bridge, which is owned by the county.
Mims, however, said when the bridge was built at a cost of $72 million, the then-toll was removed.
Commissioners agreed with him, many worrying about the hardship of the employees of restaurants and hotels who have to come over that bridge every day.
"It is not a good idea to do this," said Mims. "It is not a good idea for the public."
Mims and City Attorney Randy Mora will draft the letter to be sent to Pinellas County officials.
Back and forth on pickleball
Lately in the city, pickleball has gotten as much attention as parking. Several times at recent meetings, residents who live close to the pickleball courts have complained about the noise from early in the morning until late at night. The city has responded by putting up noise-abatement devices, the effectiveness of which have been questioned.
The residents then suggested the courts open later and close earlier.
That idea has now gotten pushback from pickleball players.
Russell Meadows of the Seminole Pickleball Association told the commission just how important the courts are.
"These are the most friendly and hospitable courts that are around," he said. "Pickleball is currently the fastest growing sport in the country. Please keep our present court times."
As for the noise, Meadows had something to say.
"This is a park, not a cemetery."
Meadows presented a petition to that effect with more than 100 names and he suggested that the tennis courts be moved so more pickleball courts could be built on that site.
"God bless each of you for approving the courts we have now," he told commissioners. "This is a little bit of heaven on earth."
Nothing was said about the issue by commissioners or officials.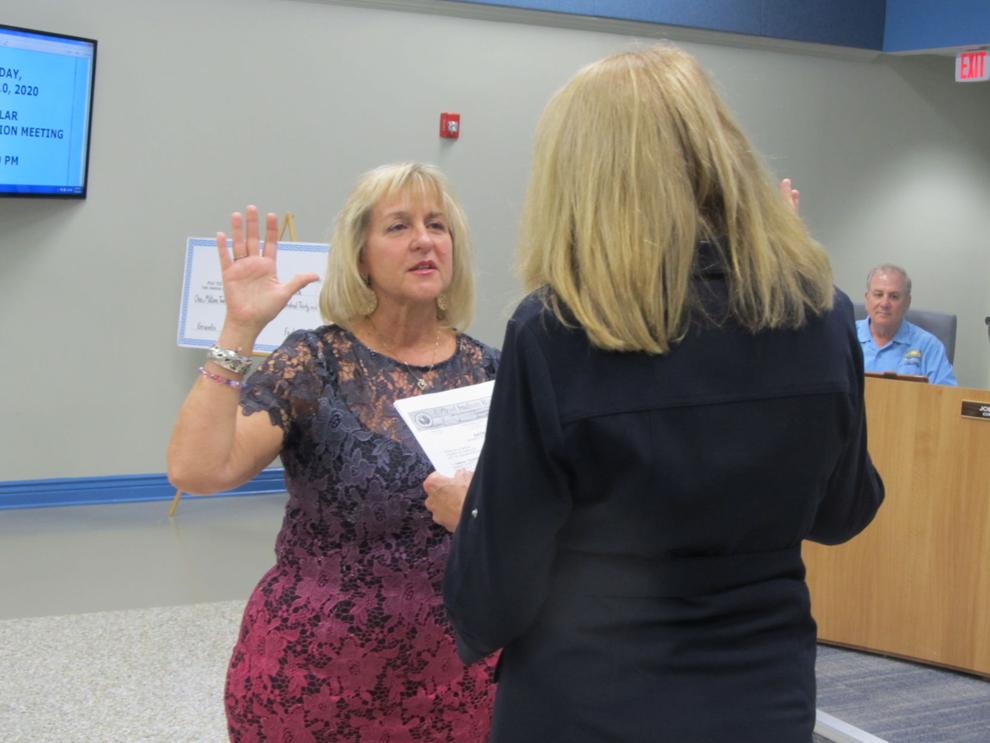 Mayor, commissioners sworn in
Mayor Cookie Kennedy was sworn in for her second term in office and two commissioners were also sworn in — Ed Hoofnagle for his third term and Joe McCall for his first term. McCall replaces Nick Palomba who recently moved out of the area.
An emotional Kennedy thanked city residents for supporting her.
"I turn 60 this year and I am so honored to be the city's first female mayor," she said. "I have learned in my 33 years in business not to set limits and to be open about everything."
Kennedy mentioned accomplishments in the city since she took office, including the red tide summit, the Forward Pinellas visioning sessions, and the battle over short-term rentals.
She also paid tribute to the Plein Aire artists and to the city's volunteers.
"I represent other cities and towns in Pinellas County on a couple of boards," she said. "Other communities do not have our volunteers. I will do my very best job for all of you."