REDINGTON SHORES — Elliott is not just any 2-year-old quarter horse. He is the star of his own book series.
"Elliott's Tails: The Adventures of a Baby Horse," by Sue Greenberg, first went into print in August 2018.
A second Elliott book is coming out Nov. 24.
Elliott is quite the celebrity and has his own Facebook page with many hundreds of likes and followers. A plush toy has been manufactured in Elliot's image right down to his white markings and blue bridle. According to Elliott's Facebook page, last month even Gov. Ron DeSantis became a fan.
The original book is a combination of photos of Elliott's real-life antics mixed in with fictional cartoon illustrations and rhyming stories of Elliott learning to brush his teeth, eating healthy snacks, skateboarding, and going to the beach, among other fabricated escapades. With all its practical applications teaching kids basic skills, the book is designed for children ages 3-8.
For a self-published piece, the book has received a remarkable amount of traction. It won the Mom's Choice Award, which recognizes products for educational benefit to children. The book received a "Gold Award" with a perfect score from the five judges who jury products from 57 countries every year.
Greenberg has given radio interviews about both Elliott's real and fantasy exploits with Frankie Boyer of Biz Talk Radio out of Boston, Jeff Stanislaw of WWBA News Talk Florida, and Roxanne Wilder of WRBQ Tampa Bay. WTSP introduced Elliott, Greenberg and the book in a 30-second video on local TV last summer.
"Elliott's Tails" has been advertised mostly by word-of-mouth, according to Greenberg, who has given talks about Elliott at different schools, to Girl Scout troops, to groups of home-schooled children and to groups of foster children. Sometimes she invites different groups for "A Day with Elliott" at the stable in Seminole where Elliott and his six other horse friends reside. Greenberg is a 4-H leader, so she has introduced Elliott and his stories to her 4-H girls as well.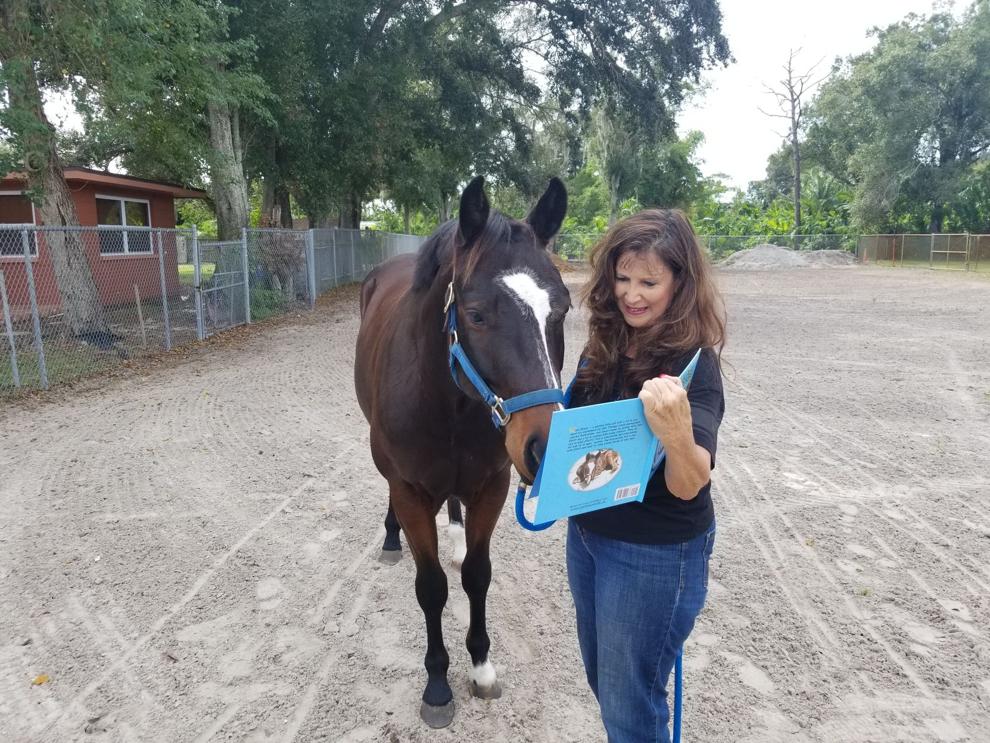 Her inspiration for the book is two-fold: her love of children and her love of horses.
Greenberg is a 30-year resident of Redington Shores who received a degree as a registered nurse from St. Petersburg College. As a pediatric nurse, Greenberg worked at Tampa General Hospital for 25 years in the neonatal intensive care unit and in the emergency room. Prior to that, she started out as an NICU nurse at Gainesville's University of Florida Hospital.
As the oldest of five siblings, Greenberg grew up watching her dad breed thoroughbred racehorses. She has kept the family tradition going and continues to breed horses for pleasure and for western riding.
Elliott oozes equine charm. He loves to play with his beach ball, but sometimes gets a little too enthusiastic bouncing it around with his nose and hooves.
"Elliott has popped seven balls so far," said Greenberg.
Elliott also has a sense of humor.
"He likes to upset his water bucket, put it on his head, and then run around wearing it as a hat," said Greenberg.
Three things that are at the top of Elliott's favorites list are giving horse kisses, getting brushed, and eating treats of watermelon, peppermint, carrots and apples. Playing with his dog friend, Sammie, a Doberman, is also a delight for Elliott. Most of the time he hangs out in the pasture with his six other horse companions, including his mother, Ellie.
"Kids write Elliott letters," said Greenberg. "Little ones relate to "Elliott's Tails"; especially in learning things like brushing teeth, counting, and eating healthy snacks."
On Jan. 6 at 9 p.m. Greenberg will participate in a fundraiser at Quaker Steak & Lube to benefit kids at All Children's Hospital. Soul Circus Cowboys will perform, and there will be 50/50 and basket raffles as well as Greenberg doing readings from "Elliott's Tails." Then on Valentine's Day, Greenberg will distribute copies of "Elliott's Tails" and Elliott plush toys to children who are patients at All Children's Hospital.
"Elliott's Tails: Adventures of a Baby Horse" came out in August 2018 and now, a second book, "Elliott's Tails: Saddle Up with New Adventures" is coming out on Nov. 24. The second book will follow storybook Elliott's new exploits about going to school, playing baseball, going out for Halloween, making cookies with his mom, and going camping with his brother. Books and plush toys are available for purchase on Elliott's website: www.Elliottshorsetails.com.
Greenberg's love affair with Elliott is still going strong.
"There could be more (books) in the series," she said.