TREASURE ISLAND – The Treasure Island & Madeira Beach Chamber of Commerce will host a grand opening and ribbon-cutting Wednesday, Jan. 16, 4 to 6 p.m., at its new location at 12601 Gulf Blvd., Treasure Island.
A ribbon-cutting at 5 p.m. will make the opening of this new building official. Light refreshments will be served.
"We had an iconic building at 245 107th Ave., thanks to the support of our former landlord and chamber leader Bill Edwards," said Joe Dise, chamber chairman. "But an affordable opportunity came to move our main office to Gulf Boulevard. Our move was accomplished on Dec. 1, and we have worked hard to prepare for our Jan. 16 ribbon-cutting."
"This move to a larger facility so much closer to the John's Pass Bridge is a wise one," said Missy H. Hahn, chamber president. "It establishes us as the only official Visit Florida Welcome Center on Gulf Boulevard in Treasure Island, and makes us more accessible to the many visitors who travel Gulf Boulevard every day."
The Treasure Island & Madeira Beach Chamber of Commerce is a 501(c)(6) not-for-profit organization. Call 727-360-4121 to RSVP for the ribbon-cutting. For information, visit www.islandneighborschamber.org.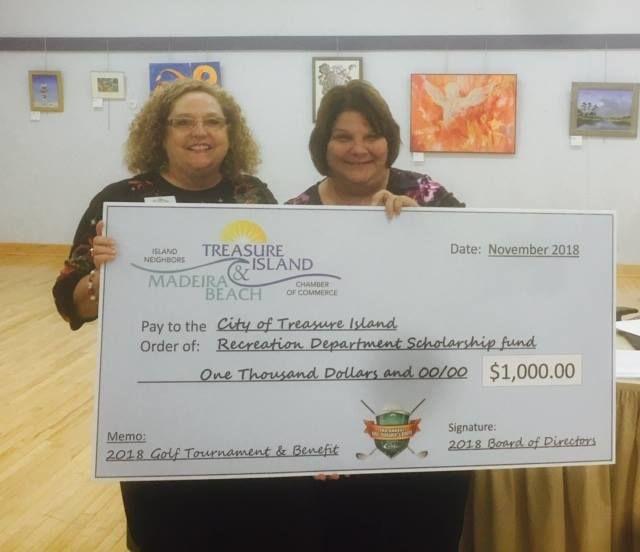 More Chamber news
Chamber supports Treasure Island youth programs
The Treasure Island & Madeira Beach Chamber of Commerce donated $1,000 to support Treasure Island youth programs at the Dec. 18 Treasure Island City Commission meeting.
The funds came from proceeds of the chamber's second annual Caddy's Benefit Golf Tournament, held in October at the Bayou Club. Treasure Island Recreation Director Cathy Hayduke accepted the donation from chamber president Missy H. Hahn.
"The Chamber strives always to be a good community partner with our beach communities," said Hahn after the presentation. "Our board feels strongly that supporting our youth programs is a wise investment in our future."
The chamber was also scheduled to donate $1,000 to the Madeira Beach Recreation Department at that city's Jan. 9 commission meeting.
Classes feature legal issues with attorney Tom Cox
Attorney Tom Cox will present a program centered on a variety of legal issues at the Chamber Classes program set for Thursday, Jan. 10, 10 a.m., at the Madeira Beach Community Centre, 300 Municipal Drive, on Madeira Beach.
Sponsored by the Treasure Island & Madeira Beach Chamber of Commerce, the hourlong presentation is free and open to the public.
Cox will discuss why and how to designate a health care surrogate or pre-need guardian; the purpose of a durable power-of-attorney; what everyone should know about a living will; how to prepare a last will and testament; how to establish a revocable living trust; and how to establish a limited liability company.
Chamber classes are designed to provide important and useful information at no cost to attendees. Seating is limited, so an RSVP is necessary. Register by calling the chamber at 727-360-4121.