MADEIRA BEACH — The fill-in of sand at John's Pass, which has been worsening recently and has become an urgent issue to resolve, will be getting another study, this time by a USF professor, "to find the exact cause" of the problem.
That was the outcome of a meeting of government officials at the local, county, state and federal levels to look at moving forward to solve the problem. The session, held Nov. 6, was closed to the public.
Mayor John Hendricks informed City Commission members of the meeting and its results at the Nov. 19 commission workshop. He also attended a Pinellas County Commission meeting and brought up the sand issue there.
"I've lived here for 35 years, and I think I know what causes the sand build-up," Hendricks told the commissioners, "but we've got to do another study."
Hendricks has said previously he was frustrated at the lack of government action so far. "I'm so tired of asking about this and being told, 'We'll do a study on it.' We need to get something moving."
The study will be done by Dr. Ping Wang, a USF professor, and will take about six months to complete, Hendricks said. It will cost $30,000 to $35,000.
Hendricks also reported that the Florida Secretary of Transportation said the Florida Department of Transportation is committed to pay for part of the study. The private landowner who owns a portion of the Pass affected by the sand fill-in has also agreed to pay for a portion.
At the time of the meeting with government officials, Hendricks said County Administrator Barry Burton told him the county "does not pay for that type of thing." But Hendricks said he was told later that "the county has also agreed to pay for part of the study."
Hendricks said the city of Madeira Beach will need to "chip in some money" also, but he did not give an exact amount.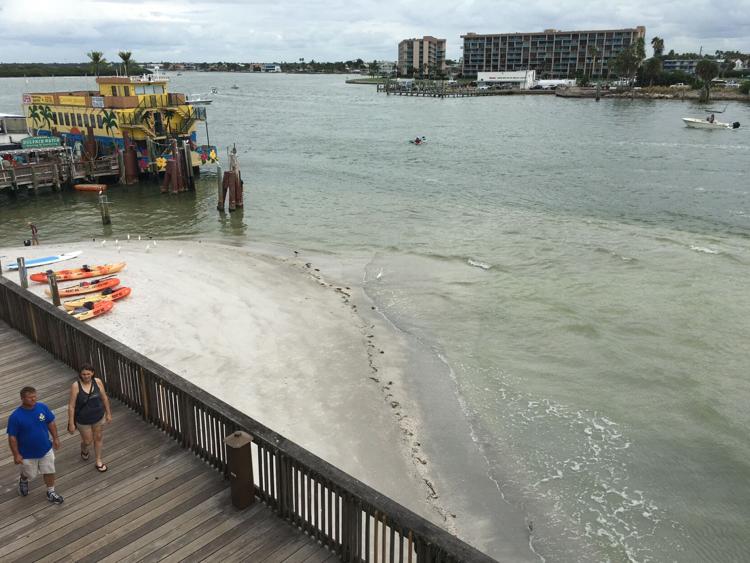 When the study is done, Hendricks said one of the legislators at the meeting "will try to get it in front of the Florida Legislature and on the governor's desk as far as groins and whatever else is needed to be done."
Hendricks said, as he has in the past, that jetties are needed as the long-term solution, "but they are saying the cost/benefit ratio is not there to do the jetties."
Meanwhile, the problem continues to worsen, Hendricks said. "When you look at the northern shoal, you can see the sand being put in suspension with the wave action coming right into the Pass."
The sand fill-in narrows the channel and causes the current to increase, creating what is described as a dangerous and destructive situation.
"We'll see what the study finds," Hendricks said.
Backyard hens without roosters find favor
A presentation on the benefits of allowing backyard hens (no roosters) in a controlled environment got a mostly positive response from the commission members present. Only Hendricks and Commissioners Doug Andrews and Helen "Happy" Price were at the meeting; Commissioners John Douthirt and Nancy Hodges were absent.
Chicken advocate Jeri Davis said hens are "great to have in your backyard." They are quiet, do their own thing, and "make cute little sounds, a little peep once in a while." And provide fresh eggs. They are also educational, "letting people learn where some of their food comes from."
Davis said the chickens need to have their own coop structure, a safe place to reside. She said they are more well behaved than most people's dogs. They "peck around and graze during the day, and at sunset know it's time to get in their place of shelter." She recommended having no more than five hens.
Hendricks said, as a kid, he had rabbits, ducks, armadillos, racoons and snakes as pets.
"In this day of Nintendo and games, maybe it's time to let families do something like this," he said.
Community Development Director Linda Portal said the city does not currently allow farm animals or fowl, including chickens, possibly because of the loudness of roosters. An ordinance would be needed to permit backyard chickens in the city, she said.
Madeira Beach considered backyard chickens in 2010 and again in 2017, and either rejected or did not follow up on creating an ordinance to allow them. This time could be different.
Price said she would be willing to look at an ordinance permitting the backyard hens. "Make it restrictive," she said, but added, "I would love fresh eggs."
Andrews said he would like to see an ordinance, "and how we plan on enforcing it."
"I've heard some objections," he said, "but for the most part, people have been pretty positive about it. I'd be willing to take a look at it."
Residents who spoke on the subject were willing to give backyard chickens a try.
Rodger Gerstung said, "I support this. I grew up in an agricultural town where we raised chickens. I don't see a problem."
"We should allow people to have hens in their backyard," said Robert Preston. "I grew up on a ranch, a chicken ranch, where we sold eggs to other families. There's nothing better than a fresh egg."
Preston also said "growing up with animals, I learned to respect life. It teaches children about life."
Former Mayor Travis Palladino said "chickens are fantastic pets. This is a good idea to consider." He also said people would need a permit to build a chicken coop, and the nuisance ordinance might need to be updated, but "the commission should definitely consider going forward with this."
Hendricks asked Davis to provide the commission with examples of what other communities that allow backyard chickens have done. "We'll go through these, pick out points we like and don't like, and go forward from there," Hendricks said.
"Maybe we'll do this on a trial basis, and see how it works."
City battered by storm, sandbag distribution criticized
Like other local coastal communities, Madeira Beach experienced considerable flooding and water damage from Tropical Storm Eta.
Price said in her neighborhood "there were no streets, just houses surrounded by water. One after another."
"It was terrible," Andrews said. "People were swimming across the street to their neighbor's house."
Both Andrews and Hendricks said the problem was made worse by people driving too fast down the flooded streets, creating wakes, and sending waves crashing against the door.
The city's sandbag policy was also criticized.
In the past, filled sandbags would be handed out to residents at City Hall, Andrews said. This time, "the instructions, which came out at 4 o'clock in the afternoon, when sunset was at 5:30, told residents to go to the firehouse, get the sandbags, then go to John's Pass Park, and by the time you get there, it's dark." He also said, "We couldn't see where the sand was because of the weeds growing."
"A lot of people felt abandoned by this approach," Andrews said.
Public Works Director Jamie Ahrens defended the city's sandbag policy, which he said was posted in July "to give people notice to prep themselves." The bags were accessible, Ahrens said. The day of the storm, there was no one asking for sandbags, he said.
But Hendricks said, "We've always filled the sandbags before."
Andrews agreed that was the way it was done. "The standard is the standard. If we're not going to adhere to the standard, OK, but our residents think we let them down."
"We may have posted the new policy in July," Andrews said, "but no one is getting sandbags in July. We went from babying our residents to sending them to John's Pass Park with no shovel, in the dark."
"A lot of people are saying the same thing, 'If I'd had sandbags, it wouldn't have been that bad,'" said Andrews.
Resident Tom Edwards said, "The city let the people down on the sandbags."
Strong mayor form of government finds little support
A call by Andrews for the city to investigate switching to a strong mayor form of government and eliminating the city manager got little support from Hendricks or Price.
Andrews said, "We haven't done a very good job of picking city managers." He also said the current mayor position has little power beyond "the ability to call special meetings and throw out the first pitch at baseball games."
"There may be a lot of executives out there looking for a change of profession that could come in and run our entire organization," Andrews said. "Someone who has a background in finance or HR, or other areas that we need. If we found the right person, we could cut a lot of positions."
But Price said a strong mayor is a full-time position "that requires paying the mayor quite a lot of money." She added, "We've had some duds as mayor."
Another disadvantage of having a strong mayor run the city and not the city manager, Price said, is that the mayor would have term limits. The person could only serve six years, while a good city manager "could make a career of it," she said.
Hendricks said he agrees with Price. He said a good city manager brings with him intangibles like skills in zoning and planning and all the variables that someone from the private sector would not have. Also, Hendricks said he doubts there is a large enough nucleus of people in Madeira Beach "that could hit the floor running and do the city a proper job."
Resident Tom Edwards also said that a small city the size of Madeira Beach would not have the pool of people to choose from as a city the size of St. Petersburg does.
"I think we should keep the form of government that we have," Edwards said.