INDIAN ROCKS BEACH — Rick Walker, a former assistant chief of Pinellas Suncoast Fire & Rescue and current president of the local Rotary Club, died July 29 at the age of 65.
According to a PSFRD Facebook post, Walker, a Seminole resident, "has been an integral part of the Fire District since the early 1980s."
After Walker retired from the department in 2010, he "served the citizens of Pinellas County as a hazardous materials analyst with Emergency Management and also served as president of the Indian Rocks Beach Rotary Club," it noted.
The post concluded by stating: "There is no way we could ever count the contributions Rick has made to our Fire District, or sufficiently describe the enormous impact he has had on our entire community. He will be greatly missed."
The post drew dozens of comments from current and retired first responders, Walker's former colleagues, friends, and coworkers as well as local business owners and residents, all offering comments about his character and condolences to his family, including his wife, Jan.
"Our deepest condolences go out to Rick's family, friends and all those who worked with him over the years," read one comment from the Pinellas Park Fire Department.
"Terrible news to hear of Rick Walker's passing," wrote Matt Loder Sr., owner of the Original Crabby Bill's. "He was a friend to many and always wanted to help anyone in need. His presence will certainly be missed in the community he called home."
Perhaps the most poignant comment came from former Fire Chief Larry Ladd, who said that during the 26 years they served on the department together, he learned "Rick was a special person that you find few of in a lifetime."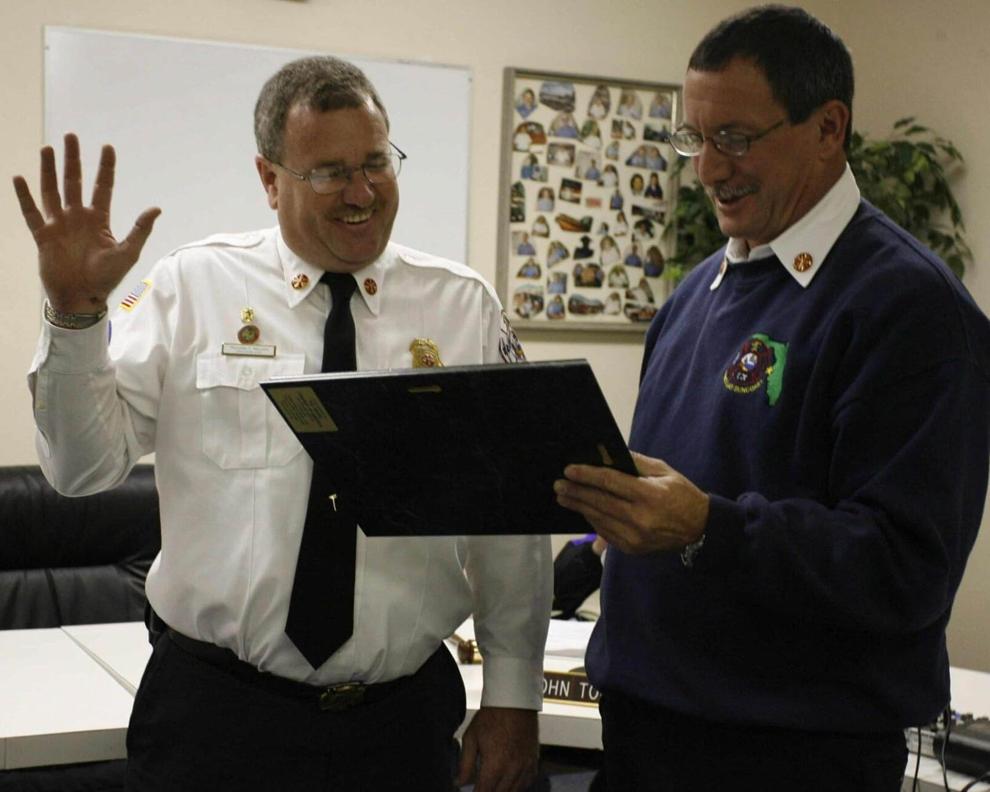 He described Walker as being "always on the go most of his 24-hour shift, often checking the other stations several times a day, checking on community residents, businesses, etc."
Ladd, who served as chief from 1983-1997, said he stayed in touch with Walker after he retired and moved to Sumter County 26 years ago. He said that after Ladd had cancer surgery, "Rick was the first visitor and checked on me almost daily," and he ended his post by stating he knows that "we will meet again. RIP Brother."
Loder replied to the comment, calling it a "beautiful tribute to the person Rick was."
Indian Rocks Beach Mayor Cookie Kennedy, who grew up with Walker and considered him a close friend, agreed.
"We are shocked and filled with great sadness at the loss of Rick Walker," Kennedy said.
She said Walker had dropped by her hair salon just last week.
"Rick was in a class of his own in giving back to the community," Kennedy said. "He was a PSFRD district chief, president of IRB Rotary and worked with Pinellas County Emergency Management. He comes from the old school group of people who hold a special place in the community.
"Chief Walker always showed up everywhere, and he championed all causes. I'll always remember his big smile and funny, quirky sense of humor. Rick was an all-around good guy with an enormous heart who was dedicated to and loved his community. It's a huge loss."
As of Aug. 1, no services or memorials had yet been scheduled.
Kennedy said she planned to reach out to Jan Walker, and she asked the community to support his widow, who is also known for giving back to the town.
"She's always everywhere and helping out, too, and I hope the community comes together and supports her and Rick's entire family during this incredibly difficult time," Kennedy said.