Local traffic planners fear that proposed legislation intending to make lighted crosswalks safer for pedestrians will have the exact opposite effect.
Bills now moving through legislative committees in Tallahassee would be the "death knell" of the flashing-yellow warnings that indicate pedestrians are about to step into a crosswalk, according to Whit Blanton, executive director of Forward Pinellas, the county's land use and transportation planning agency.
And in a county with 328 of the so-called Rectangular Rapid Flashing Beacons, or RRFBs — including more than 80 along busy Gulf Boulevard in the heart of Pinellas' tourist hub — such a move could cost thousands of lives "and undo nearly two decades of progress toward improving pedestrian safety," a Forward Pinellas statement said.
The bills have a seemingly respectable aim: Have the beacons flash red instead of yellow, indicating the driver must stop, rather than potentially conveying the message that the motorist should use caution.
The catch is that the state needs the federal government to approve such a move. It would take an exception to the Manual on Uniform Traffic Control Devices for Streets and Highways, the bible that dictates the standards and specifications for the transportation industry to ensure signage and signals are consistent from Florida to Alaska.
The chances of getting that exception?
"That has a .0001% chance of ever happening," Blanton said. "Let's just take it off the table. They're not going to be red."
And the bills, sponsored by Sen. Keith Perry of Gainesville and Rep. Randy Fine of Palm Bay, both Republicans, come with a caveat: If the beacons don't flash red, disable them altogether.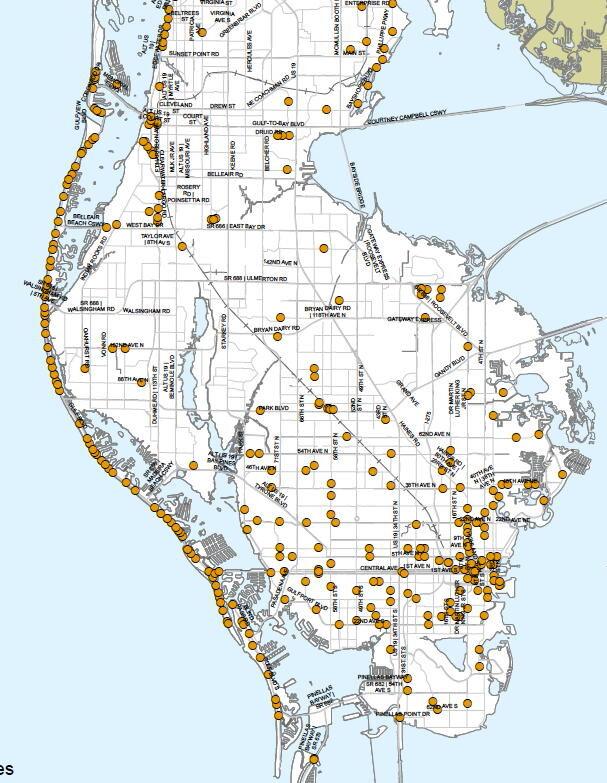 There are now nearly 1,800 RRFBs in use throughout Florida. Disabling the yellow beacons and leaving crosswalks bare is "not a good solution for any traffic engineer," said Blanton. "They would probably remove the crosswalk rather than leave behind an unprotected crosswalk."
Supporters of the legislation base their reasoning on an incident that led to the naming of the bills, which would be consolidated into a single "Sophia Nelson Pedestrian Safety Act."
In December 2019, 12-year-old Sophia was struck and killed at a State Road A1A crosswalk in Satellite Beach. She activated the flashing beacons, and while one car stopped, a second one did not.
Her family told the Florida Today newspaper that the driver was "an unfortunate victim of the confusion and danger that is created by these flashing yellow light midblock crosswalks, which has been known for many years now."
But Blanton points out that state law requires motorists to stop for a pedestrian in a crosswalk. The beacons are not necessarily there to signal drivers what to do — use caution — but to highlight that a pedestrian is about to enter the crosswalk, and by law, the motorist must stop.
He understands the sponsors' argument. "For 100 years, we've been taught red means stop and yellow means caution," he said. "But the law is the law — you've got to stop for a person in a crosswalk. This is to bring it to your attention."
And it works, according to data collected by the Florida division of the Federal Highway Administration.
Forward Pinellas cites a 2010 FHWA study of St. Petersburg and two other pilot cities that found at intersections where RRFBs were deployed, driver compliance rose dramatically, from as low as 0% before installation to between 72 and 96% afterward. Other local, state and federal studies have consistently shown driver compliance rates between 80 and 100%, and RRFBs also significantly outperform standard round yellow flashing beacons.
FHWA research has shown a 47% decrease in pedestrian crashes at crossings where the devices have been installed.
Indian Shores Mayor Patrick Soranno said he planned to discuss the issue with state Rep. Nick DeCeglie, a Republican from Indian Rocks Beach, and ask for his opposition to the House bill. Soranno said his town intends to install two more of the RRFB crosswalks in the next six months.
"We believe passage of this bill will have adverse consequences for the safety of our residents as well as our tourists and visitors," Soranno said in an email to Tampa Bay Newspapers. "No solution is perfect. However, the metrics for these beacons support their efficacy in enhancing pedestrian safety."
In 2019, there were 379 traffic crashes along Gulf Boulevard from the Pinellas Bayway to Sand Key. One was fatal, and 14 were considered incapacitating.
In 2020, those numbers were 266, 2 and 9.
"Unfortunately, I think there is a lot of misinformation and personal feelings rather than consulting with experts," Blanton said.
State Rep. Linda Chaney, a Republican from St. Pete Beach, opposed the measure at a March 30 committee hearing.
The city of St. Petersburg has passed a resolution urging the Legislature to reject the measures.
Forward Pinellas is lobbying the county legislative delegation and Blanton said he has contacted every legislative committee member who will hear the proposals.
"There are almost no incidents of crashes within these crosswalks," he said. "There are some close calls now and then, people think somebody's going to stop and they don't. But they are very minimal."
The Legislative session ends April 30.