INDIAN ROCKS BEACH — Despite the rigors of running a new brewery in a pandemic, Philip Anderson isn't crying in his beer.
In fact, the owner of Anecdote Brewery Co. at 321 Gulf Blvd. says he's enjoying the support he has received from the community and his customers.
Anecdote opened in March, but because of the regulations pertaining to COVID-19, it shut down only days later. He also had to shut down after opening in June. Now the state has lifted some of its restrictions, Anecdote opened again recently.
Despite what he calls a roller-coaster ride, Anderson says it feels great for he and Kirstin Sturtz, who lives with him in Indian Rocks Beach, to be operating a brewery.
"During the shutdown, we got a lot of positive reassurance from community. Then once we reopened, they all stopped by. As long as we can make it through this, we're OK," Anderson said.
Luckily, he said, the brewery has outside space.
"That kind of helps people who feel more comfortable that way to join us," he said. "It's been focusing on keeping everything safe and making sure we don't go back to the state where everything gets closed down again."
When the brewery was closed to customers wanting to drink beer on the premises, Anderson sold his products through canning operations.
"That was good, too, because for a few locals that were interested in the product, we were able to satisfy them," Anderson said.
Anecdote had 13 beers on tap, the two the most popular being the full-body IRB IPA, and Pina Colada, a beer brewed with Citra hops, pineapple and coconut. He hopes eventually to have 16 taps.
Anderson started home-brewing about 15 years ago. He eventually went to New York to study engineering and started working in the corporate world.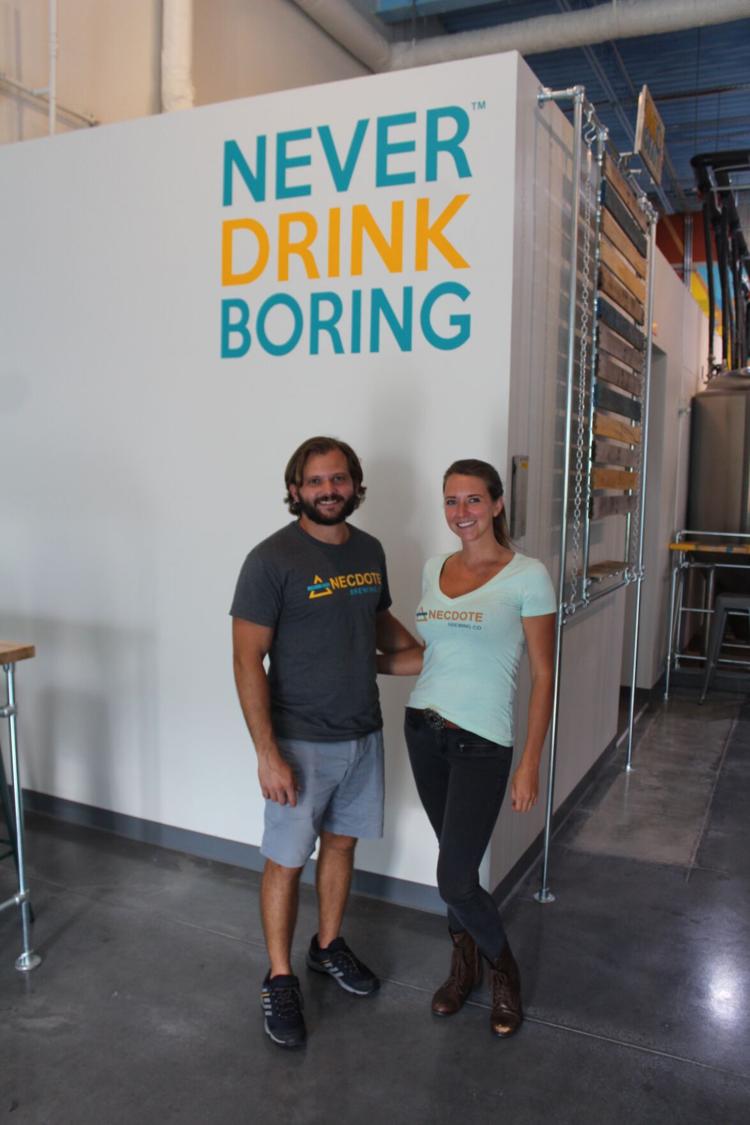 "But I always kept my foot in the craft-brew industry because it was a passion. Just the culture around it. The culture of diversity, inclusion. Sharing. Very open. It was something that drew me after all these years," he said.
He left his job at IBM to go to the Siebel Institute of Technology in Chicago and got certification in brewing technology, which is more geared toward commercial brewing.
"That was more like filling a gap from home brewing to really understanding the commercial process better," he said.
Following that, he started brewing for the Bronx Brewery in New York, getting more experience from development of recipes and learning about everyday brewing, packaging goods and distribution and sales.
"That got me pretty comfortable that I knew the business pretty much from the inside. It was time to start finding a way to start the business," he said.
Because his father and siblings lived Florida and knowing that it would be too costly for him to live in New York, he began looking in Pinellas County for a place to start a brewery.
"IRB came on my radar by just driving down the coast, and just noticing beautiful little section of land here where people seem to be kind of away from the rest of the county and having a good time," Anderson said.
He did some homework and learned a lot from community leaders who passed an ordinance in recent years to allow breweries.
"We knew coming here that people wanted one. It would be a big plus," Anderson said.
The brewery has about 3,000 square feet that he is leasing in a retail plaza. A five-barrel system brews 155 gallons at a time, Anderson said.
"Designing it around that was very important to maximize the tap room side of things and also make it comfortable to brew without being too cramped," he said. "It was somewhat of a guessing game sometimes on how much space we needed."
For now, he and Sturtz are the only two employees. Besides waiting on customers, Sturtz handles merchandising and marketing responsibilities.
"It's been really exciting to see everything come literally from like the ground up and being part of that," she said.
Anderson said he is starting to see people who live outside of IRB come to the brewery.
"Indian Rocks has a seasonality to it. We have to take that into account. So being able to draw some people from Tampa, St. Pete, will be helpful," Anderson said.
The brewery is open Friday from 3 to 9 p.m., Saturday from 1 to 9 p.m. and Sunday from 1 to 8 p.m.
Hearing people's feedback gives Anderson the most satisfaction.
"It's when people actually say, 'Wow.' We have had a couple of people who say this is one of the few breweries they can drink the beer from top to bottom. I'm sure they are being a little bit nice, but at the same time that it just adds to validate the effort you are putting into it, always making sure we follow the best quality, the best ingredients, not cutting any corners," Anderson said.