INDIAN ROCKS BEACH — There's a lot more to Indian Rocks Beach than what meets the eyes of throngs of visitors who come to the community to put their toes in the sand.
Local organizations are working to promote IRB's charm and history, such as introducing a free Walk Indian Rocks Beach mobile app.
A launch party was held March 23 at the park at Fifth Avenue for the free self-guided audio app for a tour that is designed to make designated stops at 14 key locations in Indian Rocks Beach.
The tour, a joint effort between the Indian Rocks Beach Historical Museum and IRB Action 2000, includes stops at several cottages, restaurants, the Narrows and other destinations.
"We both felt there was a need to educate and encourage protection of these places, which are so special on Indian Rocks Beach," said Daryl Frahn, acting president of Action 2000.
The self-guided tour with local business and city officials recently helped get their input, and Frahn called the response great.
"Getting their feedback is really important to us to understand not only how do we promote the tour, but by promoting the tour we are promoting our community and how special it is," Frahn said.
"And it also will mean we are bringing a different type of visitor to Indian Rocks Beach. Not just the one who goes to the beach, leaves their trash and goes home, but the people who will spend time here in the shops, in the restaurants," said Frahn, "and really enjoy the special features of our community."
The mobile app was created in conjunction with the Florida Humanities Council, which has 36 tours across Florida.
But there was no grant money available from the council for IRB's tour, so both Action 2000 and the museum chipped in funding to make it happen.
A rack card has been created called "Walk Indian Rocks Beach" that includes a map showing the 14 destinations.
The Kooky Coconut, a small eatery at Gulf Boulevard and 8th Avenue, is one of them.
Frahn believes the establishment was built in the 1930s, undergoing several name changes. It was formerly known as the "Little Market Basket" and "Tacky Turtle" among other names, Frahn said.
Beach Trail, which runs north and south just west of the Kooky Coconut, includes about five historically significant houses along the route.
"This is one of the few streets left that is actually shell-lined. It's not unusual to see kids with ice cream cones from Kooky Coconut down that trail," she said.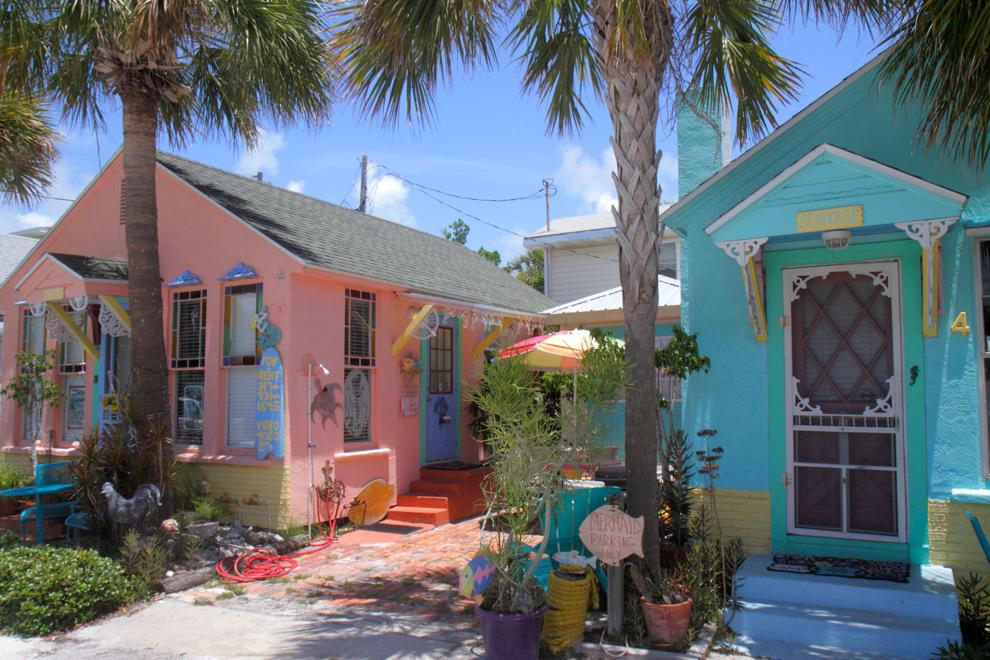 Just north of Kooky Coconut at Gulf Boulevard and 8th Avenue is a cottage with stained glass windows that were brought over by a barge from Tampa in the 1930s and are remnants salvaged from a church that was 100 years old.
Frahn has lived in Indian Rocks Beach since 2003. Her neighbor is Jim Labadie, the owner of the Colonial Count Inn.
"It's a great way to learn about our local history, it's great for visitors and it's great for locals who may want to learn more about the community," said Labadie in a news release. "I also see the tour as a way to promote the importance of preserving and protecting these historic places and the stories they tell."
Frahn also said that the tour is a way to bring awareness to preservation.
"We would like to save our cottages. That's the ultimate goal," she said.
The free "Walk Indian Rocks Beach" app can be downloaded directly to an Apple or Android mobile phone or via a QR code shown on posters throughout the City. The tour is also available for downloading online at walkindianrocksbeach.com.
"We are excited to be a part of an easy way for visitors and residents to learn about the rich history and stories of our coastal community," said Julie Hoofnagle, one of the creators of the tour, in a news release. "This walking tour presents a new way to experience the special charm of IRB and celebrate our small-town atmosphere and sense of place."