ST. PETE BEACH — Developers of the proposed Miramar Beach Resort, at 4200 Gulf Boulevard, are planning to be the first in this beach city to open a full-service hotel since the Florida Department of Environmental Protection forced St. Pete Beach to enact a building moratorium six years ago.
In November 2014, the city was placed under a consent order by DEP for what was seen as its inadequate sewage system; the city then conducted a study to prove its existing sewer system was operating at above capacity in critical locations. In 2016 the city adopted a moratorium to prevent new development or redevelopment that would increase sewer flow until additional capacity was provided to help ensure sanitary sewer overflows do not occur.
The city is now poised to make sewer system improvements that will allow developers to build hotels or refurbish existing structures, with Miramar Beach Resort planning to be the first major hotel development project since the moratorium.
On Sept. 23, Miramar developers presented a conceptual site plan for their 6-story hotel at a public information session held at the St. Pete Beach Recreation Center.
Under the conceptual plan the current Miramar facility, a one- and two-story 27-room motel-type structure built in 1953, will be demolished to make way for a 6-story, 54-room luxury resort.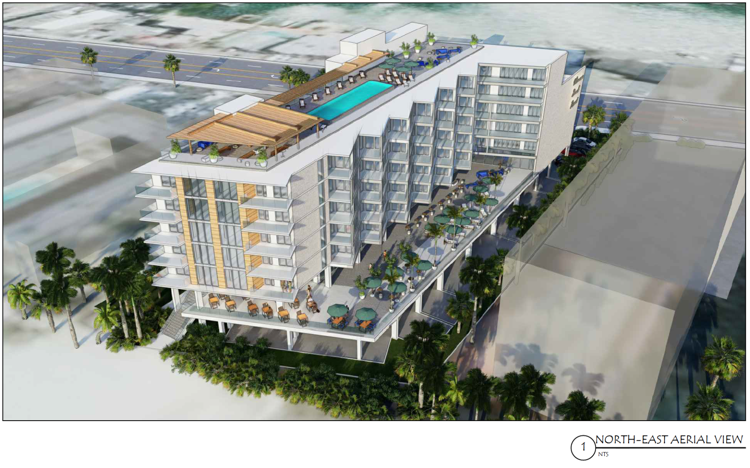 The reimagined and recreated Miramar will include many in-house amenities, including a fitness center, indoor and outdoor dining on its main floor, and a rooftop pool and lounge. Along with resort guests, the public will be invited to enjoy the gulf-front restaurant or rooftop lounge, Ronnie Galant, Miramar's vice president of operations, told the Beach Beacon. He added developers are even thinking of offering memberships to the fitness center.
The lobby of the new Miramar resort will feature both a covered and open outdoor dining area with a lounge facing the gulf, along with a full-service indoor lobby restaurant and tavern. Galant said at the community meeting the developers heard a concern about the potential for rooftop noise coming from the lounge, and they will take precautions against that happening, such as only allowing acoustic guitar and ukulele music and stopping the music at reasonable hours.
He noted the developers recently opened their larger Cambria Hotel in Madeira Beach with a rooftop bar amenity that presents acoustic music at reasonable hours, and there have been no complaints.
Galant noted his group bought the Miramar property in 2017 and has been waiting to be able to build the project ever since.
The old motel has structural deficiencies and is not fiscally viable in today's vacation market, with people looking for amenities all under one roof, Galant explained. He noted the current small Miramar motel, with rows of apartments and just a common courtyard, doesn't have features vacationers are looking for.
Galant said they plan to be good neighbors, with their hotel set back from Gulf Boulevard and angled from adjacent structures to the north and south, so there is more view space.
Mayor Al Johnson said the thinks the new Miramar sounds "like a good project." He noted under current plans the conceptual plan meets height and room requirements, as well as the city's comprehensive plan.
According to plans the building will comprise 47,701 square feet, in an area where total permitted building size is 47,710 square feet. The conceptual plan proposes to include 54 apartments, which is at the 54.56 units permitted. Hotel rooms will be mainly be in the size range of 723 square feet with all state-of-the-art amenities, and some larger suites ranging from 733 to 1,250 square feet.
The parking garage level will include 78 spaces, with 57 being self-park and 21 proposed for valet parking, but those numbers are not set in stone.
Johnson said the project was likely to come before the planning board in December and then to the City Commission for site plan approval in January or February. The hotel should be ready for a certificate of occupancy 15 months later, at the same time that the city completes its sewer system infrastructure upgrades and its building moratorium sunsets.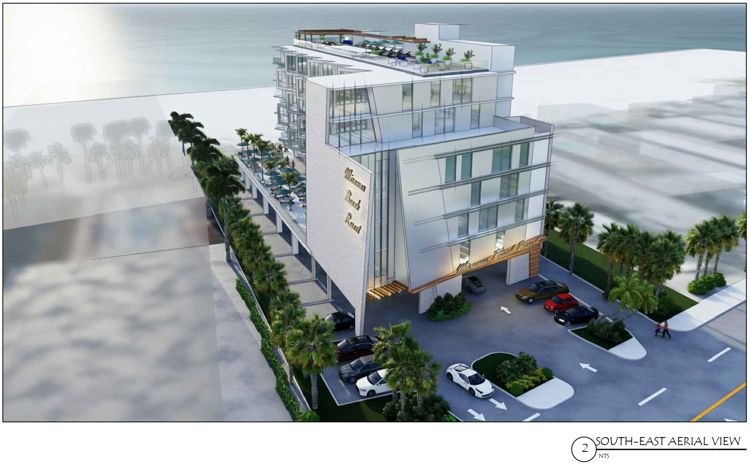 "The developer can obtain a permit to construct, but will need the sewer project to be complete prior to certificate of occupancy," said Community Development Director Wesley Wright.
He said a variance would likely be required for parking. In addition, the developer will need to request an allocation of 15 temporary lodging units from a density pool established in the comprehensive plan. That takes an evaluation by the City Commission on a case-by-case basis.
Johnson said the development should be the first of many plans to refurbish existing structures and build new hotels in St. Pete Beach; another new hotel project may come to fruition on the east end of Corey Avenue, he said.
Galant said the developers realize they may be asked to tweak plans and address concerns that arise. "We want to work with and be part of the city and community," he said.