BELLEAIR BEACH — As had been expected, the City Council voted at its June 3 meeting to authorize the mayor to terminate the city's contract with Attorney Paul Marino. The move follows a decision by council last month to put the city attorney job out for bids.
The 30-day termination notice allows Mayor Joseph Manzo to meet an ambitious schedule that calls for bids for city attorney to be due by July 2, followed by the evaluation of candidates, selection of the top applicant and contract negotiations. The council wants to have its new attorney on the job by the beginning of August.
Vice Mayor Glenn Gunn asked whether the two-month timetable for selection of the attorney was "moving too quickly." Council Member Rita Swope, who was not at the meeting, had also last month urged council to "slow this down."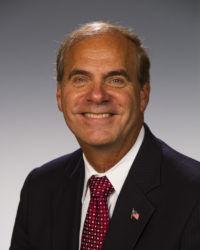 The council voted 6-0 to terminate the contract with Marino and no other council member objected to the replacement schedule.
The council's action ends the city's 20-year relationship with Marino. Though Manzo has told Marino he is free to bid on a new contract, Marino made it clear, in a statement he was prepared to read at the meeting but not allowed to do so, that he is leaving as Belleair Beach's attorney.
In his prepared comments, titled "Retirement Remarks of the City Attorney," Marino says, "Mr. Mayor, I came here tonight to give you and this City Council my contractual 30-day notice of the termination to my contract with the city effective whatever date in the future you want to make it."
In what was likely his last interaction with the council, Marino and the mayor engaged in a heated exchange in which Marino repeatedly attempted to read his comments to council and was told by Manzo he could not speak unless called on.
"We are going by Robert's Rules of Order," Manzo said, at one point calling for a sheriff's deputy, who was not present, to intervene.
In the four-plus pages of remarks Marino attempted to read, which he provided to the Bee, Marino answers allegations made by Manzo that some of the city's laws are unconstitutional and the city's website is not ADA-compliant.
The website compliance is a technical, not a legal issue, Marino says. As to Manzo's charge that "people out there will sue the city" over the "unconstitutional laws," Marino says, "If that be the case then there are hundreds of city attorneys and numerous county attorneys equally guilty of having one or more so-called unconstitutional ordinances on the books."
In his statement, Marino also speaks of awards and commendations he has received during his career as a municipal attorney.
He denounces allegations made by Manzo as "scare tactics being used on the city council or the people of Belleair Beach as a means of trying to defame the reputation of the city attorney." Also, "I do not appreciate the Mayor impugning my professional integrity or my ability to provide sound legal advice to my government clients."
Marino brings up the issue of age discrimination, saying, "I find it inconceivable that you, Mr. Mayor, would express or imply that because I recently attained the age of 80 years young that I would not be capable of performing my job."
After several attempts by Marino to make his comments at the meeting, Manzo said, "Mr. Marino, I'm going to ask you to step off the dais. Now!"
Then he called for a recess, during which time Marino was replaced on the dais by his assistant, Attorney Jackie Spoto Bircher.
When the meeting resumed and the mayor asked for public comment, the first person to come forward was former Mayor Leslie Notaro who said, "I've been asked to read this into the record."
However, she said she was having a problem with her eyes, so she handed the document off to another resident, Kathleen Klaeser.
When it became clear these were Marino's comments, Manzo asked Klaeser to stop, saying, "That's out of order."
Klaeser said, "My own comment is, I don't like how this whole thing went down. This seems extreme to me."
During the time for the attorney's report at the end of the meeting, Bircher told the council she is retiring from active work and would not be bidding to replace Marino. She also agreed to provide the city with legal advice, as requested, for as long as needed during the transition period to a new city attorney.
"I won't leave you high and dry," said Bircher. Manzo thanked her for that offer.