BELLEAIR — The inaugural LPGA Pelican Women's Championship held Nov. 19-22 at the Pelican Golf Club in Belleair featured a little bit of everything you want in a big-time golf tournament.
There was beautiful, chamber of commerce-level weather; a loaded field featuring international stars and local favorites; iconic images, such as the Stanley Cup sitting outside the clubhouse with a giant American flag waving in the background; celebrity sightings, including former Tampa Bay Lightning great Vinny Lecavalier and renowned actor Michael Pena; and a hole in one by American Ally McDonald on the par-3 12th hole during the third round.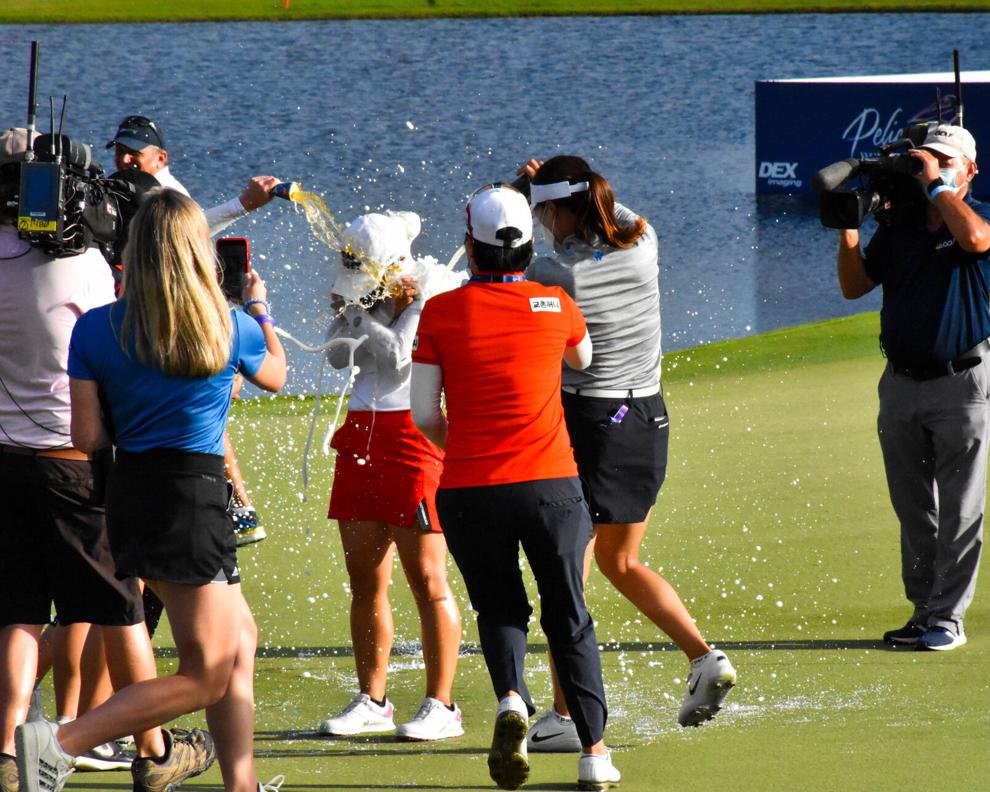 Not even the lack of paid spectators because of the coronavirus pandemic could dampen the enthusiasm surrounding the event, as a large group of members, volunteers and tournament officials greeted winner Sei Young Kim of South Korea with a rousing round of applause after she tapped in a short bogey putt on the 18th hole to complete a three-shot victory over McDonald on Sunday.
"First of all, I want to thank you all for coming and supporting the LPGA," Kim, a 12-time tour winner who is currently No. 2 in the world rankings, said shortly after being doused with champagne by her playing partners coming off the 18th green. "Pelican Golf Club was a great golf course and a great test of golf and I hope to see you all again next year!"
Indeed, that was the consensus throughout the week as praised rolled in for the club and the Donald Ross-designed course, which the Doyle family purchased in 2016 and completely renovated, paving the way for the first LPGA event to be held in the Tampa Bay area since the St. Petersburg Women's Open in 1989.
"It's been incredible. Such a great show," said Matt Hooper, a national member and native of Marietta, Georgia, who brought his two young daughters to the tournament. "Everyone with the club has been so accommodating and all the ladies have been so hospitable to the girls. They've made fans for life this week."
According to Justin Sheehan, PGC's director of golf, the inaugural event was "incredibly successful" in large part due to the course itself.
"It's such a great golf course to view an event," Sheehan said. "There's places where you can view three holes at once, and it's got such lush, rolling greens. The players loved it. Early in the week when the winds were gusting the golf course was challenging, and some of the greens were challenging. But we'll listen to feedback and make some tweaks here and there and be back even better next year."
While Sheehan noted the lack of paying fans this year was "disappointing," the weeklong event, which kicked off with a pro-am on Wednesday, was not spectator free.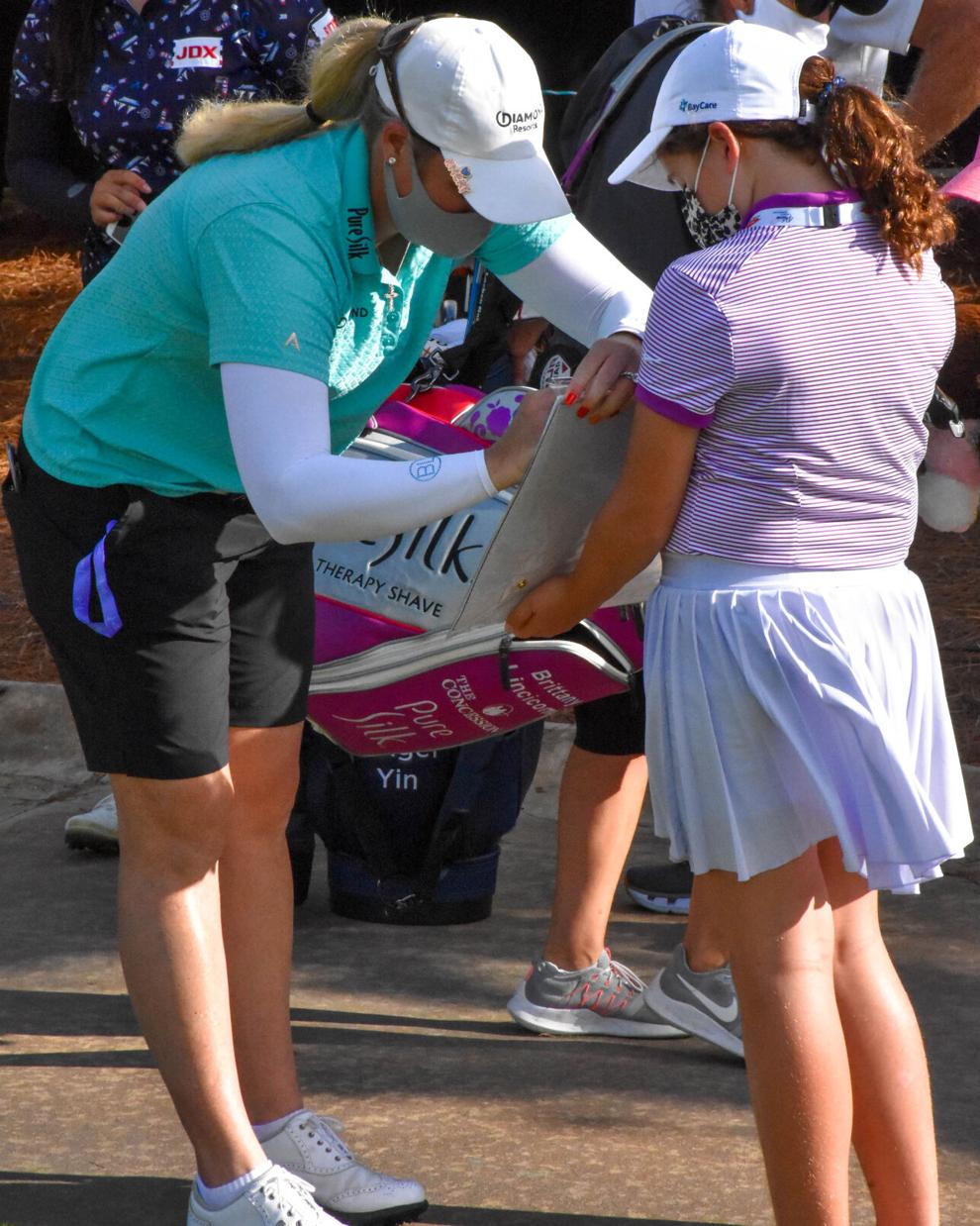 Former Seminole High standout Brittany Lincicome's parents were spotted walking the course pushing a stroller with their 16-month-old granddaughter, Emery, inside during Round 2 on Nov. 20, and the couple said they were thrilled to be able to watch their daughter play at a course where she grew up.
"Brittany's dad taught her to play at this course when she was a young girl," Angie Lincicome said as her husband, Tom, tended to baby Emery. "Of course, it looks quite different now. I think the only thing that's the same is an old snack shack they used to have back in the day."
"'Nana" Lincicome said they felt fortunate to be allowed onto the grounds for the tournament as other family members hoping to see Brittany play as a pro in her backyard had to be turned away.
"So many brothers and uncles and cousins and family members wanted to come, but they can't", she said. "So, it's sad but we're glad we got to come, and we hope everyone will be able to be here next year."
For Lincicome, the disappointment in shooting 6-over par was offset by the ability to play near home.
"It's such a small world. I feel like I've come full circle playing here," she said after finishing her final round on the ninth hole. "The Doyles have done a fantastic job making this course as amazing as it is … and it's super rare to get a 'home game' and sleep in my own bed and have my daughter here. It was just a great week."
And while they weren't able to walk the course, some spectators got creative in coming up with ways to view the event; at least one was spotted peeking over his hedges to catch the action, while Doug and Debbie Bormann got to watch the field play the eighth hole without ever leaving their house.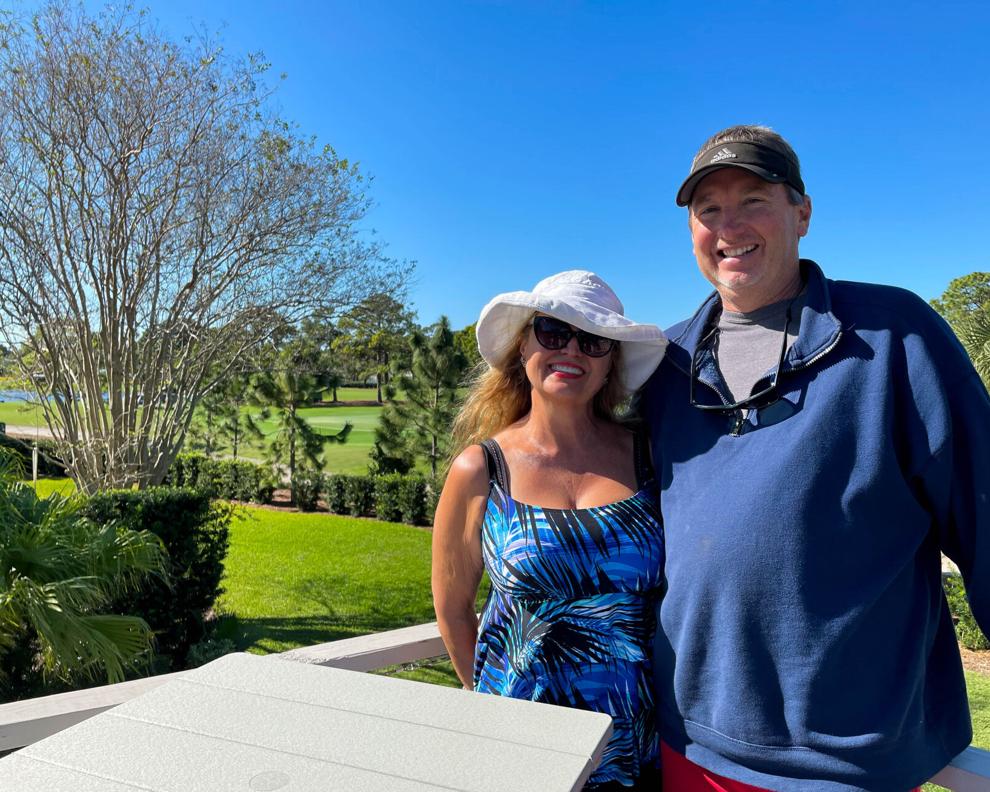 The Bormanns recently moved to Belleair from Indian Rocks Beach, and after swapping a water view for a course-side spot, they took full advantage of the access thanks to an elevated patio area they dubbed the Crow's Nest.
"The reason we built this deck was to have a beautiful golf course view," Debbie Bormann said as she cheered on the players and welcomed volunteers up to the deck during the pro-am Nov. 18. "I mean, who needs tickets? We have the Pelican Pad!"
When asked if he was bummed there wouldn't be any fans this year, Doug Bormann balked at the idea.
"It's even better now that there's no fans!" he said. "It's more special."