BELLEAIR BLUFFS — Businesses wanting to locate in vacant retail space in shopping areas throughout the city are facing a roadblock, City Administrator Debra Sullivan said at the Jan. 13 City Commission meeting.
The obstacle, she said, is an outdated parking code that makes it difficult for businesses to provide the required number of parking spaces. Sullivan said the city has signed an agreement with a consultant to look at "code of ordinance revisions to address parking regulation" throughout Belleair Bluffs.
The revisions will include residential as well as commercial parking, but the focus will be on the business areas of the city, where the current parking space availability falls far short of what the code requires, Sullivan said.
The agreement to reexamine the city's parking code will cost the city about $7,000. At last month's commission meeting when the agreement was approved, city officials agreed the action was much needed.
"A lot of businesses are stymied. Our parking code is too strict," Sullivan said then.
Mayor Chris Arbutine said "a changing world" had outdated the city's parking requirements.
"Today, we have Uber, Lyft, people walking and riding bikes. We have all kinds of ways people are transporting themselves to our businesses," he said. "We need to take a holistic look at this. We may not need as many parking spaces as we used to."
Sullivan said, "We are becoming a hub and more businesses want to come. We have empty stores in our plazas and that is never good. They are only empty because they don't meet our parking requirements. We need to address that."
She mentioned "an enormous space" available in Cody's Plaza on West Bay Drive that requires about 80 parking spaces. It was formerly occupied by Wildfields. She also said the waiting list of potential businesses includes "some really cool restaurants," which require more parking than other retailers.
"I don't want 'empty' anything," she said. "There are too many businesses that want to relocate in Belleair Bluffs."
A revised parking code "will let us make the best use of the parking we have," Sullivan said.
Rapid completion for Public Works jobs
Public Works supervisor Russ Schmader was praised by Sullivan for the speed with which small infrastructure repair jobs in the city are completed. These projects often pose hazards for residents.
Schmader said his workers had fixed a bad pothole and installed some new asphalt on Jewel Road. Also, tripping hazards on the sidewalk between Sunset Boulevard and Los Gatos Avenue were removed, and sidewalks are being replaced where needed, Schmader said.
Sullivan said residents are calling to say how happy they are with how quickly the work is done. The Jewel Road job was completed the day after it was requested, she said.
Sullivan told Schmader, "You are doing a fabulous job."
Garage Sale date set
The city's annual Garage Sale, which is usually on the same weekend as Antique Alley's antique show, will be held a week later this year.
The Antique Alley event will be on Sunday, March 1, followed by the citywide Garage Sale on Saturday, March 7.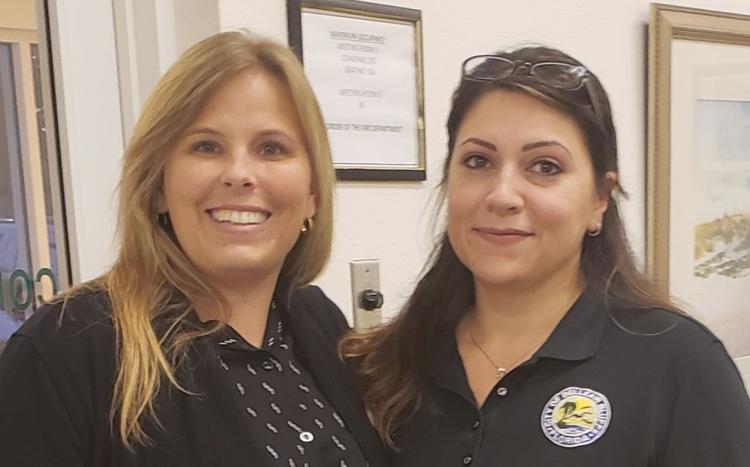 City clerk honored
City Clerk Alexis Silcox was recognized as she becomes president of the Pinellas County Municipal Clerks Association in 2020. Outgoing president Brianna Wetherwax, deputy city clerk of South Pasadena, was present at the commission meeting to formally congratulate her.
"We are excited to have her as president and you guys are very blessed to have such an incredible city clerk," Wetherwax said.
Silcox has been with the city since 2017, becoming city clerk a year later. In her role as hurricane response coordinator, she has received praise for her expertise in getting FEMA reimbursement funds after Hurricane Irma.