BELLEAIR BEACH — Ongoing drainage improvement projects to control significant flooding issues on city streets are also draining the budget. Nearly $4 million in spending approved by the City Council at its Sept. 4 meeting includes pulling more than $400,000 from the reserve fund to pay for flood control efforts. Withdrawals from reserves will likely continue over the next several years as the drainage improvement projects continue.
"We do not have enough money to pay for the capital projects, so we're going to the reserve funds beyond what we're taking in," Mayor Joseph Manzo said. "That funding source will not last forever. Only about another two to three years at this rate," Manzo warned.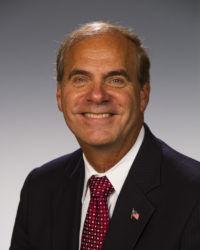 "We're borrowing from the piggy bank and we're not repaying that. We're spending the money wisely – but we're spending it," he added.
Manzo said there are several ways to get the needed money: grants, cost-cutting measures and raising taxes. "A 30 to 35 percent tax increase would be needed to make up the deficit," Manzo said.
Manzo has said repeatedly he does not want to increase taxes. He had voted earlier against leaving the millage rate for the coming year unchanged at 2.039 because with increased property values, that tax rate was higher than the roll-back rate needed to bring in the same revenue as last year. Manzo said that was a tax increase, and he wanted the millage rate reduced to the roll-back number.
The council approved leaving the rate unchanged in a 5-2 vote. Manzo and Councilmember Jody Shirley were opposed. The budget was approved 4-3, with Councilmember Glenn Gunn joining Manzo and Shirley in opposition.
The millage rate of 2.039 approved at the meeting is the tentative rate. The final rate will be determined at the second budget hearing scheduled for Monday, Sept. 16.
Meanwhile, the council approved awarding a bid for drainage improvements on Third, Fourth, Fifth and Sixth streets and Harbor Drive. First and Second streets have been completed. Seventh and Eighth streets are due for next year, City Manager Lynn Rives said.
Rives said the improvements include replacing pipes and putting check valves in the system to control flooding, as well as installing new street curbs and re-milling and repaving the roadways.
The council voted on awarding the bid to continue the drainage improvements in a 6-1 decision, with Shirley dissenting. She cited the lack of money to pay for the projects, saying, "I cannot continue to take from the coffers until there is a resource to fund this. I have a problem approving this project."
Stormwater fee may help pay for projects
The city will study adding a stormwater fee to residents' utility bills to help pay the costs of the flood control projects.
Shirley said the city is "way outspending" previous estimates of stormwater project costs. The city's Master Plan in 2015 showed stormwater projects from 2015 to 2020 costing a little over $700,000, but actual spending has been much more than that.
"We have to figure out how to pay for it," Shirley said. "The fee will help offset the costs."
Manzo said a stormwater fee is a tax increase, and he will not vote for a tax increase unless there is no alternative.
Shirley said there were six potential funding sources listed in the Stormwater Master Plan. She asked the city manager whether the city had researched these items.
Rives said several grants were looked into, including FEMA grants, but the city did not qualify. "We will continue to look for grants," he said.
Manzo said there is a "huge budget gap" in funding the stormwater projects, and a fee would be used to pay for those projects only. Also, the fee would not have to be permanent. It could be short-term, ending when the flood control projects are completed.
The council voted to have the city manager begin a study of what's required to implement a stormwater fee.
Event parking on city streets
Under current city law, parking is not allowed on city streets. Exceptions are made, with the permission of City Hall, for resident parties and gatherings, and special events such as the citywide garage sale.
Several council members said they had received a number of emails and other communications from residents who objected to allowing street parking for the upcoming Fall Festival, or Festival by the Sea.
They were concerned with trash, accidents such as tripping in someone's yard, inability of emergency vehicles to get through and other problems, said Councilmember Rita Swope. "The residents don't want their streets opened up for the public to come to," Swope said.
Shirley said she had received "a pile of emails" and she shared the resident concerns. But, she said, the Fall Festival is a three- to four-hour event on a Saturday afternoon, while city garage sales last all day and "have created conditions where we cannot move and are stuck in traffic on our road." This event will not be like that, Shirley said.
Shirley said the City Hall parking lot will be open for visitors to the Fall Festival. Also, many who attend will live nearby and walk or ride their bikes to the event.
"I think this has been blown out of proportion," Shirley said. Referring to the complaining residents, she said, "This is a group of citizens who just don't want events. Let's try it and see if it works out."
The mayor said he also could not move on the city streets during the garage sales. "They park on both sides of the street," he said. "The Fall Festival involves parking on one side of the street for three hours."
Former Mayor Leslie Notaro said a test by the fire district showed a fire truck could not pass vehicles parked on city streets. Notaro said her concerns are for the safety of residents. Resident Sheryl Grey said she was also concerned about public safety.
Councilmember Robyn Ache said, "The idea of a festival is a good one, and I don't think there is going to be enough of a turnout to cause problems." Ache urged residents to "come and have fun at the party. Keep an open mind. If it doesn't work out, we don't do it next year."
Parks and Recreation Board Chairman June VanScoyoc, who created and is managing the festival, said the parking issues are being addressed, and preparations for the event are going well. Ten sponsors are participating and there are 11 booths. The festival is completely self-funded and will cost the city nothing, VanScoyoc said.
Manzo said in his view, the Fall Festival is "going to be fantastic."
Ache agreed, saying, "It's going to be great."
The festival is scheduled for Saturday, Sept. 28, 3 to 7 p.m.