BELLEAIR — Even before the final round of the 2021 Pelican Women's Championship ended with top-ranked Nelly Korda knocking in a birdie on the first playoff hole under darkening skies in front of a packed gallery on the 18th green, the second-year tournament had widely been considered a success.
With its lush, open fairways, tricky, undulating greens and picturesque course nestled amid the neighborhoods of tiny, tony Belleair, the Pelican Golf Club delivered a week full of exciting play and memorable moments. Among those were a trio of aces on the par-3 12th hole that netted two-year Lamborghini leases for three lucky players; former MLB players Tino Martinez and Miguel Cairo and actor Michael Pena teeing it up in a celebrity pro-am; and a final round played on a crisp, clear Nov. 14 afternoon that began with the third Lambo hole-in-one and concluded with a logjam atop the leaderboard.
In the end, Bradenton's Korda overcame a late stumble in regulation to defeat Lexi Thompson, Lydia Ko and 2020 Pelican winner Sei Young Kim to capture the trophy and the $260,000 winner's check.
"I definitely made it very interesting towards the end," Korda said of her triple-bogey on hole No. 17 that dropped her from two shots up to one shot behind her good friend Thompson. "I kind of gave up hope after 17, but I have such a great caddie that kept my head up and told me anything can happen, and I sunk the putt on 18."
That kind of positivity was prevalent throughout the week, from the widely attended Women's Leadership Summit organized by tournament director Marci Doyle designed to promote, inspire and empower women, to the numerous personal player-fan interactions. Some of those special moments included Seminole's Brittany Lincicome bantering with veterans in the Military Outpost tent on Veterans Day, Thompson giving an autographed Solheim Cup glove to a starstruck young girl after her first round, and Elizabeth Szokol sticking around despite missing the cut on Friday to give tips and signs autographs for dozens of kids late Saturday afternoon.
Indeed, the treatment of, and appreciation for, the spectators following the tournament's fan-free debut in 2020 was appreciated by many fans.
"This is a great venue and the fact that they had a dedication honoring veterans, plus this outpost here, is fantastic," 20-year Navy veteran and Nokomis resident Denise McGuirk said from the military tent at hole No. 12 during the opening round on Nov. 11. "It makes you feel like you're appreciated, which is nice."
For others, the quality of the field, which featured eight of the top 10 ranked players in the world, was a huge selling point.
"This is wonderful!" Clearwater's Sue Redwine said as she and her sister, Dolores, sat along the ropes on the 18th green wearing bright red Tom Brady T-shirts on Sunday. "I can't believe the quality of players they have here. It's amazing!"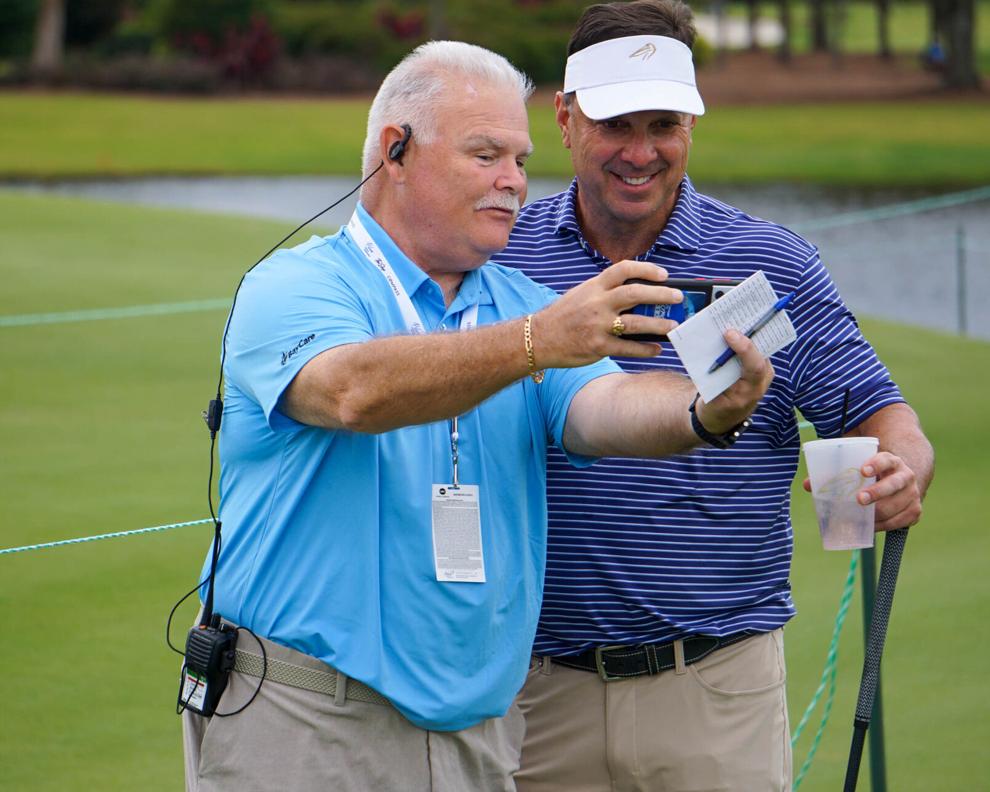 Former Yankee Martinez, a Tampa native and Pelican Golf Club member who was a fan favorite during the pro-am, praised owners Dan Doyle Sr. and Dan Doyle Jr., the founders of DEX Imaging, who have quickly transformed the 125-year-old Donald Ross-designed course into an LPGA tournament-worthy site since purchasing the club in 2017.
"I think it's unreal," Martinez, a 15-year MLB veteran who admitted he was "addicted to golf," said prior to teeing off on Nov. 10. "I became a member when this place first opened, and it used to be dirt. I expected it to be good because of the Doyles' commitment and the way they do things, but this exceeds those expectations."
Martinez added when the Doyles "set their minds to something, they go all out, and I believe this will be one of the premier if not the premier events on the LPGA Tour very soon."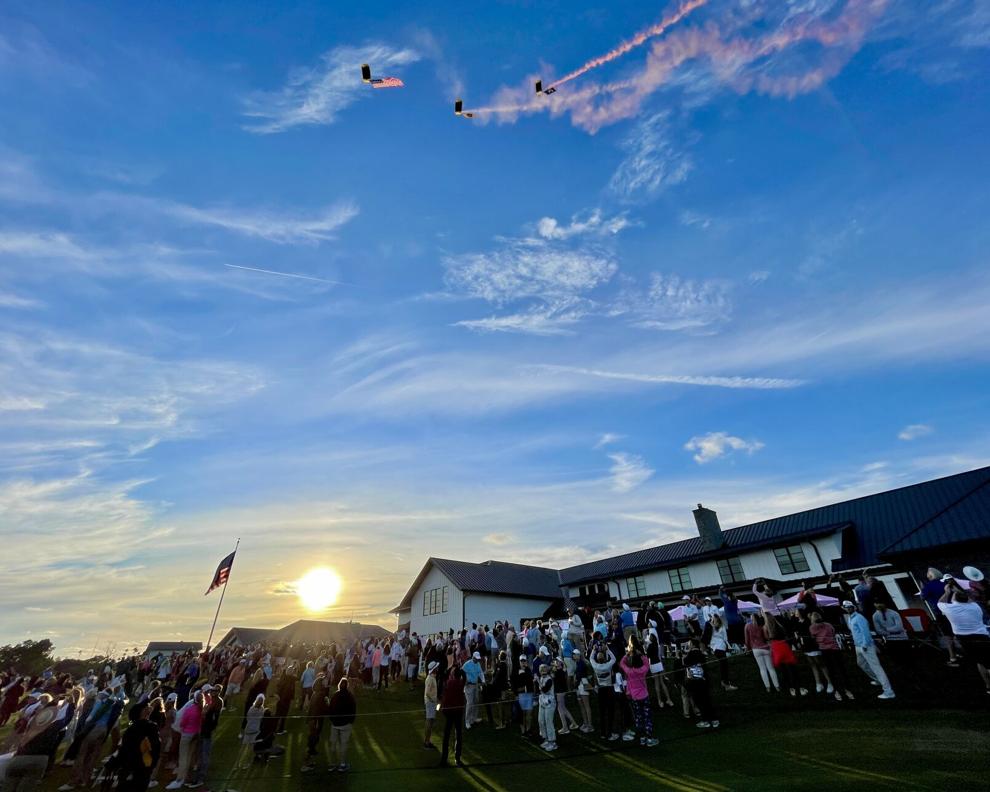 To that point, shortly after Korda dropped her winning putt and a group of para-commandoes from MacDill Air Force Base landed on the 18th fairway to deliver the championship trophy, Dan Doyle Jr. announced to the crowd that the tournament would be continuing for the foreseeable future.
"This morning we announced we signed a new three-year contract with the LPGA, and we decided to take the purse (from $1.75 million) up to $2 million dollars-plus for the next four years," Doyle Jr. said to loud applause after thanking Marci Doyle, her staff, the volunteers, and the town of Belleair for their hard work and support, noting the tournament would not be possible without them.
According to Belleair Mayor Mike Wilkinson, the news of the extension reflects well on the community.
"I think it shows how much the LPGA likes the tournament and the area," Wilkinson said, noting he appreciated the Belleair police, town staff and residents for their support and patience, particularly with traffic issues, during the event. "You've got the top female golfers in the world here, beautiful weather, a great course, and I think the Golf Channel did a great job of showcasing Belleair and what this area has to offer. I think it's great for women's golf, it's great for Belleair and great for the whole Tampa Bay area."