BELLEAIR BEACH — Dozens of newborn loggerhead turtles were saved from sure death by a Belleair Beach family just out walking their dogs.
On Aug. 16, 13-year-old Abby Fox and her 10-year-old brother Madden were walking the family dogs, Bella and Charlotte, when Abby noticed a single hatchling near the road heading inland, the wrong way.
"She sent Madden to get me so I could come and help. We called the Clearwater Marine Aquarium right away," said mom Heather Fox. "She gave me the turtle and I went and to get something to put it in until the aquarium people could come."
Fox said she got a bucket for the turtle and went back, only to discover it had started to rain. Not only that but there were more turtles.
"By the time I got back she had seen more turtles," said Fox. "It was raining and there were turtles everywhere."
Fox then went back to the house to get other containers for the hatchlings and by then their neighbors, John, Jen and Mia Adams had come out to help.
"The turtles were everywhere, they had gone into the shrubbery, around the pool area; they were everywhere," she said. "We kept collecting them. Mia and Abby took the turtles under shelter in the parking area because the aquarium people said to keep them in a dry place."
Soon after, a woman came from the aquarium to supervise the rescue operation.
"We gave her 35 or more hatchlings and she took them further down Belleair Beach to release them," said Fox.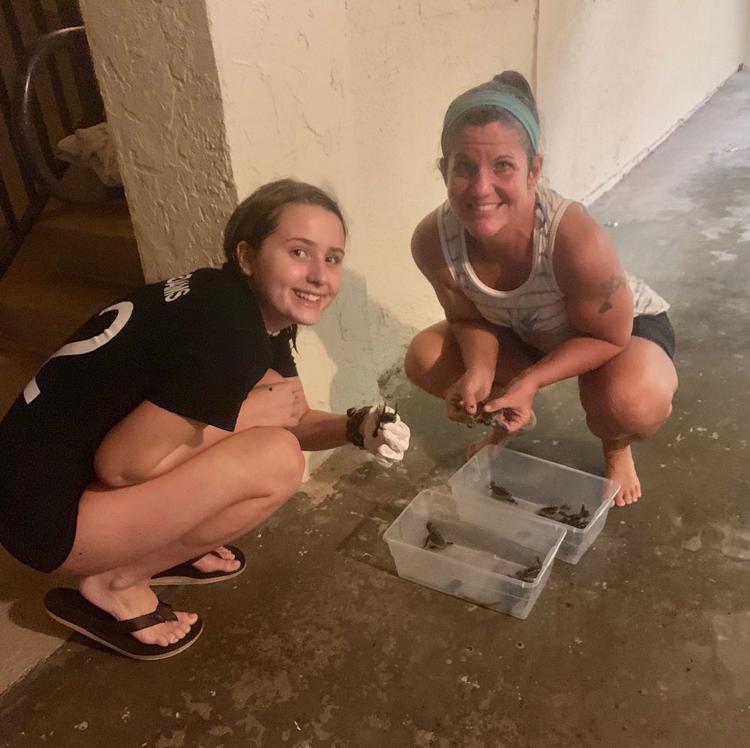 But it wasn't over.
"While she was gone more were found in the vegetation, we got another 13 or 15 out of there," she said.
The woman from the aquarium made another trip to the shore to release the last batch of hatchlings. Her job that evening concluded with disposing of the body of one hatchling that made it to the road and was run over.
It turns out that 13-year-old Abby was well prepared for what she found that evening. Her mom said she has been interested in marine life for many years.
"My daughter wants to be a marine biologist," she said. "She has been spending weekends at the aquarium and going to camps since she was 6 or 7 years old. This was right up her alley."
Abby said she was amazed at what she saw that night, starting with the first one.
"I was afraid that it was going to go onto the road and get run over," she said. "After I picked it up and told my brother to go get Mom, I looked around for more."
And there were more, enough to keep Abby and her family and friends very busy.
"I found about 30 more right away," she said. "They were everywhere, they were behind a chain link fence, and in the vegetation and they were all heading toward the road. I already knew they would go toward artificial light towards the road."
Hatchling turtles, by nature, use the moon as the light to draw them to the water. However a street light can have the same effect. Residents who live along the beach are asked to modify their outdoor lighting so as not to attract the turtles.
David Yates, CEO of the Clearwater Marine Aquarium, said the family did exactly the right thing once they saw the hatchlings. Their first priority was to call the aquarium for help.
"These are hatchlings and most people don't know how to handle them," he said. "They are an endangered species and you have to have a license to handle them. We have a license. If you handle a hatchling improperly you could cause issues."
Yates said people are important in helping preserve helpless wild marine life and he was happy with the way the Fox family handled the issue.
"We feel good when people are involved," he said. "The public is our partner and we need their eyes to let us know what is going on. We love the public 100%."
Yates did clear up one oddity. Heather Fox said the aquarium officials told them to get the turtles out of the rain and not to let them get wet. An odd request given that turtles live in water.
Yates said because it was raining and the little turtles didn't know anything about rain, they would have been stressed out by it.
"Don't cause stress to these animals," he said. "Don't distress the animals, bring their stress level down when you are rescuing them."
It was an exciting evening for Abby Fox and her family, no doubt stressful for them as much as the turtles.
Abby says she would do it again in a heartbeat.
"Absolutely I would do it again," she said. "It is important because the turtles are endangered and we want to see as many make it to adulthood as possible."
To get help from the Clearwater Marine Aquarium regarding sick or stranded marine life, call its rescue line at 727-441-1790, ext. 1.