BELLEAIR — Belleair residents have been asked to consider whether the town should build a $12 million reverse-osmosis water treatment system for the town or connect permanently to the Pinellas County water supply.
Town Manager J.P. Murphy and water engineers explained the alternatives at special Town Commission hearings on Nov. 5 and Nov. 10.
The town's present system, which was built in 1926 and upgraded in 1968, consists of a field of wells that generates, treats, and distributes more than 290 million gallons of water each year to more than 4,000 people.
The problem? According to Murphy, increases in chlorides and dissolved solids mean the present system won't keep up after 2023. Not only that, but the present system was not intended for, and is not effective, in removing chlorides. The World Health Organization says chloride in drinking water is not harmful, but high chloride levels are associated with poor-tasting water and high sodium levels.
Therefore, the town must either modernize its present system or buy water from the Pinellas County system, Murphy told residents and town commissioners at the Nov. 5 special meeting. Because the town's present water treatment system will begin underperforming in 2023-2024, the town must decide by the end of year or at least by the end of the first quarter 2021, Murphy said. That will give the town time to build its reverse-osmosis system or transition to the county's water distribution system, which could take up to 30 months.
Reverse osmosis uses a series of small, permeable membranes to remove ions, unwanted molecules and larger particles from drinking water. The new process turns 80% of the raw water into potable water; the other 20% — containing chloride, metals, and other impurities — is disposed of down a deep-injection well.
Since 1986, the town's current water system has changed from a lime-softening process to a direct filtration with aeration process. It now employs constant aeration, filtration, and chlorine disinfection before distributing the water to homes and a few businesses for consumption.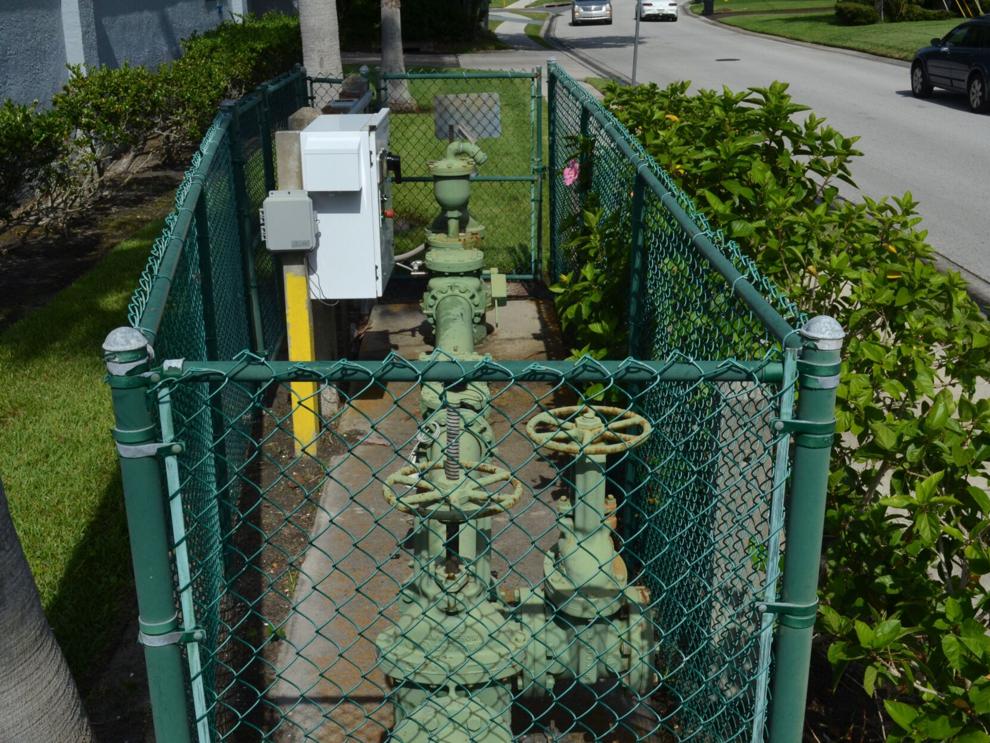 The pros and cons of the two plans, including details of the monthly water bill and rate comparison, can be found at https://belleairfl.legistar.com and townofbelleair.com/ro under the Nov. 5 commission agenda. In January, the town hired engineering and survey firm McKim & Creed at a cost of $324,223 to study the town's well system and the feasibility of converting to the reserve-osmosis process.
"If the town wishes to continue with potable water production, a new (reverse osmosis) treatment plant is recommended to reduce chloride and total dissolved solids (TDS) concentrations," the study states. Dissolved solids include calcium, magnesium, potassium, sodium, bicarbonates, chlorides, sulfates and small amounts of organic matter.
Though the contaminants aren't dangerous, they do affect water quality, Murphy said.
"These are … not a threat to human consumption, but things that deal with how (water) smells, what it looks like, how clear it is, how it tastes, saltiness and how hard it is," he told the handful of people at the special meeting.
A new RO system would also address ongoing operational, maintenance and safety concerns at the town's water treatment center, said Phil Locke, senior project manager at McKim & Creed.
Locke told commissioners Belleair has been limping along with its present system, which includes seven wells drilled 150 to 275 feet into the Floridan Aquifer. The wells provide the raw untreated water to the 2.2 million gallon-per-day capacity Class B treatment plant, the town's website states.
"It's important to note that there's one well that's extremely problematic, that is Well No. 3," Locke said. "The town staff is doing a great job rotating the wells so that the town's water is in compliance."
The study outlined drawbacks to installing the reverse osmosis system, including spending $12 million, increased operating expenses — electricity to run it, paying more people to operate it — and permitting and regulatory concerns.
According to consultant engineers, interconnections with the county already exist, making the transition to county water simpler than converting to reverse osmosis. Another benefit: Belleair residents would initially see lower rates after the change to county water, a rate study shows.
If the town connects to the county, 4.5 miles of galvanized pipes that carry the water in Belleair would be replaced, perhaps with CR-900 PVC pipe, "to accept the water chemistry (Pinellas County) is sending to us," Murphy said. Otherwise, citizens could see "red water, dirty water quality, weird smell and particular hardness," he said. The county would bear the cost of replacing the pipe, which could total more than $5 million.
Though a ballot question or survey of residents could help the commission determine which course to take, the commission will probably decide for itself on which way to go in the next couple of months, Murphy said.
The $12 million for an RO system could come from two, 20-year State Revolving Fund loans. The state's Drinking Water State Revolving Fund and Clean Water State Revolving Fund are backed by state and federal grants.