DUNEDIN — Pardon our dust, says House of Beer Manager Rick Clemo, as its operations have expanded in recent years while tantalizing taste buds.
The House of Beer location — abutting the Pinellas Trail — opened more than two years ago, and business continues to exceed expectations, Clemo said.
Now, Andy Polce, the owner, and Clemo are looking to make more improvements on the property, such as adding bathrooms and more cold storage space.
"Things are going great," Polce said. "The community has really responded. We are a family friendly, pet friendly mostly outdoor destination that the community has embraced."
Typically, numerous patrons enjoy sipping beer on the courtyard, whether they come by vehicles, bicycle or on foot.
"We consider ourselves a destination, a stop, not necessarily just for beer but for the experience, the outdoor patio, where the kids can play, the music venue, the food. Just a nice, safe friendly place to hang out," Clemo said.
The House of Beer broke ground for their location right before Halloween in 2020 and four months later got a certificate of occupancy for the pavilion.
"That went up pretty quick," Clemo said.
Since business dropped somewhat because of the pandemic, it was a good time to get some construction work done.
"We're down, tourists are down," said Clemo. "So we decided to go ahead and move forward. We got a taste of what this place is going to be like prior to COVID, prior to getting shut down. We knew it was going to be a desirable spot. People will really like it. We thought we would improve it if we could."
HOB rents out the top and bottom of its pavilion and courtyard for wedding receptions, birthdays and charitable events. It also leases space to a food truck.
Clemo said he is proud of the courtyard and expanded areas.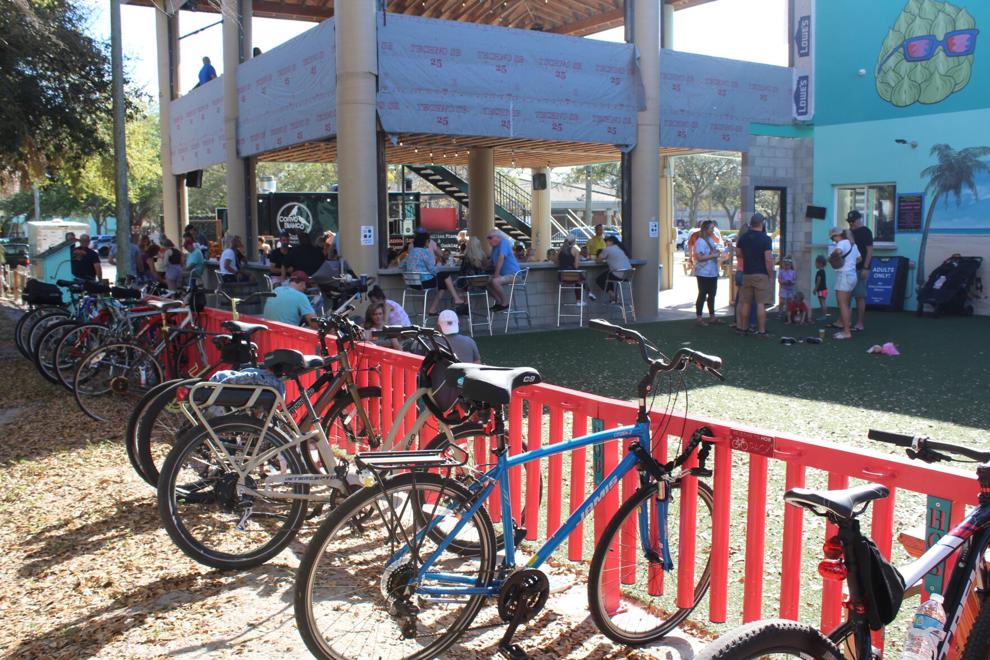 "It's been referred to as Central Park of Dunedin. It's a beautiful oasis where families can get together. It's very family friendly. We are pet friendly," Clemo said.
Though Polce and Clemo take pride in the beer they brew, they also have plenty of alternatives for customers, such as wine.
Having the Pinellas Trail steps away from the courtyard is a boon for business, to say the least. "The reason I moved to Pinellas was that trail — I saw it on a visit," said Clemo.
Living in Orlando, he did some research in 1990 and learned county officials were going to open the trail through the heart of Pinellas.
"It was such a concrete jungle that I just fell in love with Pinellas County, and of course, Dunedin as well," Clemo said.
Over the years, Clemo and Polce developed a lot of knowledge about beers. Clemo attended to the Great America Beer Festival in Colorado in 2010 and also went to about 100 different places during the week and "tried to take it all in."
"The thing I came home with, if you brew really good beer, you can build any kind of business around that. Whether it be a high-end steakhouse or video arcade, game room or something in between. But the backbone of any success out there seemed to be really good quality of beer," Clemo said.
A mango Hefeweizen beer remains the most popular beer served at HOB. Hefeweizen is a type of wheat beer.
The HOB's first head brewer said he wanted to design a beer that would be for the masses.
"And boy he hit a home run with that," Clemo said. "Made a couple of tweaks early on and it hasn't changed much ever since."
With new equipment coming to the production process, HOB hopes to start canning by the end of the year.
"And it will keep our mango Hefe, our flagship, more stable," Polce said. "It will be more efficient and provide a little more clarity. It's kind of what the big boys use. It's a lot of money for one piece of equipment, but I think it will really make a big difference."
Polce said that he and Clemo like "building things we know the community will respond to."
"And they certainly have," Polce said. "It just shows you there is a need. Of course, we have a marquee location, and we understand the responsibility that goes with that to make it business look nice and presentable and represent this town the way it should be."
He and Clemo met each other as neighbors more than 20 years ago.
"We got out in front of this craft beer movement before it really took off," Polce said.
As far as having competition, Clemo noted that there are seven breweries within walking distance of each other and another a short distance away on U.S. Alt 19. Such is life in what Polce and Clemo have referred to as the "Beermuda Triangle."
"I haven't gone to work in 13 years," Clemo said. "I go to fun every day."