DUNEDIN — Dominick Briganti, who witnessed the attacks on the World Trade Center on Sept. 11, 2001, is used to coping with adversity.
So, the retired firefighter with more than three decades of experience knew that opening a downtown coffee shop in Dunedin during a pandemic, though challenging, would be doable.
"It was daunting. I've had lots of really bad things in my life, like 9/11. You look back and go, 'If you can get through that, you can get through anything,'" he said. "Keep chugging."
And he did. Briganti and his wife, Tami, are the owners of Tukro Coffee at 472 Wood St., which they opened in late July — and they are pleased with the results thus far.
'Seeing it, living it'
Briganti, who was a Greenwich, Connecticut, Fire Department official assigned as a trainer for the New York City Fire Department, was at a photo studio, where he also worked, about six blocks away from the World Trade Center.
"I saw the first one hit from my building. And then my friend called me who was on the job there said, 'Hey, I know you are coming down to meet up for training; you might want to come down and see this,'" Briganti said.
"So, I went down to see it and then the second plane came over the tops of our heads. And then it was history at that point," he said.
Briganti worked 31 days "on the pile every day" and slept on a rolled-up piece of carpet at night.
As for what was going through his mind at the time, human instinct, he said, is to be shielded from the event.
"This is not real. It is real. You are seeing it; you are living it. But it's just one of those things where your mind can't process it fast enough and kind of like you are living in a movie," he said. "You kind of just resort to doing what you do."
He went to 26 funerals in one week. A lot of firefighters and rescue workers were getting sick, including a close friend who had multiple types of cancer and died within five years. The long-term effects of toxic dust and fumes claimed thousands of lives.
"I had a cancer scare. Thank God it ended up being a benign thing," said Briganti, who also had been a food photographer doing an assignment for a cookbook and had been doing other work in the food business.
But he considered the recovery work after the 9/11 carnage to be more important and went on to lecturing firefighters throughout the country, eventually teaching urban search and rescue teams, mostly in Miami.
Subsequently, he was hired by Clearwater Fire Rescue, where he worked for 12 years, retiring as a lieutenant. He retired after having been in fire service for 32 years, starting at the age of 18.
"I was like, all right my body is starting to hurt," he said.
Meanwhile, he had been enjoying the restaurants in Dunedin.
"Since the minute I landed here, I loved Dunedin," he said. "That's where I'm going to live."
He searched for the house he wanted and bought it in 2015, near the Dunedin Fine Arts Center, and married Tami three years ago.
'A fireman's mentality' and hard work
Being that he had been working in restaurants in New York and other culinary businesses, Briganti had a love of food and always wanted to own a restaurant. He knew the capital costs involved, the overhead and the other costs of opening such an establishment.
"I loved coffee. I missed coffee that I got in New York City. Because you could get the best of the best. I said you know there is a niche here for specialty coffee that no one's touched yet. I could bring my chefiness to coffee and some pastries," Briganti said.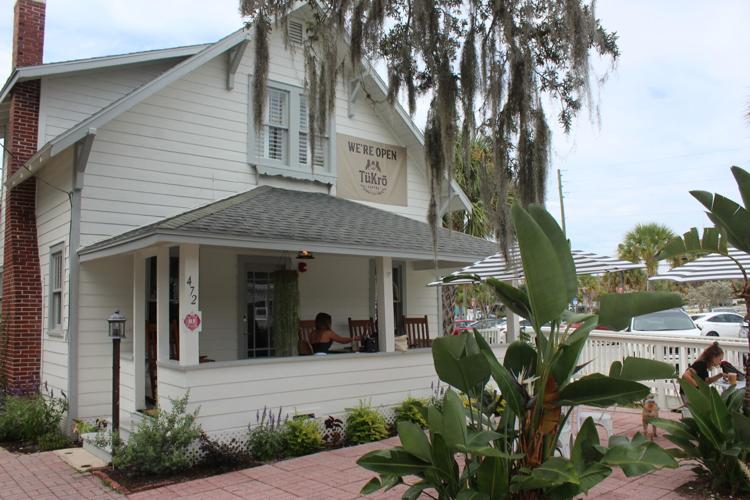 Briganti decided to keep the business model simple for his coffee shop, renovating the building he rented, an abandoned house he said. He framed the bathrooms downstairs. There were no floors, no walls, no ceilings. It took a lot of tender loving care. Eventually, the upstairs will be used for short-term rental accommodations.
"I ended up tearing my biceps. Completely detached it," he said, adding that he had to have surgery.
But he kept working on the renovations until he was done, applying, in his words, "a fireman's mentality."
"Non stopping, no stopping," Briganti said.
And he also applied some marketing savvy.
"I really hit the social media really hard at the beginning of the build out," he said.
He invited people walking by shop, which opened in late July, to come in.
"Everybody started too look — people were curious and were part of it already," Briganti said.
A coffee shop's business model, he said, is different from a restaurant's.
"Because in a restaurant, a patron may go once every other week, once a week if it's really good. The coffee shop is more of a daily habit," he said.
He praised other merchants who have been supportive, such as providing him with ice when his machine couldn't make enough because of an air conditioning issue in his kitchen.
Tukro also is getting some feedback on its Facebook page such as "delicious" and "soooo good."
Filling a void
Briganti takes pride in the cappuccinos, lattes and the other numerous blends of coffees and other products he offers, such as pastries — 10 different desserts with vegan options. To maintain his service with the coffee company that is his supplier, his business must have topnotch expresso machines and equipment.
Dominick and Tami believe they are filling a void with their coffee shop in Dunedin, saying there is nothing like it. Tukro has 12 employees and another new employee is expected. Tukro is open seven days a week 6 a.m. to 7 p.m. Visit http://www.tukrocoffee.com/.
Tami was responsible for the plantings outside and helped in other ways despite working as nurse. A bee house outside was recently established. Despite the long hours and other trials of starting the new business, Briganti has a positive attitude. He recalls the advice he was given when he was 8 years old by his baseball coach, though at the time he didn't know it was advice.
"He said, 'Kid, learn how to hit curve balls.'"