PALM HARBOR — When Charrell McLean learned that her favorite store, the Tipsy Mermaid boutique in the Crystal Beach Shopping Plaza on Alt. 19 in Palm Harbor, was for sale last year, she immediately called her sister-in-law, Megan McIntyre.
"When I found out, I called my sister-in-law and said, 'Our favorite store is for sale!'" McLean said from the shop recently. "We had been thinking about going into business together for a while, so it made sense to do it."
McIntyre agreed. "As soon as she told me, I said, 'I'd be into that!'" she recalled.
The now business partners closed the deal in February 2020, and they quickly set out to make some minor changes while keeping the fun and whimsical spirt of the shop intact.
"I've lived right down the street for six years and always loved the store, so we wanted to take the original owner's vision and go with it," McLean said of the little shop, which offers women's beachwear, wine glasses and tumblers and other coastal-themed gift items, many made by woman locally or in Florida.
"It's so cute, and the aesthetic is adorable," added McIntyre, who's lived in Tarpon Springs after relocating from California two years ago. "And the colors make you feel good. It's like walking into a beach house."
Unfortunately, three weeks after taking over the store, they were forced to close due to the pandemic.
"It was tough, but it gave us time to develop our website — we now ship to 36 states — plus we brought in some new clothing lines, and we learned how to make our own signs," McLean, a graphic designer who owns several businesses, said as she pointed to signs and magnets featuring their mermaid logo as well as the words PALM HARBOR, OZONA and CRYSTAL BEACH. "So, it really was a blessing in disguise."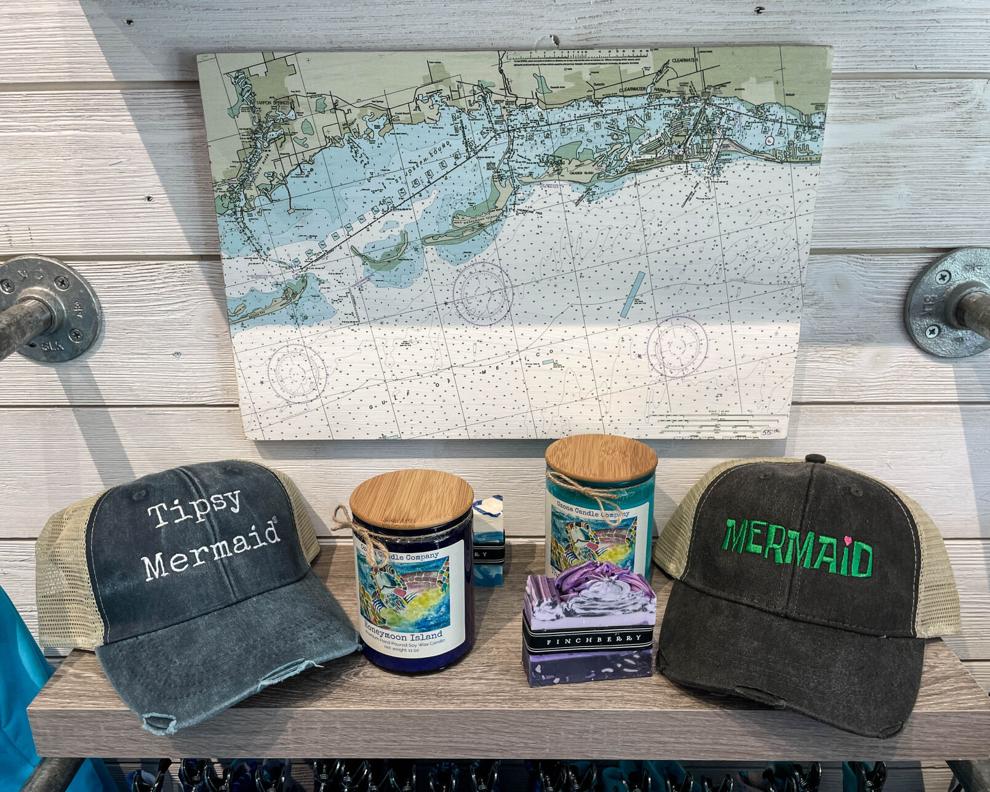 Added McIntyre, "It was frustrating and really crushing when we had to close. It stunk because I missed the customers and I missed being here. But we tried to stay busy. Charrell really built up the website, and we did home deliveries. Whenever we got an order, we'd do a happy dance and scream, "Mermaid delivery!"
Despite the setback, when they reopened six weeks later, they found there was a newfound hunger and appreciation for the Tipsy Mermaid brand.
"Our loyal mermaids were super excited to see us reopen," McIntyre said, noting they held 'tacos & tequila' and "mermaids and margaritas' nights before the pandemic. "They see this as a fun and exciting place."
In fact, the demand drove them to branch out, as McLean and McIntyre opened a Tipsy Mermaid at 105 First St. S. in St. Petersburg last fall. "People were driving up from St. Pete and Treasure Island and the beaches and saying, 'Please open one of these in St. Pete!'" McLean explained. said. "So, we opened the shop on the corner of First (Avenue South) and First (Street South) in October 2020. It's a lot bigger than this place, but it still has that Tipsy Mermaid feel."
McIntyre, who has a marketing background, admitted she was initially unsure about the expansion, or what she refers to as 'Big Tipsy,' but it didn't take long for her to warm up to the idea. "At first I was like we're not really ready, but we went for it," she said, adding, "Not many people would do what we did. But we're both smart and we make a good team and we're confident in the Tipsy Mermaid and the products we carry, so we told 2020 to take a hike!"
As the Tipsy Mermaid continues to thrive with McLean and McIntyre at the helm, it appears the horizon is the limit for these two beach-life-loving entrepreneurs.
"So many customers come back again and again, it's like this little family of mermaids!" McLean said, noting they have not ruled out additional expansion in the future but would never sell the original shop.
"We love our customers and want to provide what they want and to continue to grow and spread our brand of fun, coastal beauty around would be amazing," McIntyre said, adding, "There's a little Tipsy Mermaid in everyone! We're all Tipsy Mermaids!"