CLEARWATER — City leaders agreed Sept. 13 to sell a roughly 1-acre parcel to a developer that plans to transform the space into a downtown destination.
City Council members, acting as trustees of the Community Redevelopment Agency, voted 5-0 to sell the property at 115 S. Martin Luther King Jr. Ave. and the adjoining vacant lot to Equity LLC for $650,000.
"Our goal is to have a project that hits it out of the park," said Bruce Heisler, development officer for Equity.
The firm intends to spend about $14.8 million to demolish the existing warehouse on site and construct a mixed-use development that will include a 4,500-square-foot brewery/restaurant with indoor and outdoor amenity space, an 11,000-square-foot coworking space, and 35 apartments.
"We've been hoping to have something developed on this site for a while and had a couple of disappointments. I love this site. You've got everything on here," council member David Allbritton said.
According to Equity's development proposal, the multistory building will be anchored by COhatch, a creative co-working office space, and North High Brewery, a full-service brewery and restaurant.
"This strives to be an environmentally responsive solution to provide indoor/outdoor entertainment spaces, as well as a new, iconic neighborhood gathering event space that may be activated throughout the day and into the evenings on both weekdays and weekends," according to the presentation.
North High Brewery, which was founded in Ohio in 2011, is also expanding into St. Petersburg, West Tampa and Lakeland.
The city also will contribute a $250,000 facade grant "towards the enhancement of existing greenspace and mature trees into a vibrant community/neighborhood destination."
Council member Kathleen Beckman questioned whether Equity was adding enough sustainability elements, such as electric vehicle charging stations and solar panels
CRA director Amanda Thompson said Equity hasn't reached that level of design yet, but that staff would urge it to add as many features as possible.
However, she said the No. 1 environmental goal for this spot was greenspace preservation.
The development agreement also states construction must commence by Sept. 1, and it allows the firm to use the CRA-owned parking lot at the corner of Cleveland Street and South Martin Luther King Jr. Avenue for 10 years.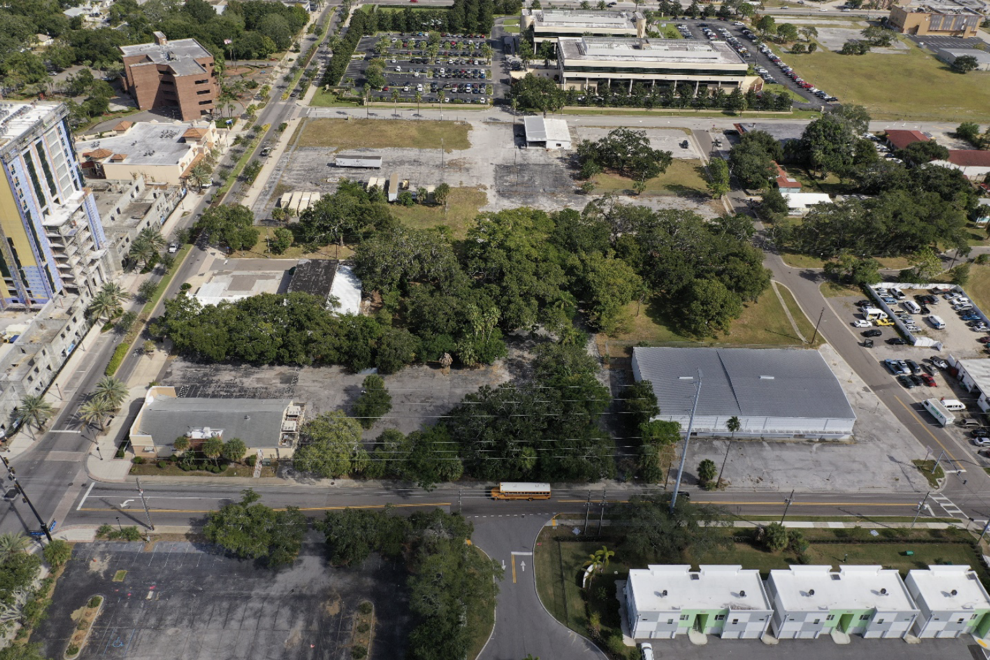 The city acquired the lot in 2018 from the Church of Scientology in exchange for three downtown parcels.
Thompson said the lot will be put to good use, providing space not only for this project but also for The Nolen apartments, whose owner is also in the midst of a project to convert its vacant ground-floor space into a Cleveland Street destination.
Those three projects, which will have a total cost of more than $1.5 million, will include a self-serve beer and wine bar with indoor and outdoor lounge areas, a micromarket food hall concept that will provide space for up to eight vendors, and a coffee and dessert shop.
A new apartment complex with some public parking has also been proposed nearby at South Washington Avenue, so Thompson said the long-term goal is to redevelop the vacant CRA-owned lot.