TARPON SPRINGS – Having grown up in Maryland, just outside Washington, D.C., in the 1950s, Gareth Whitehurst recalls a city much different from what exists today.
"I used to spend tons of time rummaging around the buildings in D.C.," he said. "It was a period of time in the '50s when you could still do that. You can't do that anymore. I could wander anywhere in the Capitol (building), in the offices, and explore everywhere easily."
These historic buildings, many of which are now less accessible to the public, he said, made a long-lasting impression on him. They had such an impact on him, that decades later, when he decided to build a personal library and jewelry studio, the Tarpon Springs resident turned to his favorite of these buildings for architectural inspiration.
The result is an homage to the Jefferson Memorial and his boyhood. The building's exterior is a replica of the historic structure, including the dome and columns, said Whitehurst, 76.
"I've always admired the Jefferson Memorial," he said. "I liked the roundness, the dome, the columns, that sort of thing."
He began designing the building nearly 30 years ago.
"I just started playing around with designs that might be suitable for a building for myself," he said. "I never really expected to build it."
Still, despite not taking his design seriously, Whitehurst acquired the original architectural plans for the Jefferson Memorial, which he used as the basis for the initial floorplan he drafted. But it was more out of fascination with the plans than the thought that the building might one day come to fruition.
"I was intrigued. They're big suckers, and all done in pen and ink," he said. "They're works of art themselves, masterpieces of drafting."
As he got older and began considering his retirement – he'd owned a jewelry gallery in Clearwater for 37 years – turning his dream building into a reality began to seem less and less farfetched to him.
"I thought it might be nice to create this gallery and library, and have my studio close to where I work," Whitehurst said.
He lives nearby, as well, he said. "Just 300 feet away."
Construction began eight years ago, in 2010. Now, with only final decorative touches to its interior left to make and the last pieces in his massive library – which consists of nearly 11,000 items, including books, DVDs and CDs – to catalogue, this passion project is nearing completion.
The 7,200-square-foot structure sits on just under 6 acres of land. It's unlike anything else built in his neighborhood, he said, and he's used to eliciting attention from neighbors and passersby.
"I don't blame them," he said. "It's certainly different."
There are also many nods to his love of history inside the building. For instance, the decorative detail of the dome's interior mimics the Capitol building's dome.
"I hate to destroy the romance of it, but it came down to a peel-and-stick operation," Whitehurst said.
He took photographs of the Capitol building dome and used Photoshop to adjust the size and create a pattern that would fit the dome of his building. Then, he had the pattern printed on special vinyl that he then adhered to the domed ceiling.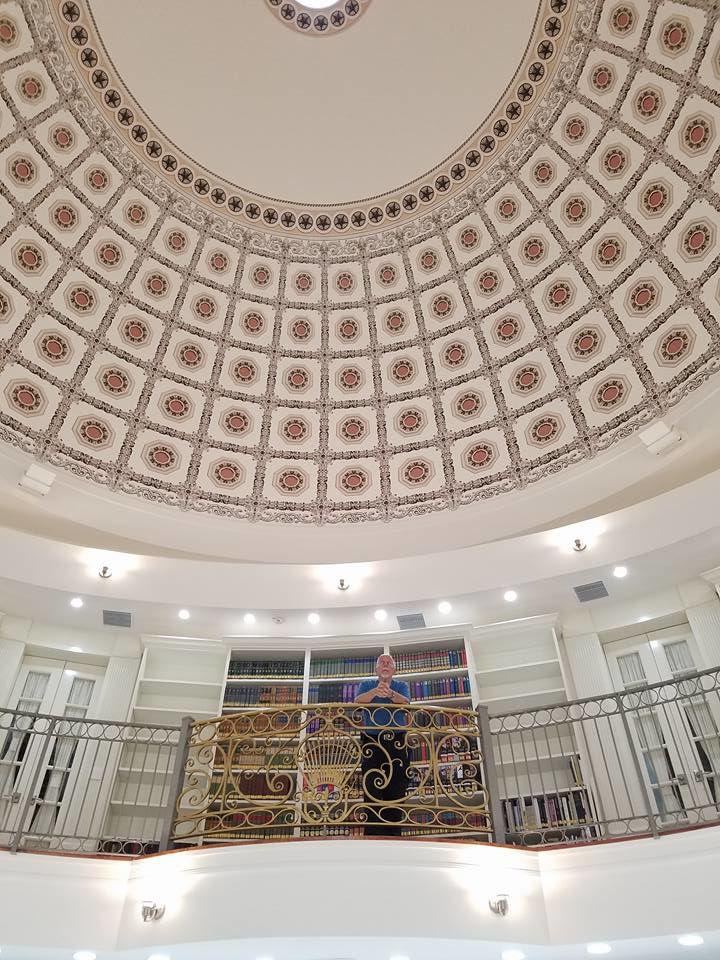 A portion of the second-floor wrought iron railing in the building is a replica of a railing that President George Washington stood in front of when he first took the Oath of Office.
Throughout the building there are pieces of antique furniture, a variety of statues and paintings, even vintage cash registers and typewriters.
What stands out most for librarian Meredith Myers, who is based in St. Petersburg and has worked with Whitehurst for three years to catalogue his collection of books, movies and music, is "the amount of learning in this building."
Myers, who is also a standup comic who performs under the name the Stand-up Librarian, writer and accessory designer, said she met Whitehurst three years ago at the Florida Antiquarian Book Fair held annually in St. Petersburg. She served as the spokesperson for the event and also sold her literary purses and fashions at the event.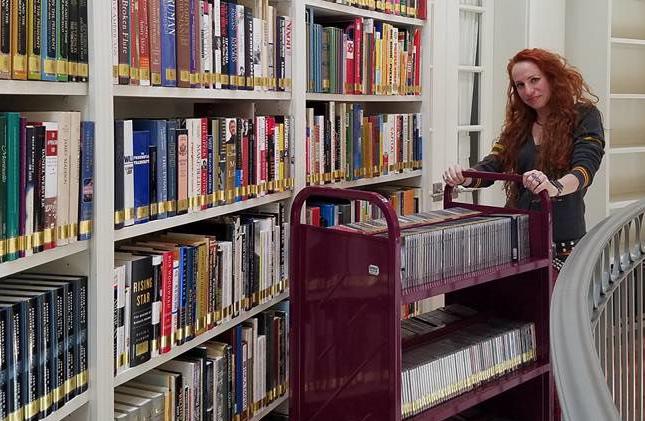 As the weekend ended, while she packed up her vendor table, Whitehurst approached her.
"He didn't want to talk to me about my products, he was looking for a librarian," Myers said. "I was in one of my cute outfits, I'm cleaning up and tired, when this man comes up to me. I'm thinking, 'Oh, great, here's another crazy old man hitting on me or something.'"
Whitehurst took her card, and the following week, she began a job working on a cruise ship.
When she returned home from the gig, she found an email from him waiting for her.
"That's when I realized, wow, this guy is not crazy; he's serious," she said.
The two connected over their love of books, music, education and design. She got to work cataloguing his collection.
"This place is breathtaking," she said. "To build a library from scratch, especially this library, was an absolute honor for me and an opportunity I couldn't pass up."
Together, they decided design details, such as gold, rather than the standard white, call numbers for books and other items. They also chose to use the Library of Congress Classification System for the books.
"It really fits with the theme of the building," Myers said.
For the DVDs and CDs, though, they used a classification system that Whitehurst had created and been using for years.
Now, as the project winds down, Whitehurst is thinking about its future. He'd like to open it to the public, especially to schoolchildren.
"I'd like to make the venue available for certain kinds of activities. I'd like to have it as a place where public school students can come to for music, art and history enrichment," he said.
Though he doesn't foresee it operating as a lending library, his books cover "a fairly broad range," he said, ranging from topics such as history, religion and philosophy to science and math. There's "a lot of knowledge" in there that he hopes to share with others.
He added, though, "But it's not meant to be an omnibus library. It's just my own collection over time."