CLEARWATER — The group leading the anti-hotel fight on Clearwater Point took another shot at stopping Decade Properties Inc.'s expansion of the Chart House.
During a City Council meeting two weeks ago, Clearwater Point resident Rudy Michalek alleged during public comment that City Councilman Hoyt Hamilton should have recused himself from the Feb. 7, 3-2 vote approving the hotel project.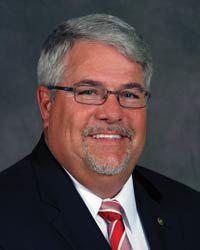 Because Hamilton and his brother Ken — owners of a hotel and restaurant on Clearwater Beach — had once possessed valuable hotel density reserve units, Councilman Hamilton should have recused himself when the council voted to award the reserve units to the Chart House project, Michalek alleged.
The city's Planning and Development Office told the Beacon, however, that the city had never allocated the reserve units to the Hamiltons, because the brothers had never successfully applied for them. Decade Properties also argued that even if the councilman had, at one time, held the much-desired reserve units, they had become available to Decade and other developers long before the council's Feb. 7 vote.
On March 21, Clearwater Point resident Richard DeSantis stood before the City Council and again alleged conflict on Hamilton's part, this time citing campaign contributions from "groups and individuals linked to these (density reserve unit) transactions."
The allegations of conflict are included in a lawsuit against the Chart House project in the Pinellas County Circuit Court, which Michalek filed March 8.
"My contention would be that the contributions would provide a favorable opinion of these individuals and their projects," Michalek told the Beacon.
Hamilton denied campaign contributions determine how he votes.
"The fact that they viewed me as the best candidate in my previous elections, and made contributions to them, in no way gives them any special consideration when an item is before me," Hamilton told the Beacon. "I have always based my decisions on the facts and evidence presented." 
Brian J. Aungst Jr., the son of a Florida political family and the lawyer who represents Decade Properties and other real estate clients in Pinellas County, has contributed to Hamilton's runs for office since at least 2013, campaign records with the Clearwater City Clerk's Office show.
In 2013, Aungst donated at least $600 to Hamilton's campaign; on Oct. 9, 2017, the campaign lists Aungst's donations at $500; and another $500 on Jan. 4, 2018.
"I think it's totally irrelevant, a non-story," Aungst told the Beacon Monday. "It's a fundamental right in this country that every citizen has the right to support whoever they feel is the best candidate for office."
Aungst, whose father served as mayor of Clearwater, grew up in the world of Pinellas County politics. As a lawyer with Macfarlane, Ferguson & McMullen of Clearwater and Tampa, he has been representing real estate and development companies — among others — for years.
He has contributed to many campaigns, all without expecting favors, he said.
"I've contributed to campaigns for more than 20 years, from city council to clerk of the court, to judge, to school board, and contributed to city, state, and federal campaigns. There has never been an expectation other than the person will serve the public to the best of their ability. Anyone who believes otherwise has a fundamental misunderstanding of our form of government."
He has supported politicians who have later ruled against him — including one of his father's successors.
"I contributed to Clearwater Mayor (George N.) Cretekos' campaign, and he voted against the Chart House project," Aungst said. "I also supported (city councilmen) Bill Johnson, Paul F. Gibson and other politicians who voted against projects of mine."
Consus Group of Clearwater, which guides hotel developers through the permitting, site development and construction phases of their projects — has also donated to Hamilton's campaign since at least 2013, city records show. Joe Burdette, the owner rep for a project tied to the Hamiltons on Clearwater Beach is a partner in Consus Group.
Burdette said he was central to requesting the density reserve units for Decade Properties. He knew the moment the Chart House units became available.
"I told Decade Properties about the reserve units becoming available after I made them available," Burdette told the Beacon. "I never spoke to Hoyt about them. There's a couple of hundred other units out there I'm keeping an eye on, too."
H. Gregg Nicklaus is president of the Nicklaus Group, a St. Petersburg resort development company run by brothers and sisters whose parents founded the Sirata Beach Resort in 1962. Gregg Nicklaus contributed $100 to Hamilton's campaign in 2013. The Hamilton family's Palm Pavilion is one of the last family owned motels on Clearwater Beach.
Close relationships among real estate developers, lawyers, and politicians are nothing new. Lenne Nicklaus-Ball, Gregg's sister and vice president of the Nicklaus Group, described those relationships to the Sustainable Business Coalition of Tampa Bay.
"Most family-owned hotels here have been involved in the Chamber, in local politics and in the community," she told the coalition.
Hamilton said his associations are well-known to the voters. "Having lived here all my life, there aren't many businessmen, attorneys, developers, and citizens that are active in Clearwater that I don't know."