CLEARWATER — Dozens of local schoolkids and business owners, community leaders and golf fans were invited to the Chi Chi Rodriguez Driving Range on March 2 for the annual Driving for a Purpose event.
The three-hour equipment expo and informal mixer was held on a picture-perfect early spring evening. The event was designed to promote recent upgrades to the facility, located at 2987 McMullen Booth Road, as well as to emphasize the proceeds from the range help fund the Chi Chi Rodriguez Youth Foundation's programs.
"The main purpose is to showcase the facility, but to also bridge the gap with our customers," Director of Golf Al Arrigoni said. "When people visit the range and try to improve their game, that money goes back into the foundation."
The Chi Chi Rodriguez Youth Foundation was co-founded by the famed golfer in 1979. It features a golf club across the street from the driving range, a youth academy and First Tee-Clearwater programs.
The impressive selection of drivers, irons and wedges displayed in front of the new, covered bays drew plenty of attention, but the group of youngsters taking turns chipping and putting under the watchful eye of First Tee instructors easily stole the show.
"She loves it," Jared Schmidt of Palm Harbor said of his 7-year-old daughter, Paige, who hit several tennis balls into open buckets and sank a couple of clutch putts to win the top-scorer award handily.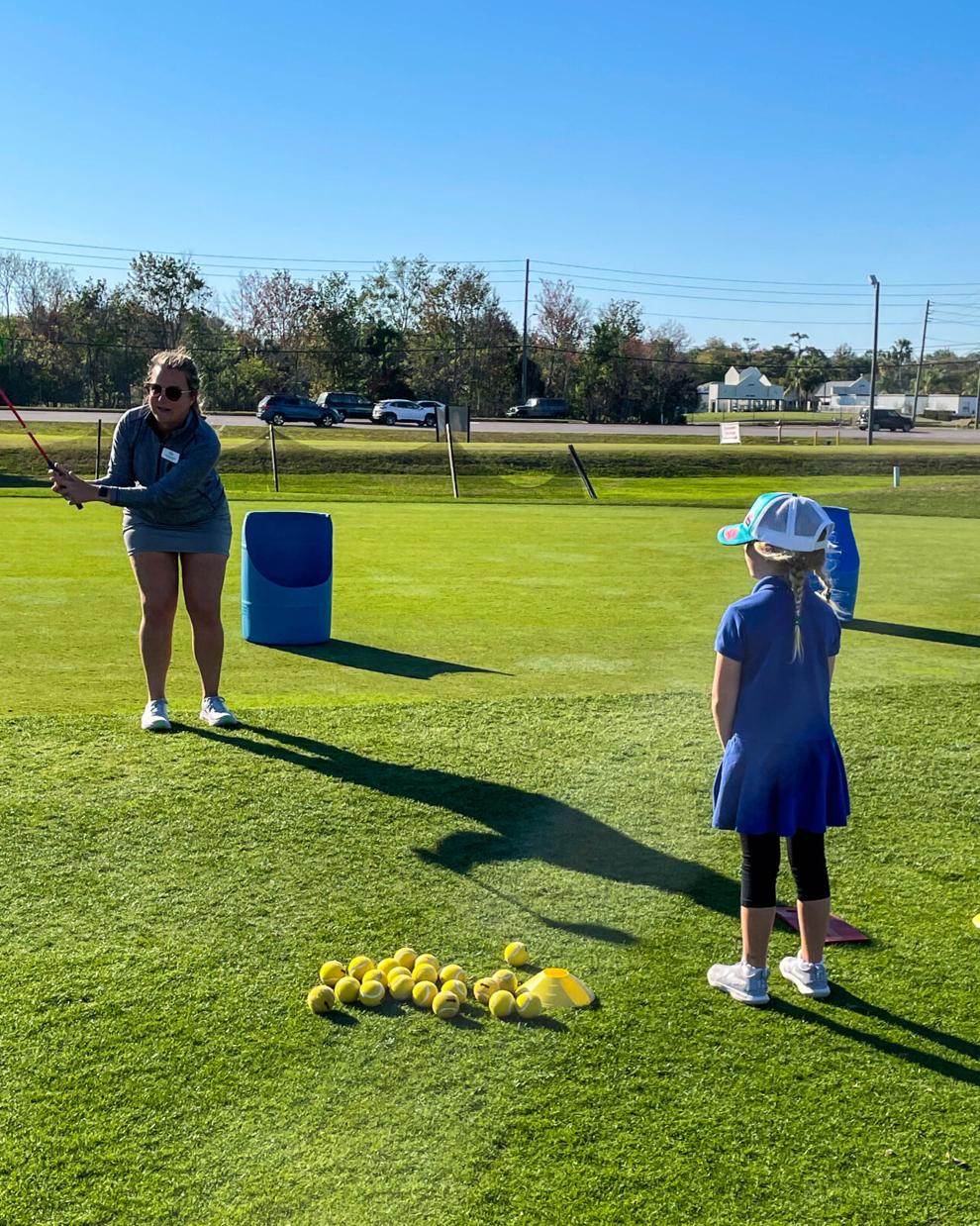 "She's been golfing with me since she was born, riding along, then chipping and putting, and finally I said it's time for her learn how to play," Schmidt said. "This is her fifth week (of eight), and she's absolutely loving it so far."
In addition to the golf skills, which based on Paige's performance have her earmarked for the LPGA Tour, Schmidt said one of the main attractions for him was First Tee's emphasis on conduct and life lessons.
"She has to learn to win gracefully and lose gracefully, and they're big on that," he said.
Indeed, newly appointed First Tee-Clearwater Program Director AnnaLeis Caldwell was quick to note the national organization was originally designed to introduce kids to golf as well as to prepare them for life.
"We're getting them ready for the game of life with our nine core values, and also spinning them into lessons," Caldwell, who came up through the First Tee program, said as she marshaled her students from one station to another, high-fiving or hugging them for each make or miss.
"People think First Tee is for inner-city youth and diversifying golf," she added. "But it's all about mentoring and empowering our youth and making golf accessible for everyone, because it is everyone's game, and everyone needs these life lessons."
Caldwell praised First Tee-Clearwater's partnership with the foundation and said they're dedicated to the same core values. But she said a lack of volunteers makes it difficult to cater to every kid in their service area, which stretches as far north as Tarpon Springs.
"We are a fully volunteer staff, I'm the only paid employee," she said. "I have a few high school kids who volunteer, but I need adults! And they don't have to know anything about golf!"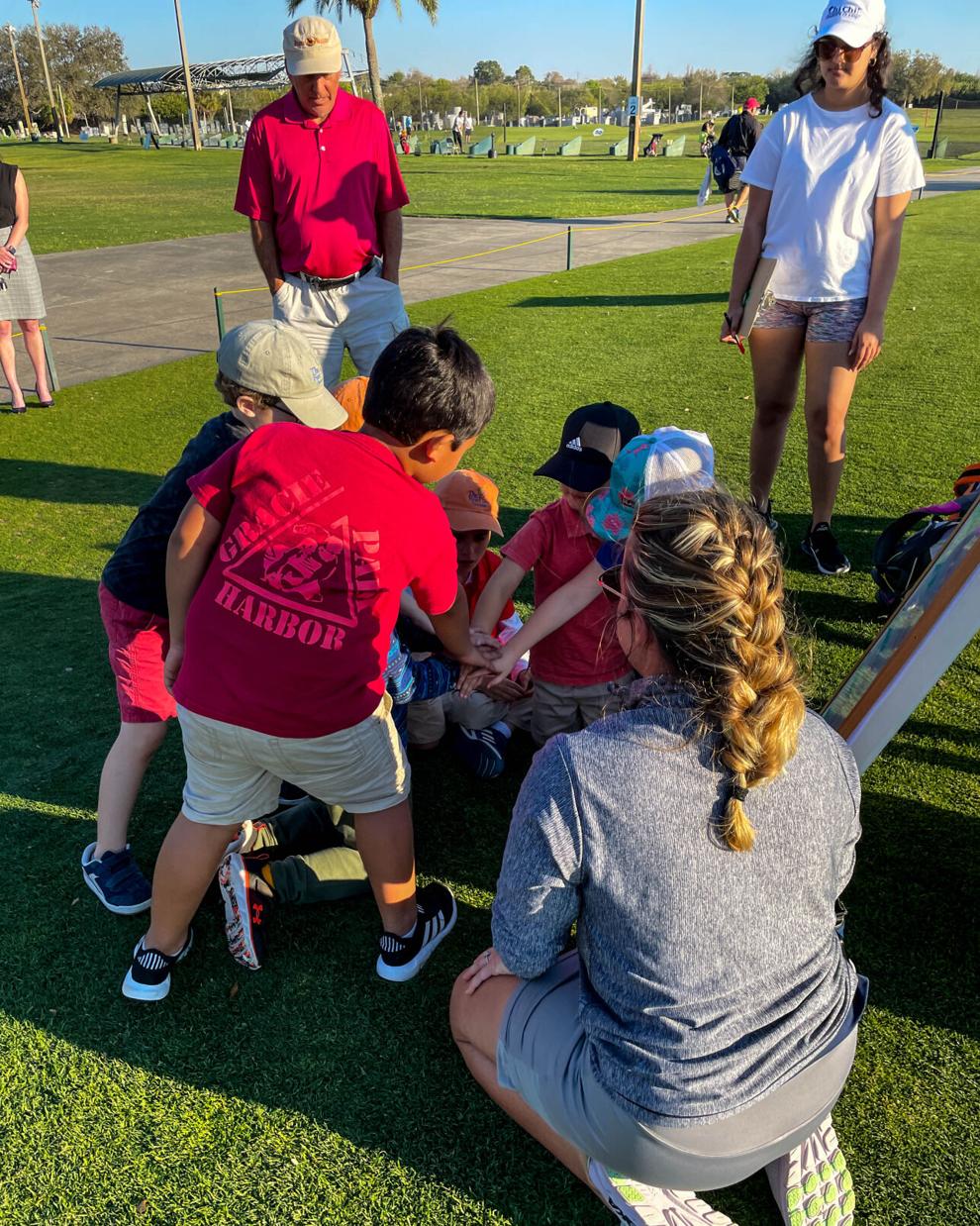 As the kids gathered around Caldwell to for a final pep talk before the next class, and adult attendees continued to smack golf balls out onto the range, Tracy West, tournament director of the Valspar Championship who stopped by to show her support, remarked that the programs and services Chi Chi's provides are critical for the continued growth of the game.
"Programs like First Tee and Drive, Chip and Putt and Chi Chi's (academy) are extremely important, because they start to teach these kids at an early age about how to be honest," West said. "And that's why we support First Tee, because golf is more than just a professional sport, it's about teaching core values. And that's what makes golf what it is, core values and honesty."
When asked if she believed a future pro could be found in the group, West didn't hesitate to respond.
"Oh yes, definitely," she said. "The next Brooks Koepka or Brooke Henderson or Tony Finau could be out here right now, without a doubt. This is where it all starts!"
For more information on the Chi Chi Rodriguez Youth Foundation and its affiliated facilities and programs, including First Tee-Clearwater, visit chichi.org.