CLEARWATER — If you're a fan of Winter the dolphin, the Clearwater Marine Aquarium is offering a new way to immerse yourself in the nonprofit's mission to care for marine life in Tampa Bay.
CMA and Page Development Group have joined forces to create a Winter the Dolphin-themed waterfront hotel on Clearwater Beach.
Winter the Dolphin's Beach Club opened July 1 with a ribbon-cutting ceremony for the hotel, which is a part of the Ascend Hotel collection by Choice Hotels.
"We've had for the longest time wanted to create a Winter-themed hotel," said Kelsy Long, a spokeswoman for the aquarium. "We are very proud of what we've accomplished."
Renovations on the hotel began in late 2019, Long said. Unlike other hotels that suffered from empty rooms due to the COVID-19 pandemic, Long said hotel developers used the time to restore the hotel, room by room.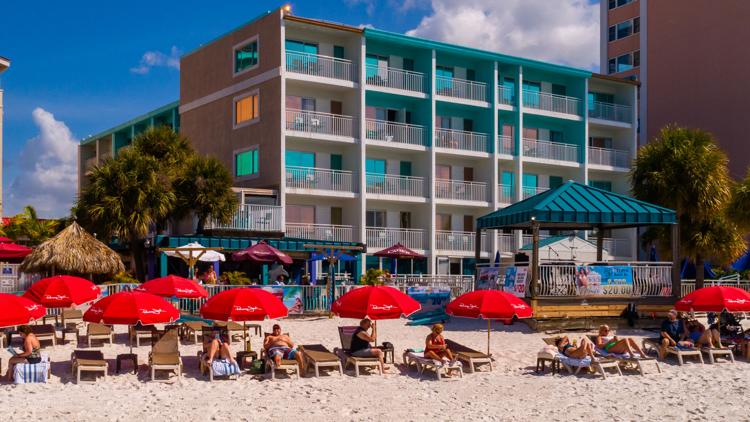 The 91-room boutique hotel boasts a colorful beach décor, with an outdoor pool and two onsite restaurants — Cabanas Coastal Grill and Cabanas Beachside. The family-friendly and eco-conscious hotel is adorned with photos of Winter, as well as photos of marine life at CMA. A retail store featuring CMA items is also located on the property.
During renovations, eco-friendly measures were taken to reduce the hotel's carbon footprint, as well as to protect marine life. The hotel has eliminated single-use plastics and installed window treatments that both reduce energy as well as keep the glare of the lights minimal at night as not to confuse sea turtles.
"We're so excited to invite guests to see Winter at our facility and then have them stay in this fabulous and environmentally friendly, Winter and marine life themed hotel," said CMA CEO Frank Dame in a press release. "We're confident that families will be attracted by the newness of the hotel, its commitment to sustainability, and the unique learning opportunities of immersive marine life education."
Long said that future plans for the hotel will include onsite education about marine life by CMA staff, which will include pontoon boat rides.
A portion of the proceeds from each room booking will go to support the care of marine life, as well as education and conservation efforts at CMA.
Winter the Dolphin's Beach Club is at 655 S. Gulfview Blvd. For more information about the hotel, visit www.wintersbeachclub.com.