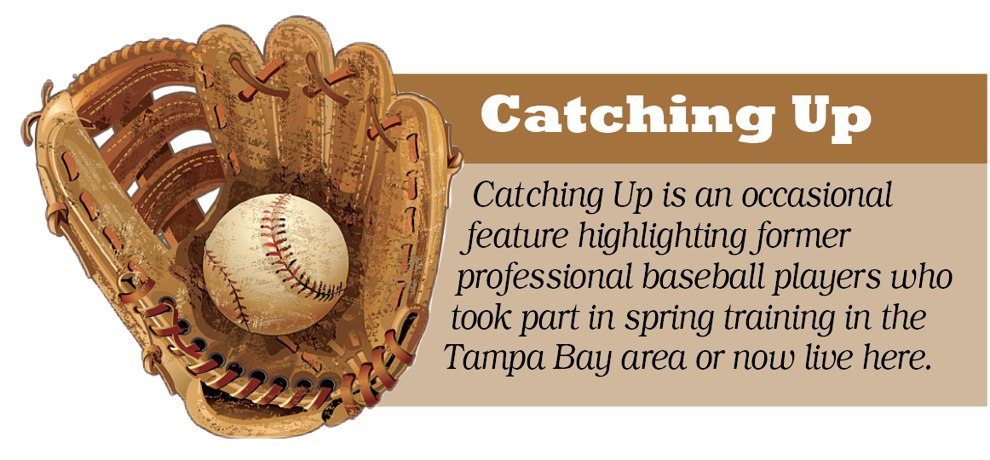 Go to a Philadelphia Phillies home game any day during the regular season (last year notwithstanding) and the unmistakable aroma of barbecue wafts through the air beyond the left field fence. Playing host to "Bull's BBQ" every game is "The Bull" himself, longtime fan favorite Greg Luzinski, whose family recipe sauce makes those ribs and pork sandwiches all the more tasty.
Twenty some years after he retired, the Phils opened up Citizens Bank Park on April 3, 2004, and that's also when Bull's BBQ became a fixture at the cozy family-friendly stadium. The year before Luzinski was approached about serving up barbecue as part of the team's proposed Ashburn Alley (named after Richie Ashburn), which features South Philly-style foods, in additional to regular ballpark fare and children's activities. Luzinski didn't hesitate. He was all for it.
"They (the team) knew I did a lot of barbecue in my life," said the 70-year-old Luzinski, who was an important piece of the 1980 world championship Phillies squad. "The recipe (including meat from the Hatfield Meat Co.) has gotten a lot of positive reviews."
Each year, Luzinski looks forward to his role as barbecue host and ambassador for the team by meeting and greeting fans.
"I really enjoy it," he said recently. "You get a lot of people who saw me play, but you also get the unique younger fans who are like, 'Who is that?' And their dad will say, 'That's the guy I used to watch when I was your age.'"
For those who saw Luzinski play ball for the Phillies, they observed one of the game's best hitters, especially from 1975-1978 when he walloped 129 homers, made the All-Star team four times in a row, averaged well over 100 RBIs (including a league-leading 120 in 1975), and batted over .300 three of those years.
For Luzinski, who saw his 1974 season shortened at the start by an ACL injury that was considered career-threatening, 1975 was especially sweet. He came back in August that year and managed to put up some decent numbers in essentially a half season of work.
But it was that run of four seasons, 1975-78, that cemented the hulking 6-foot-1, 255-pound slugger as a Phillies fan favorite for all-time.
Arguably his best season was 1977 when the outfielder posted career highs in batting average (.309), homers (39) and RBIs (130). That year's All-Star game at Yankee Stadium produced one of Luzinski's greatest memories.
"I was so excited to play there," he said. "So much history ... the center field monuments." Then Yankees owner George Steinbrenner put a bit of a damper on things. PanAm wanted to tape a commercial with Luzinski at Yankee Stadium but Steinbrenner refused to allow it. Luzinski was miffed — and got his revenge. In his first at-bat he smashed a two-run homer off Jim Palmer to help the National League to a four-run first inning en route to a 7-6 win.
Luzinski made many other great memories with the Phillies, culminating with the 1980 playoff series against the Houston Astros and ultimately the 1980 World Series.
Try as they might, the Phillies came up short in the NL playoffs in 1976-78. That would not be the case in 1980. Philadelphia defeated the Astros in five games to advance to the World Series against the Kansas City Royals. The 1980 season was not Luzinski's finest with the Phils, but he came up big in the NL playoffs, whacking two game-winnings hits. In Game 1, he cracked the only home run of the series, a two-run blast late in the contest and then in Game 4 he hit a pinch-hit double in the top of the 10th inning to score Pete Rose with what proved to be the winning run to set up the series clincher. From there, the Phils would go on to defeat the Royals in six games.
"Hitting that double to score Rose was really exciting," said Luzinski. "And of course, winning the World Series, led by Mike Schmidt who had a career year, that was big."
After that season, though, Luzinski's days with Philly were over. Several teams expressed interest in the slugger including the Astros, Yankees and the Chicago White Sox. He ended up getting swapped to Chicago, where he would have four pretty productive years as a designated hitter, especially in 1981 when he was named the Designated Hitter of the Year. In 1983, he blasted 32 homers, three of which landed on the roof of old Comiskey Park. Also that year he homered in five consecutive games. The '83 campaign was capped by Luzinski's last foray into the postseason, but the Sox were eliminated by Baltimore in four games.
"I had some nice years in Chicago," said Luzinski, who officially retired on Feb. 4, 1985. "I was really hoping we'd win the pennant (in 1983) and go up against the Phillies in the World Series (Philadelphia lost to the Orioles). That would have been something."
What is really something is the career stats rung up by Luzinski: 307 homers, 1,128 RBIs, .276 batting average, MVP runner-up in 1975. While he never won an MVP award, he was always honored to have been presented with the Roberto Clemente Award in 1978, given to a ballplayer who demonstrates sportsmanship and community involvement. Luzinski was the first player to buy tickets on a regular basis for children who could not afford to pay to see games. Many impoverished children enjoyed the ability to watch games live in Luzinski's "Bull Ring."
"To be able to allow some kids to see their first game ever, that was a really good feeling," he said. "Getting the award was very satisfying. Sometimes I'll be at the barbecue and someone will come up to me and thank me for the opportunity to go to a game back then."
Luzinski, who would also do the same for kids with the White Sox, left baseball but would have a hand in the lives of many youngsters for several years as a high school head baseball and football coach in South Jersey.
These days, when he's not up north hosting the barbecue stand, Luzinski lives in Florida, about a 2½-hour drive to Clearwater, where he spent so many years in spring training. He was also scheduled to celebrate with other former teammates the 40th anniversary of the 1980 championship team on March 21 at an event in Clearwater, a year later than expected due to COVID. You can be sure that there were a lot of great stories being shared at the event, on stage and off, and maybe in Luzinski's case, a barbecue recipe.