CLEARWATER — When police pulled up to Vania Shapiro's family home to inform her and her family of their father's suicide, her worst fears came true.
Since that hellish day last October, Shapiro, 25, has wrestled with one overriding emotion: anger.
"I had a lot of anger at everybody, anger that the police wouldn't track his phone, anger that he had left two little boys. I was just angry at everybody," the marketing and graphic design professional told the Beacon in May.
"I'm not an angry person, so I didn't know how to handle that anger — and that's why I had to seek help," Shapiro said.
By recounting her life as a suicide survivor — which began Oct. 11, 2018, the day her father's body was found in his car below the Sunshine Skyway Bridge — Shapiro hopes to provide a path to recovery for others who have lost someone to suicide.
"Suicide is more common than I thought, because no one talks about it," the young woman said. "I want to be the person who speaks out as much as I can."
Florida Department of Health statistics show that 179 people committed suicide in Pinellas County in 2017, the latest data available, placing the county 25th out of 67 Florida counties. Each individual left behind shattered family and friends who must wrestle with a bottomless well of emotions, often for the rest of their lives.
The day begins
"It was a regular Thursday morning," Shapiro began. "I got up and saw an email from my dad. When I opened his email, I thought it was a joke at first. I didn't register it as a suicide note. It was very vague — 'I love you and please forgive me,' which didn't make sense to me. Forgive me for what? He never showed any signs of depression, but he did have anxiety. I didn't realize until now that anxiety and depression have a direct correlation."
Shapiro's alarm grew as she re-read the email. Her father — Dr. Stuart Shapiro, 47, a Bradenton orthopedic surgeon — lived with Vania's mother and her two younger brothers about a mile away from Vania's apartment in St. Petersburg.
"I drove to my mom's and things spiraled out of control from there," she remembered. "We had cops over all day, trying to find my dad. We tried calling him throughout the day, but he had his cell phone turned off."
Cellphones in the off position or those with no batteries do not register with the cellular carrier's network and cannot be tracked. Police must also wrestle with individual privacy rights.
"The police said because my dad hadn't directly said in his suicide note that he was going to commit suicide, they couldn't legally track his phone," Shapiro said.
Her frustration and fear grew hourly as her father remained out of contact. Then, around 6 p.m., police found him. He had driven to the rest stop below the Skyway Bridge, where he shot himself in the head.
The day ends
Police, accompanied by a social worker, broke the news to the family at her mother's house. Neither Shapiro nor her mother were surprised that he'd used a gun to end his life.
"He was an avid gun person," she said. "He loved going to the gun range and always had a gun on him. We worried that was how he was going to go. He had one in his car."
Vania, her mother, and her two younger brothers have since struggled with the question many suicide survivors ask: Why?
Though he received high grades for skill and trustworthiness from his patients, Dr. Shapiro faced professional struggles "that were out of his control, and he didn't know what to do. A lot of it was causing anxiety," she said. "He didn't know what to do. He thought he was not a good father or a good provider, and he didn't know a better way out."
How to Grieve 101
"When I tell people that my father died of suicide, they don't want to talk about it," Shapiro said. "They either don't want to upset me or they believe suicide is a sin. If someone says, 'My father died of a car crash,' people say, 'I'm sorry,' and they are supportive. When they hear 'suicide,' they draw away from the subject, because they don't want to hurt me."
Yet strangers offer her advice all the time.
"I have had multiple people tell me how to grieve, that I should stop feeling angry," she said. "Someone once said in front of me, 'I just want to blow my head off.' I told her not to use that phrase and she said, 'That should not trigger you, get over it.'"
Complicating her feelings: Dr. Shapiro adopted Vania in 2005 when she was 11, providing her with a steady father figure in a time of upheaval. The two had celebrated her adoption day a month before his suicide.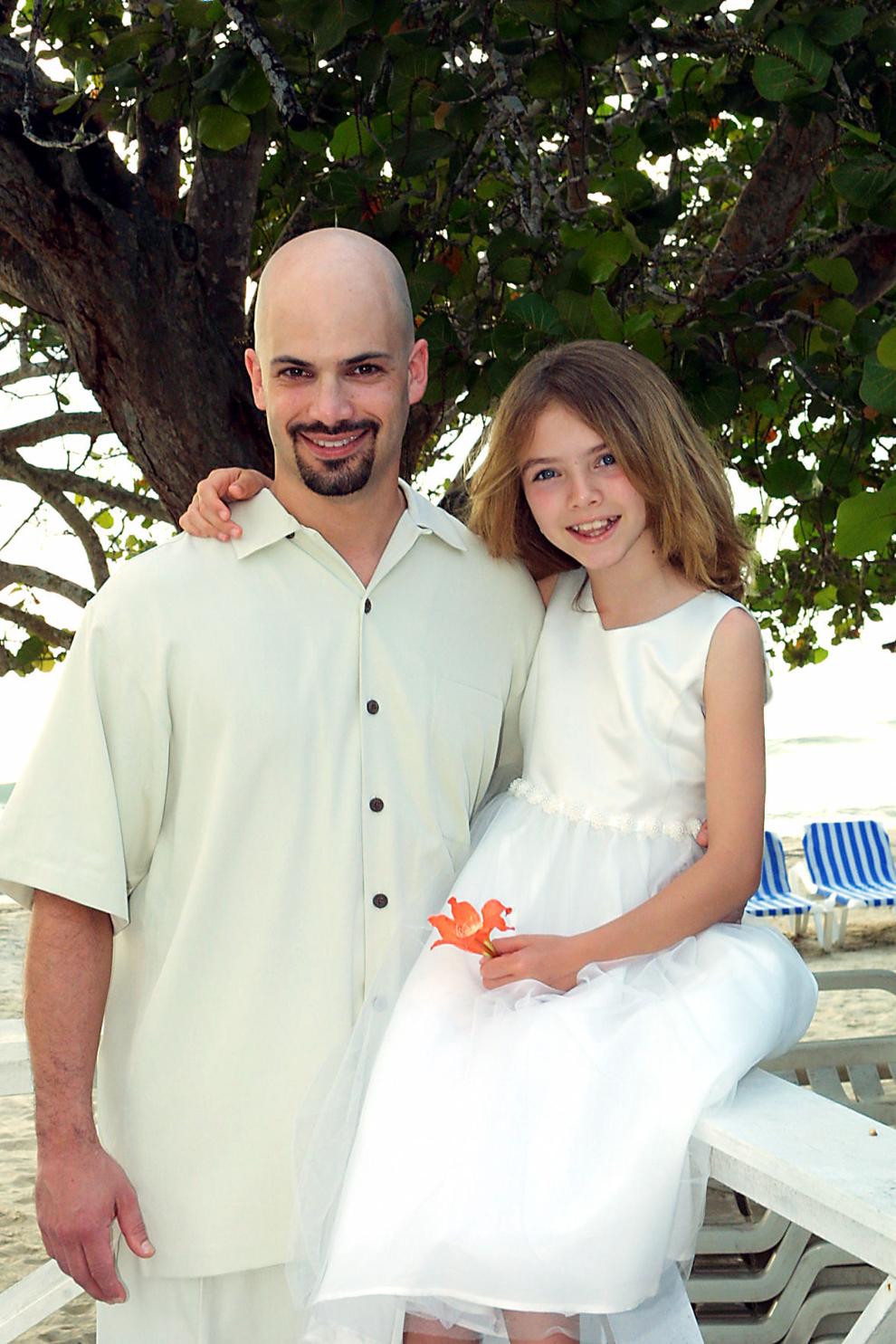 "I felt abandoned," Shapiro said. "It was the second time a father had left me. I thought I finally had some normalcy in my life."
Years earlier, when she was depressed about something, her adopted father had told her that "suicide was not the answer because of how selfish it is," she said.
Help for suicide survivors
Karla Swenson, an Empath Health community counselor for Clearwater and Palm Harbor, helps suicide survivors like Vania rebuild their lives. Empath has an Adult Suicide Survivor Bereavement Group in addition to individual counseling.
"Feelings after a suicide loss are different because (in addition to grieving) loved ones try to understand why someone would end their life," Swenson said. "Survivors feel isolated because most people don't know what to say to them."
Shapiro sought help with Swenson, but other groups in Clearwater and Pinellas County can help suicide survivors: The National Alliance on Mental Illness, the Pinellas County Health Department, the Mental Health Resource Center Clearwater FACT Team, Tampa Bay Cares and other organizations all can direct suicide survivors to those who can help.
Vania's mother, a nurse, worked quickly to get help for the family.
"My mother was adamant about getting me and my brothers into therapy," Shapiro said. "We started by attending an International Survivors of Suicide Loss Day program she found. At that group, survivors of suicide told their stories and talked about how after a vase breaks it can be put back together again, but the cracks will always be there. We all decorated our own vases and then broke into groups to talk."
The rest of her life
By bringing together suicide survivors, the bereavement groups reduce feelings of isolation and loneliness in sufferers.
"Grief can be overwhelming and exhausting, and it is helpful to share thoughts, feelings, and experiences with someone who is trained in working with suicide loss survivors," Swenson said.
The Empath group is led by a trained facilitator who teaches the group coping skills, such as not blaming themselves; recognizing and relieving stress and anxiety from the loss; and celebrating the life of the person who died.
"Although everyone will experience a loss during a lifetime, we aren't taught about grief and what to expect, so grief education is helpful and can ease thoughts of, 'Am I doing this right?' or, 'I feel like I'm going crazy,'" Swenson said.
In addition to weekly, individual counseling with Swenson at Empath Health, Shapiro also attended Healing After a Loved One's Suicide, a group formed in Davenport in 2007.
"I really don't remember my first meeting except that I was sobbing the whole time," Shapiro remembered.
"I liked the fact that I could speak with people who were sharing the same experiences," she said. "I needed somebody to relate to."
At the end of each meeting, the group would stand, raise their arms above their heads and pretend they were throwing a heavy object: "That's how we would release any anger or frustration or sadness," Shapiro said.
Shapiro felt a little better after her first meeting, but knows she'll need tools the rest of her life.
"The grief process is always there, it never fully goes away," she said. "I still have a little anger, but it's definitely getting better over time."
Her advice for others: "I hope people realize that it's OK to talk about suicide. It loses its power when people are willing to talk about it."