CLEARWATER — The Bosi family is getting ready to race in the Cleveland Street box car rally again.
"We raced in the first box car rally in 2010 with cars made out of plywood, metal, and parts from the auto repair shop," said dad Dennis Bosi, owner of Bob Lee Auto Repair in Clearwater. "We had help from uncles, friends from other repair shops, so it was a group effort. We'd work on it on weekends and nights after school."
If competitors worry that car guys like Bosi will walk away with the 2019 Achieva Box Car Rally in Clearwater on Oct. 5, fear not. Car professionals race in their own division, called the Auto League. The other divisions consist of amateurs: Wee (drivers age 7-12); Teen (13-17); Adult (18 and above); and categories for high school teams and racers with corporate sponsors.
Besides, no matter who wins each race, the real winners are public school students in Pinellas County. That makes sense — Achieva Credit Union was founded by seven teachers in 1937.
The $35-$60 entry fee for each car, as well as proceeds from food, drink, and other money raised on race day goes to local classrooms, said Chelsey Wilson, marketing and events manager at Achieva.
"Last year the box car rally raised $25,000 for the Achieva Foundation, which distributes it in micro-grants to teachers who apply to fund unique teaching events," Wilson said. Since 2010, the event has raised $200,000, she said.
A Seminole High School teacher, for instance, received a grant to purchase a coffee cart for her students. Exceptional educational students turned it into a business, delivering cups of hot coffee to students and staff at the school each day. Meanwhile, the students learned marketing and math skills while meeting the other kids.
"It was great, I had the chance to enjoy coffee with them one day," Wilson said. "I watched as they interacted with other kids for the first time."
Meanwhile, the upcoming box car rally has grown in the past decade to attract thousands of spectators to Cleveland Street in downtown Clearwater.
The starting line is at the top of the hill (of course) at the intersection of Osceola Avenue and Cleveland Street. The cars, which have brakes the racers can pull using a handle or stomp to slow down, are released from a pitched trailer that acts as a starting gate. Cars cannot stand taller than 48 inches or be longer than 96 inches.
The hill, which is long enough to get those gravity-powered cars up to good speed before they hit the finish line in Coachman Park, will be lined with thousands of cheering parents, kids, public officials, community leaders, and other race enthusiasts.
According to Wilson, spectators will watch nearly 300 races throughout the day, with box cars made out of everything from surfboards to filing cabinets, as well as sleek traditional soap-box cars. Food trucks, entertainment, and a kid zone with balloon artists and face painting round out the activities.
The Achieva race has been a fun endeavor for the Bosi family, Dennis told the Beacon. He and his two children, Megan, 18, and Dennis Jr., 15, got involved in the first race when the kids were 8 and 5, respectively.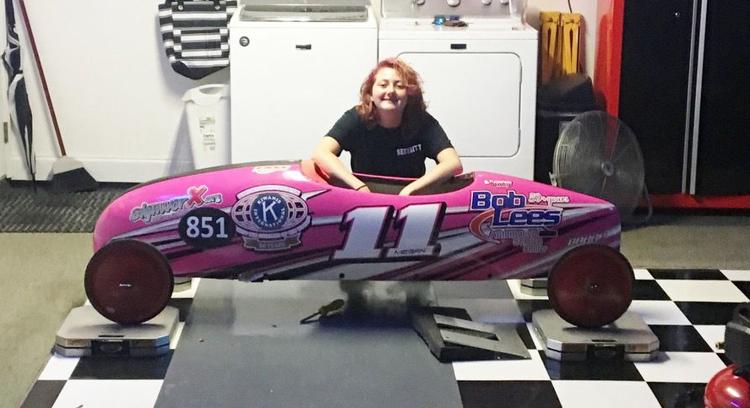 "I knew this would be a cool event the whole family could do," the father said. "It was especially important to have our kids involved. I don't know who was more excited – the kids or me."
The kids wanted to move to the Soap Box Derby design that's instantly recognizable to fans, he said.
"We built two cars that year, with the help of Mark Ferdinand at Team Zero Error Racing Inc., and the Kiwanis Club of Dunedin," Bosi said. "We got a sponsor, Signworx, to wrap the car in graphics. The kids did very well."
Bosi watched his kids develop positive attributes during their years in Little League and competing against other kids in the box car rally.
"My kids learned sportsmanship and how to be competitive," Bosi said. "The year we had the new cars, we won a couple of trophies and his friend didn't win any. Dennis gave one of his trophies to his friend. I didn't even know about it until someone came up to me and told me how impressed he was to see that."
He also credits race volunteers for their work.
"This is such a great event — and all the work Achieva does to hold the event and benefit local schools each year is amazing."