A Miami-area developer is targeting a pair of long-vacant lots in Clearwater and Largo for affordable housing complexes, and the two cities are prepared to pitch in to help make them happen.
Archway Partners LLC has proposed 96-unit developments at 1250 Cleveland St. in Clearwater and at 2075 Seminole Blvd. in Largo.
The 2.35-acre Cleveland Street site was purchased by the city's Community Redevelopment Agency in 2010 for $1.675 million in a bid to redevelop the blighted area, and the Grove Street section of the property was developed with a community garden.
On Aug. 16, the Clearwater City Council, acting as trustees of the CRA, voted to move forward with the $1.35 million sale and development of the property to Archway.
As part of the agreement, the purchase price will be returned to Archway in the form of a zero-interest mortgage over 40 years.
The agreement represents a milestone of sorts for the city, as it currently has three properties that are lined up for redevelopment.
"I'm very happy to say that now we have no more properties that are out for sale," CRA director Amanda Thompson said. "So, this is a big deal. Since I joined in 2018, we had properties that sat for decades, so it's exciting."
Five firms made a bid for the Cleveland Street site, but Thompson said Archway's $28 million proposal, Clearwater Gardens, was the most aesthetically pleasing and financially practical, which included seeking county and state funding.
The proposed project is a four-story, 80-unit mixed-income development. Archway also plans to request an additional 16 units that will require CRA approval at a later date. The units will be between 650 and 975 square feet and will be limited to between 30 to 80 percent of the area median income for the next 50 years.
Council members were also pleased with Archway's plans for the roof.
"They are going to preserve the existing community garden and they're going to put half a million dollars towards a rooftop garden as well," Thompson said.
The sale is expected to close in August 2022, but several conditions must first be met, including approval of a $75,000 loan of federal money allocated to the city for housing needs.
If all goes to plan, ground would be broken no later than Aug. 31, 2022. However, the council could agree to extend that up to a year if state funding isn't secured.
Archway representatives said the firm also plans to use green building practices, but council member Hoyt Hamilton asked them to identify the cost of meeting some level of LEED certification.
"If it makes a better building that's going to last a little longer and be more efficient, I'd be willing to see what we could do," he said, agreeing with a consensus of council members who said the city might be willing to contribute to that additional cost.
Council member Kathleen Beckman, who has a plot at the community garden and is a vocal proponent of affordable housing and sustainability, was also pleased with the project. But she said she would like to see electric vehicle chargers added to the design now instead of assessing residents later.
"Let's just do it now," she said. "This is what the future is. Everybody is going to deserve this, especially in apartments."
Largo ups the ante
Largo commissioners had similar questions for the president of Archway partner Brett Green, who reassured them that the firm's developments go through a process to receive a green building certification, such as LEED.
The Largo project, Seminole Square Apartments, would also be 96 units on a 4.8-acre vacant property just north of Ulmerton Road adjacent to Town and Country Mobile Home Park.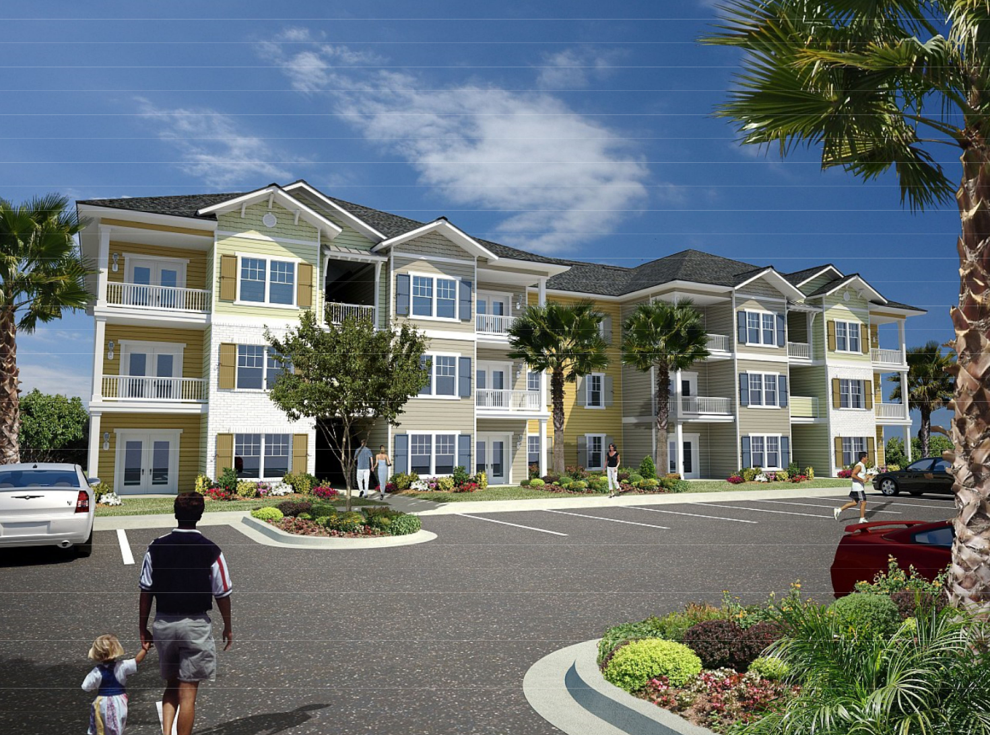 The $27.2 million development would feature four, three-story residential buildings and would also serve residents making between 30 to 80 percent of the area median income, which, for example, would include a two-person household making between $17,240-$45,000 annually, according to the city.
"The proximity to jobs and transit make this location highly suitable for this development and will serve comparable income levels of the retail and hospitality sectors in this local area," Largo Housing Manager Arrow Woodard said in August.
The city in May had already agreed to a match of $75,000 so Archway could pursue the State Apartment Incentive Loan program for financing.
However, Archway is also seeking highly competitive state tax credits. In order to better its chances, it asked for the city to kick in $610,000 of its state housing funds.
"From the developer's perspective, having this local contribution also helps offset some of the construction costs to be able to provide those units for those lower-income levels," Woodard said.
Citing the increased need for affordable housing, commissioners eagerly supported the contribution.
"I was very supportive of the $75,000 and we'll support the $610,000," Vice Mayor Jamie Robinson said. "If we can get this project in the city of Largo, it would be fantastic, especially where it's located."