CLEARWATER — Kids pet bees here.
That's what Bill Poulin, manager of the Clearwater Community Garden, says as he leans over a flower, using his thumb to pantomime petting a bee.
"If you plant a flower like dotted horsemint, that's a 'bee bomb' — a flower that attracts bees. They really go at it. You can pet the bees, they don't care about you. The bees don't even know you're there."
As Poulin shows off the gardens on the first cool morning in months, the scents of white sage, lemon basil, oregano, rosemary, and cilantro combine to create a symphony of aroma.
He points out the resident bee colonies nearby — managed by professional beekeeper Jennifer Standley — that help the community gardens grow. He and Cheryl Wegner, the community garden's treasurer, are busy planting a pollinator garden of blazing star, dotted horsemint, and beautiful blue porter weed flowers. That section of flowers will attract butterflies, honeybees, and other insects that spread the pollen around.
How it all began
Community Garden founder and president Howard Warshauer explains what it all means.
"In 2014, we started a meeting of seven people — all Clearwater citizens active in the community — to discuss doing something that would be good for the Gateway neighborhood," said Warshauer, who served on the Imagine Clearwater Stakeholder Group, the city's Charter Review Committee, and other citizen committees. Sandra Lithe, president of the Hispanic Outreach Coalition, Clearwater Garden Club president Alice Jarvis and others convinced the city to lease a quarter-acre of land for what is known as the East Gateway Community Gardens in 2015.
As he sits at a picnic table amid garden plots growing eggplant, rosemary, basil, purple basil, radishes, tomatoes, hibiscus, turmeric and countless other kinds of flowers and vegetables, Warshauer described how the garden has helped the neighborhood near Cleveland Avenue and North Betty Lane.
Sprouting a new neighborhood
This peaceful habitat of gardens and active bee boxes at 1277 Grove St. sits where three abandoned and broken duplexes once stood. Prostitution and other illicit activity led the city to buy and level the duplexes and two aging motels nearby, Warshauer said.
"This lot once affected all the surrounding blocks," he said. "Now we've gone the other way. It's affecting the surrounding blocks in a positive way. We've seen a lot of houses fixed up, there is construction going on, this neighborhood has changed. We see more and more people walking their dogs and enjoying the streets."
In fact, Gateway residents grow a lot of the beauty and color that fill the community garden on this October morning.
"When we started in 2015, about 25 percent of the garden plots were leased by Gateway residents," he said. "Today, it's up to 60 percent."
A serious message
Warshauer has called a reporter to the garden to deliver a serious message: The community garden is holding a fundraiser for Jill Perrino, a founding member who has been diagnosed with leukemia. Though she has a bone marrow donor, she will need help with housing for three months as she recovers from her procedure. As she recovers, doctors want her to live within 15 minutes of the H. Lee Moffitt Cancer Center & Research Institute in Tampa. Her son, Angelo, will stay with her during that time, Warshauer said.
The "Help Jill Plant & Yard Sale" is Sunday, Nov. 10, from 8 a.m. to 5 p.m.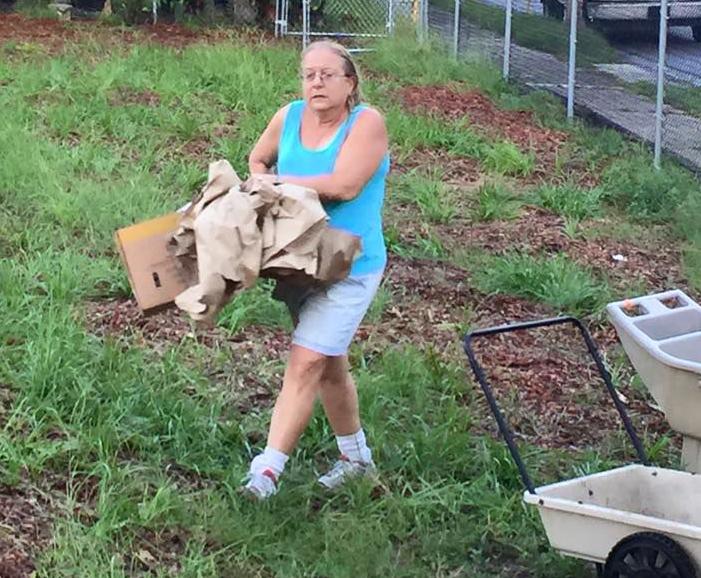 In addition to selling donated clothing and household items, volunteers will have more than 400 plants for sale, most priced at less than $5. Many plants are grown from seed at the gardens and many more plants are donated by members and neighbors. Members of the public are also invited to donate craft items, clothing, jewelry, and other items — no furniture, please — for sale at the fundraiser.
Perrino — who lives around the corner from the Grove Street site — has been a big part of the community garden since she showed up for the street festival on the community garden's first day. In fact, she's an "OG" — an original gardener.
Helping a fellow gardener
"She was one of the first gardeners," Warshauer said. "She got one of our door hangers and became an original member."
Perrino knows a lot about gardening, and isn't shy about giving her opinion on how things should be done, he said.
"She's a very strict gardener, a strong personality type of person," Warshauer laughs. "She's been gardening a lot over the years, and had her ways about doing things and she doesn't mind telling you about that."
Wegner said Perrino is fun to work with.
"I met her when she first came to the garden, she was one of the first ones, like me," Wegner said. "She knows her job, she's a good person."
Poulin agrees: Perrino offers seeds, plant food, gloves — anything people might need.
If you ask Perrino, 68, the world is generous. As she awaits her bone marrow procedure, she responded to news of the fundraiser by saying, "I am overwhelmed by everyone's generosity."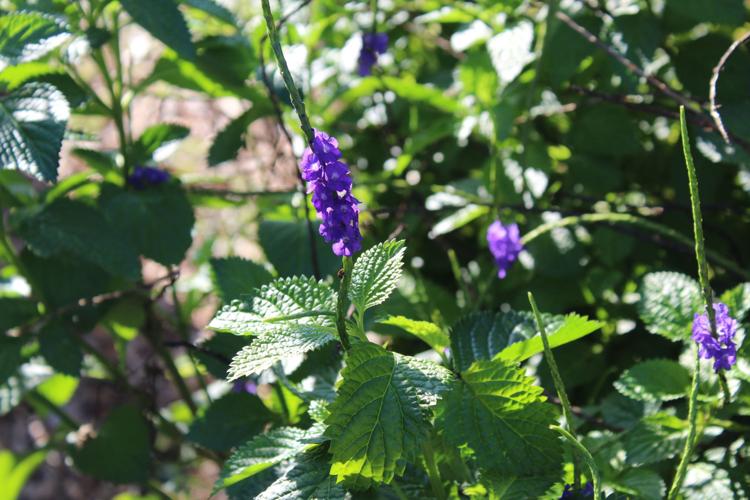 Helping someone who helps others
"She will give her shirt off her back to anybody, she's that good of a person," Poulin said. "First thing she does when she comes to the garden is offer people stuff. 'Anybody need this? I've got this, this is extra.' Whenever we do things like planting this pollinating garden, she walks over from her house and helps us."
As volunteer gardener Amy Lidman plants more flowers in the pollinator garden, Poulin pulls down a fat-leafed potted plant from tall shelves lined with plants that will be for sale at the fundraiser.
"This is something new — malabar spinach, it helps prevent Alzheimer's," Poulin says. Reaching again: "Cuban oregano, it grows like a weed. It's for cooking and will be giant in about six months."
There is rosemary, cilantro, hot peppers, spinach, cucumber, and nearly every native Florida flower one can think of.
Poulin hopes to see a big turnout for his colleague's fundraiser.
"We are going to have all kinds of plants, flowers, herbs, and vegetables for sale," he said. "Community garden volunteers will be on hand to give gardening advice, as well as show off the gardens and bee colonies."
Heck, visitors might even get a chance to pet a bee.
For more information, contact Warshauer at captainhw@gmail.com.
Perrino also has a GoFundMe page, at https://www.gofundme.com/f/this-is-jill