CLEARWATER — Ashley Holsten remembers the day her father died. She was a sophomore at Palm Harbor University High School, listening to her teacher give a class lecture.
"It was seven days after my birthday in 2016, and I got a call in my last period of the day," she said. "I couldn't answer it because I was in class. Then someone called my teacher; they said my sister was outside the school to pick me up. We made eye contact when I walked outside, and I knew."
It was not entirely unexpected, but it had come faster than expected. Her father had beaten cancer when Ashley had been in elementary school, but it had returned.
"It was a challenging day," Holsten said. "Probably the worst in my life."
Her father's passing came at the end of a tough childhood where the youngest of seven children was forced to grow up a little faster than she had liked.
She lived in a house where there wasn't enough to eat, where a shortage of money meant a life without.
"They were divorced by the time I was in second grade," she said. "The youngest gets the worst of it, and before they got divorced, it was a high-tension atmosphere in the house. One day I remember, it was around 4 p.m. and I hadn't eaten anything all day, so I called my dad and he was in an important cancer checkup. He came and got me and I lived with him and my stepmother after that."
Her father, James, and stepmother Karen raised her, encouraging her to do her best. They lacked money, too, but her life with them was made stable by emotional support.
Then her father passed away and her world came apart again. Luckily, she had goals, friends at school, and cheerleading. She put one foot in front of the other and did her best in school.
"I have been cheerleading for 15 years, since before elementary school," she said. She cheered for baseball teams, football teams, all through school and during the summer some years. She also had a knack for medical subjects, taking part in Palm Harbor University High School's biomedical program. The program teaches students medical testing in laboratory settings.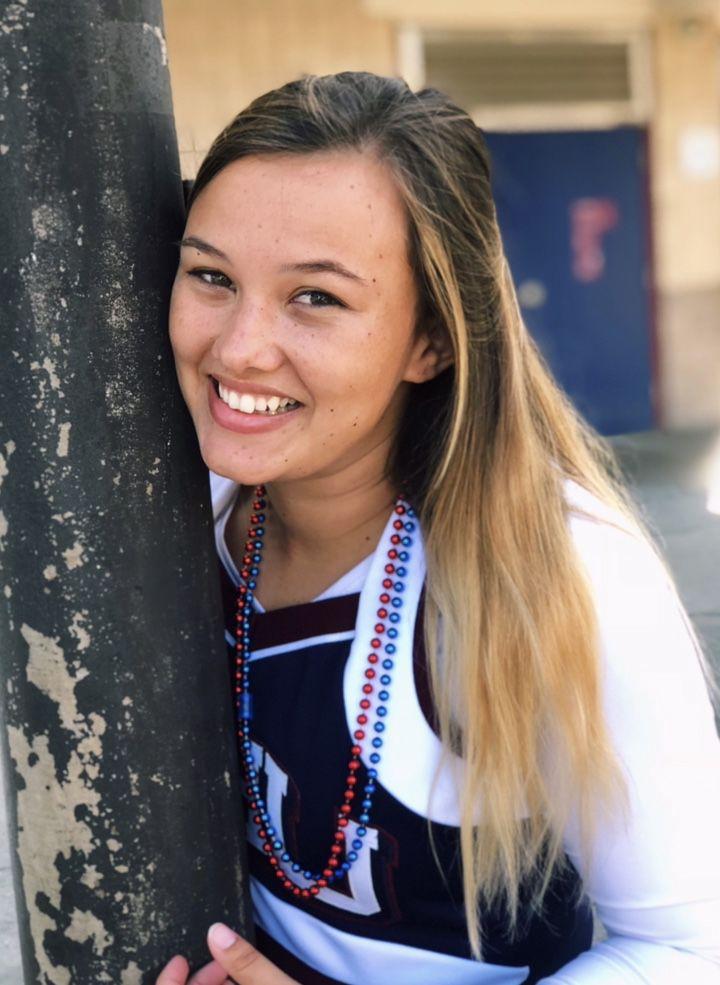 "It's a lot of lab work rather than what you see doctors do with surgery, things like that," she said.
Ashley, however, wants to get a degree in education so she can teach elementary school. She wants to reach out to children like her who lacked resources that other families and children have.
But how does a young woman reach college when there's no money to be had?
"Ever since my dad passed away, money has been so tight," she said. "I was worried that there was no way I could go to college and earn my degree."
Luckily, there's an organization that watches out for students like Ashley who face uncommon hurdles in their lives or lack financial and other resources to participate in sports or take the next step to college.
According to its website, Clearwater for Youth was founded in 1972. The organization — through its fundraising events and partnerships with the Tampa Bay Rays, Toronto Blue Jays and Philadelphia Phillies spring training, Clearwater Gas System, and other local philanthropic groups — helps community youth reach their fullest potential through enriching and productive activities. CFY funds hundreds of individuals and groups in need annually along with sports program grants for uniforms, equipment, field rental fees, building projects, field improvements and regional and national travel for teams. 
It also gives out scholarships to kids who need that stepstool from high school to college.
In February, CFY awarded $95,000 to 16 high school seniors for college, university, trade or vocational school scholarships at its annual Celebrity Banquet held every spring at the Sheraton Sand Key Resort, said Kasey Smith, executive director of Clearwater for Youth.
Ashley, now a student at St. Petersburg College, was one of the scholarship recipients.
"The great people with Clearwater for Youth gave me a $5,000 scholarship," Holsten said. "That meant that finally, after three years of worrying about money in high school, I now don't have to worry for the first two years in college."
She is considering transferring to the University of South Florida after she earns her associate's degree.
Ashley heard about the organization through her various cheerleading stints at football, baseball, and other athletic events.
Smith said the group heard about Ashley through her cheerleading and from her teachers.
"Over the years we have seen the whole gamut of challenging situations that kids face," she said. "Deceased or divorced parents, children of those incarcerated, single-parent families — we help those kids who reach out for their dreams and achievements."
As for Ashley, she is not interested in a profession that makes her rich; she wants to be in a position to help kids who need support.
"When I cheered, I remembered a lot of kids didn't have everything children should have," she said.
Her scholarship puts her on track to realize her own dream.
"Now I know I can become a teacher and help children in every walk of life," she says. Asked what she will tell any child she teaches who faces difficult situations at home, she answers, "I would tell them, everything is going to work out. Regardless if it is a teacher or a friend, find someone to help you overcome the obstacles you face. You also have to focus on yourself and fight for what you want — and sometimes, thankfully, it is handed to you."
The next fundraiser for Clearwater for Youth is the Oct. 26 Phil Doganiero 3 Bridge Race at Coachman Park, Smith said. For more information, go to the3bridgerace.com.