CLEARWATER — The tidy, gray masonry building stands as pristine as it did when it was newly built in 1907. The two-story, lighted interior, which once contained public school classrooms for the now-eternally young students of the South Ward Elementary School, will now contain artifacts and images collected over the years by the Clearwater Historical Society.
After years of fundraising and hard work by dedicated society volunteers, the Clearwater Historical Society Museum and Cultural Center will become reality on June 15, when the society hosts the public, including history lovers and local leaders, at its unveiling.
It has been a long time coming. The society has spent years planning, raising money from state and local sources and renovating the old buildings at 610 S. Fort Harrison Ave. The South Ward Elementary School property, which the society is leasing from Pinellas County Schools for $1 a year for 50 years, contains seven buildings, including the main building — called Heritage Hall. Another structure, a library built in 1958, has been renovated as an events center for rent by local organizations.
"With a dedicated team of volunteers and support of local business and government, we've been able to prepare the property and exhibits to get ready for this day," said Clearwater Historical Society President Allison Dolan.
The first task: Negotiating a lease for the South Ward property with the Pinellas County Schools. In 2014, the school system agreed to lease the property to the historical society for $1 a year for 50 years. The next step was to find money to fix up the buildings, which they did, collecting about $640,000 from public and private sources, she said.
"We got a $528,000 grant from the Florida Division of Historical Resources in 2016, and with that money we paid for a survey of the land, hired an architect, the painting of the interior and exteriors of the buildings, air conditioning, and updating bathrooms." The state grant also paid for new roofs for the South Ward School and other buildings, as well as fire alarms throughout the campus, she said.
In addition to those grants, the city of Clearwater will donate $12,000 a year toward the maintenance and operation of the museum and cultural center, which will be staffed by volunteers, Dolan said.
Other work included landscaping, painting of a new patio, and thanks to donations from Lowe's hardware store — a new air conditioning unit, new flooring, restroom upgrades, and the painting of shelves and cabinets.
Larger donations have come from private Clearwater benefactors, including $110,00 from the Amber Turner Estate, as well as smaller donations from the public, and of course, the historical society's famous fish fry, which it holds twice a year.
"Every vendor that worked on this project donated goods and services," Dolan said, such as Specialized Property Services of Tampa, which donated material and labor where it could. Benjamin Moore-First Choice Paints of Clearwater researched and donated the paint for the school so it would match the original color of the stone building. Other local companies that donated some services included Pestguard Commercial Services of Sarasota; Duvell Survey; Jeff Pelszynski and Fleischman Garcia architects of Tampa; John Maire Security Systems; Skip Wilkinson of Shearer Companies Inc. of Pinellas Park; Prime Air Conditioning & Refrigeration Inc. of Clearwater; Clearwater Plumbing Inc.; Coachman Roofing; Harrell Electric Inc. of Seminole (security alarms).
Attendees at the family oriented grand opening will see exhibits that tell the story of the city's history. Local stage actor Sam McClelland will portray Robert J. Whitehurst, an early Clearwater land purchaser (1854) and other actors will mingle with the crowd, depicting other pioneer figures of Clearwater's history, Dolan said.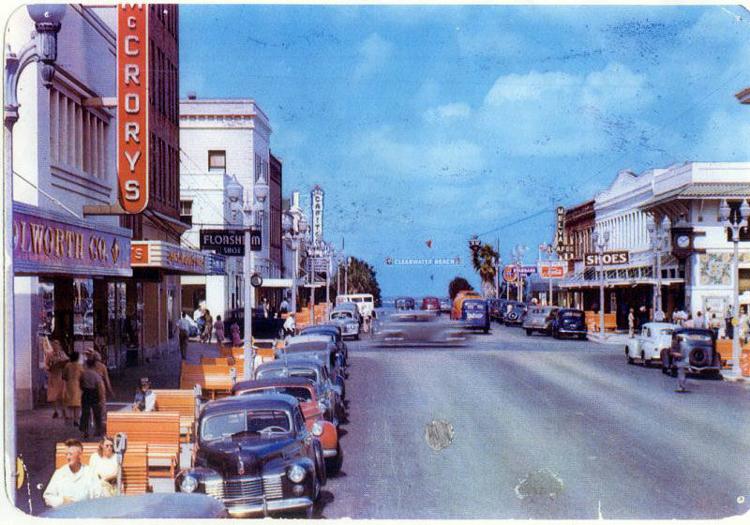 According to documents from the Clearwater Historical Society, the U.S. Army built Fort Harrison in 1841 during the Seminole Wars. The Seminoles, unlike the Creeks and other Florida tribes, refused to be moved from Indian land in West Florida.
The founding clans of Clearwater, which include the McMullen, Severs, Stevens and Stevenson families, settled near what was then called Clear Water Harbor after Congress passed the Armed Occupation Act of 1842. The law offered 160 acres to any Florida resident who bore arms, cleared the land, and built a house in the first year after receiving the land.
Dr. Buddy Gross is a retired dentist who served many local families during his long career. On the last day of May, he sat at a long table at the museum, archiving photographs and news clippings of Clearwater's history.
He picked up a box of Eckerd Drug band-aids, a reminder of the Eckerd Family, whose drug store fortune helped fund a college and of course, Ruth Eckerd Hall in Clearwater.
How does he feel as he reads newspaper clippings and old photographs?
"I was born at Morton Plant in 1934, and I always stayed on top of things that were happening in the community," Gross said, laughing. "It brings back memories but it also hurts my pride, because I'm finding things, and I think, 'When did that happen? How did that news get by me?' It hurts my pride when I see one slip by me like that."
"That's because you were busy being a dentist and raising a family," Dolan laughed as Gross agreed.
The historical society also operates the Plumb House (1896) on the northwest corner of Lakeview and South Fort Harrison avenues. Formal dedication of the Plumb House as a permanent museum for the city of Clearwater took place on Jan. 24, 1985.
The grand opening starts at 10 a.m. when members of the Pinellas County Historic Preservation Board unveil the Florida Historical Marker for South Ward Elementary School.
"I want to point out that this was all done by volunteers; there are no paid staff here," Dolan said. "We started this journey in 2016 and since then, a core group of volunteers, the most passionate, most wonderful people I've met in my life, have made this possible. This opening is just the beginning."
Attendees should park in the lot across from the First United Methodist Church at 411 Turner St., which is at the intersection of Fort Harrison Avenue and Turner Street.
For more information, call 727-754-8019 or email clearwaterhistoricalsociety@gmail.com.