Larry Bowa has a well-deserved reputation of having a fiery personality, as a player, coach and manager. Who could blame him for having an attitude like that? After all, he never made his high school baseball team, went undrafted after two terrific all-conference years at a junior college, and when he finally did make the majors in 1970, had to talk his way into Connie Mack Stadium because the security guard didn't believe that he was a member of the Phillies.
Bowa, who turns 75 on Dec. 6 and who has been the senior assistant adviser to Philadelphia's general manager for the past few years, admittedly still has some of that fire in him, although it's tempered these days.
"It's always been a part of my personality," said Bowa. "People said I couldn't play. I didn't make my high school team and I went undrafted. So I did have a chip on my shoulder."
That chip helped Bowa sustain a long career as a player in the big leagues. Never a big high-average or power hitter, the switch-hitter was definitely steady throughout his 16 years, had speed, and fielded with grace at shortstop, where he won two Gold Gloves. Bowa was named an all-star five times.
Phillies scout Eddie Bockman was the one who spotted the potential of Bowa while others did not. With his urging, the Phillies signed him and a few years later, Bowa was the Phils' starting shortstop.
"Just getting to the majors was a great feeling," said Bowa. "The first game I was up I remember standing there (for the introductions) and realizing I had made it."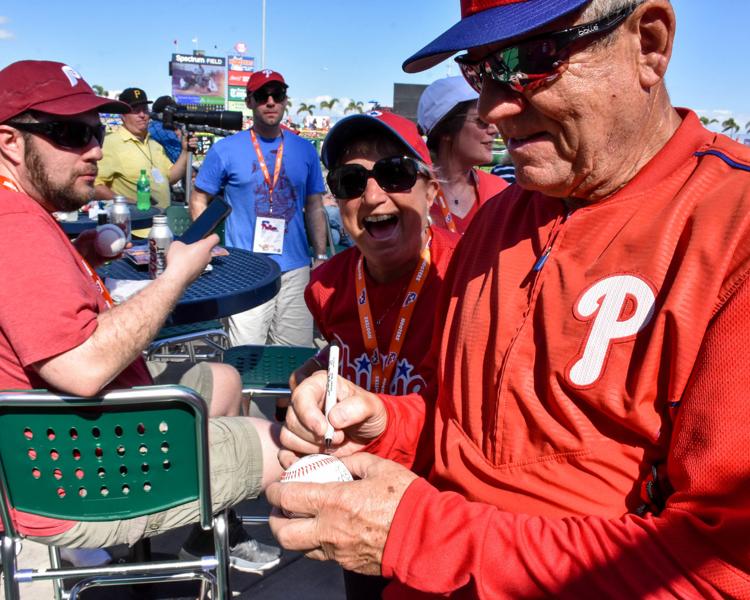 That was the start of a Phillies career that endures to this day, even though Bowa spent time with a handful of other clubs as a player, coach and manager. Bowa has spent more seasons in a Phillies uniform than any other. This includes 12 as a player, 13 as a coach, and four as the manager. Every one of his Phillies years included spring training in Clearwater.
"Always a great city," said Bowa, who first experienced Clearwater in the 1960s after signing with the team. "The best as far as I can say, and I was in a few (spring training cities). We've always had tremendous support there."
For many of those spring training years, the Fort Harrison Hotel was the Phillies' headquarters. It is now the spiritual headquarters of the Church of Scientology.
Bowa finished his playing career with 2,191 hits and an overall average of .260. If you take away his final season, Bowa played in over 144 games per year. He appeared in seven post-season series, with 1980 the pinnacle year for the team, winning the pennant and the World Series over Kansas City. Bowa was one of the main stars of the 1980 post-season, batting .319 and stealing four bases.
"When I first came up we were very young," said Bowa, who grew up in California. "We got beat up early on. We took our licks, but the adversity made us a better team."
The 1980 championship squad included Hall of Famers Mike Schmidt and Steve Carlton, Pete Rose, Tug McGraw and many other outstanding players, many of whom came up the ranks with Bowa.
Bowa managed the San Diego Padres for two years and the Phillies for four (2001-2004). In 2001 he was named Manager of the Year when the Phils finished second in the N.L. East, two games back of the Atlanta Braves. That 2001 team included Jimmy Rollins, highly regarded by Bowa as a real leader — who Bowa believes will someday be a Hall of Famer — and one of the players who would eventually bring another title to Philadelphia in 2008.
Bowa, who had the first hit at Veterans Stadium and managed the last game there before the Phils moved to their current home, Citizens Park, played with many outstanding players in his career, but three stand out in his mind: Schmidt ("greatest third baseman in my mind"), Rose ("he should be in the Hall of Fame"), and Steve Carlton ("what he did in 1972 winning 27 out of our 59 wins that year is just incredible").
As an adviser, Bowa spends a lot of time visiting minor league camps and attending minor league games. When he considers whether or not a player is major-league-worthy, he doesn't only rely on statistics.
"I look for the instincts in a player," he said, "mental toughness. What's the makeup of the guy? How does he deal with adversity when things aren't going so well? It's not just about hits and making plays."
So, is Bowa still fiery after more than 50 years in the business?
"Not as much as I was, but I still have my moments," he admitted.
One of those moments happened during this year's World Series, when Rays manager Kevin Cash removed pitcher Blake Snell in Game Six.
"I couldn't believe it," said Bowa, his tone rising a bit. "The analytics are fine, but you also have to go with your experience and your gut. It's the World Series. The mindset is different."