CLEARWATER — A developer is hoping to transform a 3.5-acre piece of vacant property into a $38.4 million complex that officials say "fulfills a dream" to help provide much-needed housing for the downtown core.
City Council members, acting as the Community Redevelopment Agency, unanimously voted Oct. 14 to move forward with an agreement for the development and sale of the property at 306 S. Washington Ave.
Peter Leach, vice president of SP Clearwater WFH, said the goal is to construct a 171-unit mixed-income apartment complex that includes a three-story, 197-space parking garage, pool, dog walking area, two playgrounds, exercise room and community room. The proposal also calls for 40 public parking spaces. Solar panels are also being explored for the roof of the parking garage, Leach said.
"It's a great site," Vice Mayor David Allbritton said. "This really fulfills a dream that we've had, I've had for 18 years on this site."
That dream is to help create housing and establish vibrancy by "putting feet on the street in our downtown," he said.
The mixture of one- and two-bedroom units would be set aside for people who earn between 80% and 120% of the area median income.
This is the second time the city has sought out development proposals for the site, which is one of the largest pieces of property the CRA owns, said the agency's director, Amanda Thompson.
In 2018, the city only received one response from a developer and it didn't meet the housing goals desired.
In August, another request for proposal was put out that called for a mixed-use or apartment development with a focus on workforce and market-rate housing. The city also wanted construction to begin by 2021.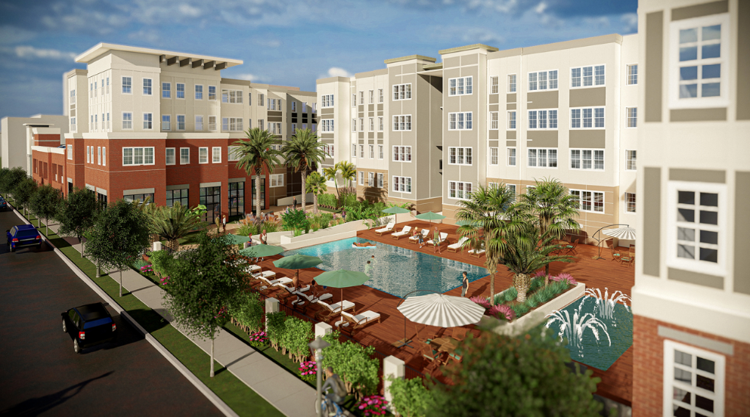 "We really were pushing this mixed-income and market-rate housing because right now we have a lack of supply for workers at Morton Plant, for those at the service industry on the beach at the management level and higher, and for our downtown tech employees," Thompson said.
Two developers responded with proposals and SP Clearwater's checked all the right boxes, Thompson said.
Among the reasons SP Clearwater, which is an affiliate of Southport Financial Services Inc., scored higher, she said, is because of its ability to start construction in 2021 and its financing, while complex, is more secure and not reliant on state or federal tax credits.
"This meets all of our downtown redevelopment goals and it's a very realistic plan," she said.
Complex funding plan
She added the proposal also will provide long-term affordable housing through its funding plan.
Leach described that plan as a "Rubik's Cube of financing."
First, he proposes the city sell the land to the Pinellas County Land Trust for $3.42 million. The trust will own the land in perpetuity and would then provide a 99-year lease to the developer.
SP Clearwater has also applied to the county for $2.2 million of Penny for Pinellas sales tax money, which is a new funding source being offered after the county this year set aside $80 million for affordable housing developments.
The developer is also asking for the city to help, seeking an $800,000 grant in exchange for the public parking it will provide.
Finally, it has applied for an $880,000 loan from the city's federal housing funds. Leach said $200,000 of that would be paid over a 20-year period and the rest deferred over 40 or 50 years.
Mayor Frank Hibbard said he supports the project and it is even more satisfying because he was on the council when the city bought the property, a former brownfield site, in 2003 for just over $1 million, according to the Pinellas County property appraiser.
He did want an estimate, however, on how much tax money the complex would generate for the city so he could get an idea of the return on investment.
"It is great to see something of this magnitude and quality being built," he said.