CLEARWATER — Dino Di Liberti is a man of passion who is still in love with his wife, Vicenza, after more than 50 years of marriage. As the 79-year-old Sicilian tells his life story in his Clearwater living room, he occasionally interrupts his cheerful reminiscences to clear his throat and check his tears.
The emotion comes not from any sadness in his life, but from the joy that singing Italian opera and romantic love songs has brought him and his family, friends, and music lovers from Tampa, St. Petersburg, New York, and Europe.
Di Liberti, who painted homes and hung wallpaper throughout the Tampa Bay region to support Vicenza and two daughters in the 1970s and 1980s, was discovered and trained by famous soprano Miro Bigalli and founding president of the St. Petersburg Opera Guild, Rosaline Posno.
Dino spent his days improving homes, but his evenings and weekends were spent rehearsing and perfecting his voice control and power. Singing is not for sissies.
"To sing you must have courage," Dino says in his Italian accent, standing with his chin high and posturing to deliver a note. "It must come from deep, and everything must be aligned — the body, the breathing, the face. You must have control, power."
Of Mala Femmina (Foul Woman), sung by Jerry Vale and dozens of other Italian singers, Dino says, "To sing that you have to have guts, to know what you're doing."
Today, people still remember Di Liberti as a talented artist who sang excerpts from La Boheme, La Traviata and solo area excerpts from Il Trovatore and his role as the "Messenger" in Aida for the St. Petersburg Opera in 1979; sang at an evening of opera at Ruth Eckerd Hall; and as a solo performer representing Italy for the International Folk Fair at the Bayfront Center (now The Mahaffey Theater).
He also sang in the opera Pagliacci at the Richey Suncoast Theater in New Port Richey and sang arias and romantic ballads for hotel guests at the Ponce De Leon and Princess Martha hotels in downtown St. Petersburg. He has appeared hundreds of times in other Tampa Bay area hotels, churches, Sons of Italy lodges, private parties, weddings, and other events.
Mario Laurenti, 98, is maestro for Matinee Opera Players of St. Petersburg who worked with Di Liberti; he still trains opera talent, both "young and old," he said.
"Dino, he has a terrific voice," Laurenti said. "His voice is tenor, beautiful, and he is a dramatic guy."
Dino still sings occasionally at events; the Di Libertis mirrored living room has a white baby grand at which Dino plays and sings. Sheets of music lay atop the piano, ready for his twice-a-week rehearsals with local pianist Mary Anne Boos, who has been his accompanist for the past 25 years.
Videos of Dino's performances can be found on YouTube.
How he learned to sing
Di Liberti described his journey from his boyhood in Italy to opera singer, a road built upon the traditions, people, and singing of his small Sicilian town.
Mazara del Vallo is still a fishing center in southwestern Sicily and like the rest of Italy, its men were not spared the inequity of World War II. Italy's Mussolini was aligned with Nazi Germany and the other Axis nations. Dino's father, Giovanni, was formed into military units like the other fathers of the village. But Dino, born shortly after his father left for war in 1940, learned to walk and talk as his father languished in a prisoner-of-war camp. Italy capitulated in 1943 after Allied forces invaded Sicily.
Then, after Germany surrendered in May 1945, a shout went out that a soldier was walking up the road from the railroad station.
"I saw my father for the first time when I was 5 years old, on the road coming home from the train station and I ran down to see with my grandma," Dino said. "Most of the people didn't know who was alive and who was dead. My father leaned down and held me."
His father did what other fathers did upon returning from war: Ensured his children continued to regularly attend school — but for Dino there would also be a trade.
"The kids in town were wild because all the fathers were off fighting the war," he said. "So the kids grow crazy. After the fathers came back, they put the kids back in line."
In addition to attending elementary school, when Dino turned 9, his father assigned him as an apprentice to a skilled tradesman (referred to as maestro) who renovated and painted homes and buildings.
Everyone sings in Italy
"As a kid, I would go to the shop and wash paint brushes, go buy coffee for the maestro, and be there in case somebody comes by the shop. I would tell visitors, 'My maestro will be back, what can I tell him?'"
Sicily — and the rest of Italy — is a land of rural hillsides and small towns where singing is everywhere.
"Everybody learns to sing, it's natural, like a baby cries without learning how to cry," he laughs, remembering. "I started singing as I was learning to be a painter. The maestro painter used to sing. They couldn't read music, but they could sing. We used to sing while we painted or decorated plaster angels or whatever decoration for the rich people."
Singing carried the nickname "Mediterranean Diet," because no one could afford to eat.
"You were hungry so you would sing through lunch, that's Mediterranean Diet."
When he was 10, Dino's parents hired a private music teacher him. A lack of electricity didn't stop him and his fellow citizens from learning.
"I studied music at my maestro's place, using light from an oil lamp above the grandfather clock in his paint shop," Dino said. "There was no electricity for years after the war. So I would learn to read music, notes, chords, tone."
After founding his own painting business in Mazara del Vallo, he left for America in 1964, a handsome 24 years old. He sailed aboard the passenger ship Queen Frederica to New York City intending to see the World's Fair, Vicenza said. He and other Italians aboard the ship did what generations of immigrants to the United States had done: They played guitars, accordions, and other instruments and entertained each other during long days at sea.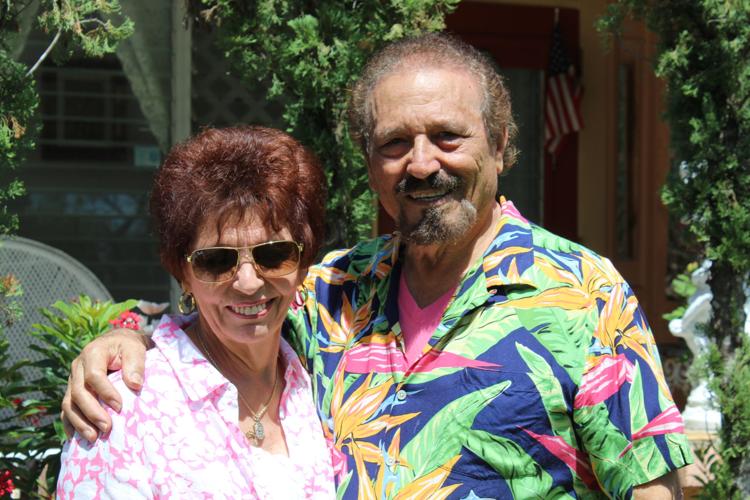 Meeting his wife
When Dino arrived in New York, he spied someone he knew across the long floor of the terminal: A distant cousin who had driven from the Bronx to pick up another passenger from Dino's ship. Vicenza, who had driven up from Clearwater with her family to visit relatives in New York City, was also in the small crowd gathered in the terminal.
"It turns out Dino happens to be my second cousin of my uncle through marriage," Vicenza said. "I came back to Florida, he stayed there working with his uncle, we got together, called, this and that, and I went up there and visited awhile and came down and in December, he came down and we got engaged."
He began taking voice lessons with a coach who believed Dino had a gift. He would sing "Be My Love," a popular torch song sung by Mario Lanza, which hits a high C, a pitch difficult for tenors to hit, but which Dino hits it easily.
He began to sing at the Italian lodges and for friends at private parties. He was encouraged to sing in operas and he found himself being mentored by Madam Muriel Bigalli and Posno at St. Petersburg Opera Company. The rest, they say is history, as he launched his career. There is much more to tell, such as presenting opera star Luciano Pavarotti with an oil painting in 1986, and after Pavorotti's death, performing as an invited guest for the Luciano Pavarotti Charity Concert in Modena, Italy.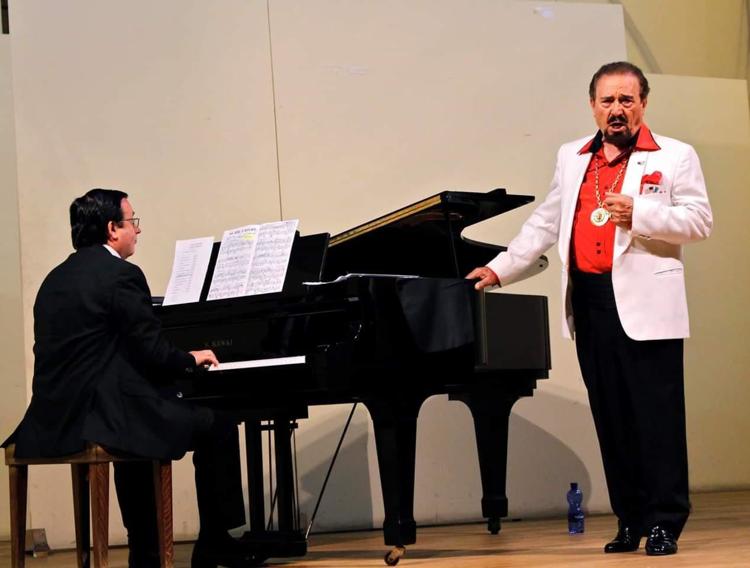 Returning home to sing
Then in May, the Sicilian town where Dino was born in 1940 invited him to sing in the town's historic Giuseppe Garibaldi Theater. He was accompanied by Vicenza and his good friend and one of Italy's finest pianists, Maestro Franco Fodera.
"It was beautiful, a wonderful time to sing before the people of my hometown," Dino said. "I was very well known in my town, so I know most everybody and everybody knows me. And I have my brother Vito and a sister Franca live there."
And there, the little boy who grew up in a town that lost so much in the war, sang his heart out for his people. The mayor of what is now a modern city gave him a plaque commemorating the concert.
"There were more than a hundred people in the small theater, including the mayor, and it was full," Dino said. "You are born with a desire to be somebody, but if you want to learn to sing, you have to study what it is you love."