CLEARWATER — After a lifelong profession caring for others, Donald Pecoraro is getting help from his neighbors.
The 63-year-old Clearwater Beach resident, a skilled nurse in trauma and critical care units in New Orleans before becoming a researcher in the pharmaceutical industry for 25 years, has undergone a series of setbacks in his retirement. Pecoraro, who said he was put on disabled retirement in 2009, remains optimistic despite setbacks to his health and retirement plans.
In spite of losing a leg, watching his classic sailboat burn, and having to give away his great Dane dog, the active and friendly grandfather isn't one to feel sorry for himself.
"I'm in high spirits, what else are you going to do?" he said. "I'm blind in one eye, and my friends ask me, 'How do you function?' I say, 'What is the alternative?' Sitting down and doing nothing is not my style."
The New Orleans native, who cooked for his friends on the 41-foot-long Moon Song sailboat in its slip at Island Estates, had been restoring his vessel for retirement when lightning struck the rare wooden ketch and set it on fire June 19. Many who live in the condominiums above the sailboat slips saw and heard the bolt hit, including Pecoraro, who witnessed the hit from the two-bedroom condo he rents above the marina.
"I had lived on the sailboat — which I bought in 2006 — for a couple of years, then moved into the unit," he said. "The boat is only 80 feet behind my condo."
Like everyone else who saw it, Pecoraro was astounded by the lightning's power.
"I heard it hit and saw the flash simultaneously, like a cannon shot. It made a loud, metal Piiinnnng! as if a giant ball-peen hammer had hit a piece of metal."
When he went outside and looked at his vessel, his boat appeared intact, with no visible damage or smoke. He thought the lightning had hit the aluminum fencing around the condo pool.
"A half-hour later, someone was banging on the back door, yelling, 'Your boat is on fire!'" Pecoraro said.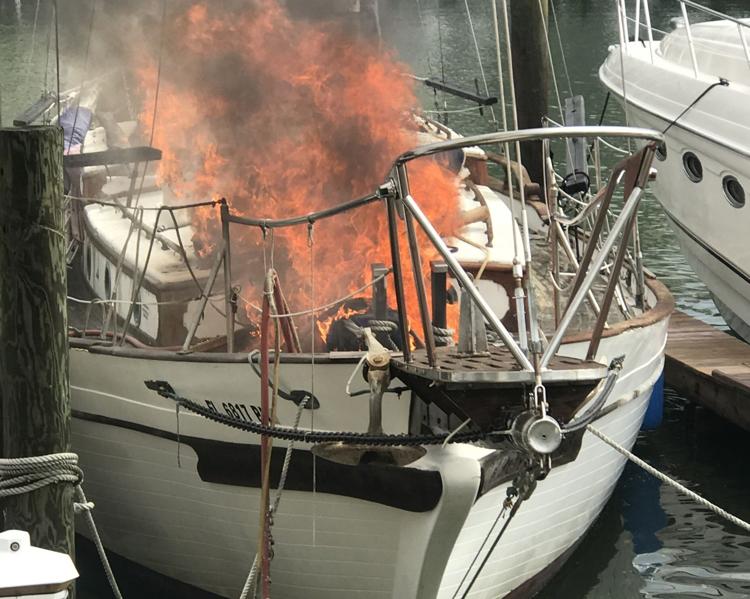 According to the Clearwater Fire & Rescue, fire trucks arrived at the slips behind the Dolphin Point Apartments on Island Estates around 5 p.m., and saw smoke and flames shooting from the bow and forward cabin. Fire crews had to move a large yacht from a nearby slip to keep it safe, then used a foam mixture to extinguish the fire, officials said. An image of Pecoraro's burning sailboat can be found on Clearwater Fire & Rescue's Facebook page.
Sailboats, with their aluminum masts, are great lightning attractors. To protect their electronics and other parts of the boat, sailors run a copper wire from the top of the mast, and depending on the system, down to the lead keel inside the boat or outside the boat to the waterline. But lightning does what it wants, and this time, instead of dispersing through the keel into the water, it ran backward into the boat's wiring.
"I had a lightning rod, a quarter-inch wire that runs the length of the mast to the 4,500-pound lead keel," Pecoraro said. "The electrical charge ran down the lightning rod, hit the lead, disbursed and, taking the path of least resistance, came through the boat's electrical wiring." Because the wiring runs behind the wooden cabinets, benches and other wood trim in the salon and galley, all that finished woodwork easily caught fire, he said.
In addition to rebuilding and rehanging all that cabinetry, Pecoraro will have to rewire the entire boat, from the fuse and switch panels, the battery switches, and on to the electrical lines that power exterior running lights, the mast light, horn, bilge pump, as well as radio and navigation systems.
It wasn't the first blow Moon Song delivered to Pecoraro.
"My prosthetic leg is boat-related," Pecoraro said.
Pecoraro had been working hard to get the boat, which had been built in Taiwan in 1973, prepared to serve as his retirement home. He knew the boat intimately, having sailed it in the Gulf of Mexico, especially between Clearwater and New Orleans several times.
"Early last summer, I was working with a buddy of mine pulling rotten wood out of my boat," he said. "I was rebuilding, which these wooden boats need constantly. I cut my ankle superficially, but it was nothing worth going to the emergency room for. I'm a retired nurse, so I cleaned it, I bandaged it, and it healed."
He gave the injury little thought after that, but when redness and swelling appeared around his ankle, he had a doctor look at it. According to Pecoraro, an infectious disease specialist in the hospital told him he had contracted osteomyelitis, a rare but serious infection of the bone. They took his leg in October 2018.
"I wish I could remember the doctor's name, but he said the hospital had isolated the infection, a fungus only found in Southeast Asia. He asked me if I had been in Southeast Asia."
Pecoraro had never been there, but he recalled that Moon Song had been built in Taiwan.
"The only explanation has been in that wood since 1973," he said. "Thus, the cut when I was pulling out the rotten wood infected my leg."
Enduring surgery and recovery while living alone meant he would have to say goodbye to his great Dane and best friend, Thatch, who was adopted by a couple in Alabama. "Losing him hurt more than losing my leg," he said. 
Not one to be kept down for long, Pecoraro has been getting used to his prosthetic leg with practice and physical therapy. His friends are impressed and pitching in to help.
His son suggested using the internet to raise money to fix the classic sailboat.
"My son Jonathan gave me a phone call a couple of months ago, and said, 'Dad, I know this isn't like you to ask for help, but you should consider a GoFundMe page, you might get help from a couple of people." Some of the senior Pecoraro's friends have also started fundraising efforts in local restaurants and waterfront establishments.
"So far, we've raised close to $2,000," Pecoraro said. "There have been individual contributions from a couple of campaigns being run by the sailing community, too."
In the meantime, the retired nurse continues to learn how to move about on his leg.
"Progress is slow, and the prognosis is good," he said. "The leg is very limiting, as far as getting on and off the boat, but I still plan to enjoy this boat in my retirement."
Sailboats have a way of getting into one's heart.
His fundraising page is at www.gofundme.com/help-save-this-grand-old-lady-post-lighting-strike.